10 Best Shopping Malls in Dubai
10 Best Shopping Malls in Dubai
10 Best Shopping Malls in Dubai – Dubai is home to almost a hundred shopping malls. Therefore, Dubai can without a doubt be a shopping heaven. These shopping malls offer retail stores,indoor theme parks as well as some cultural attractions.
1. Mall of the Emirates
Mall of the Emirates is the world's first shopping resort that accommodates a space of 2.4 million square feet. This mall is located in Al Barsha. Also, you can find the around 630 brands in this multi-level shopping mall . It includes department stores, fashion boutiques, sports, home furnishing stores as well as the largest Carrefour in Dubai. Further, Mall of the Emirates houses a 14-screen cinema, an indoor ski resort and snow park . Also, it accommodates a 500-seat capacity Dubai Community Theatre and Arts Centre (DUCTAC) as well as over 90 international dining shops & cafés.
2. Dubai Mall
Dubai mall is largest shopping centre in the world. You can find this mall in Downtown Dubai. Also, this place is the most visited shopping mall in the globe. It has more than 1300 outlets, 2 department stores as well as 200 food and beverage stores. Moreover, the mall also has a 22-screen cinema, an ice skating rink as well as Dubai Aquarium & Underwater Zoo. This The aquarium is home to thousands of sea world animals that has a fantastic 270 degree walk-through tunnel.
3. Festival City Mall
Dubai Festival City Mall has more than 500 outlets and stores. It houses the only IKEA in Dubai, a Zara store, Robinsons department and many food outlets. Visitors can indulge into a number of added attractions in the mall that include an abra ride on the Canal and an 18-screen 7-star cinema experience. One of the key entertainment that the mall has on offer is the combination of dancing fountains and immersive imagery that feature pillars of fire and dramatic soundwaves. The show fuses science, technology and art and has also earned two Guinness World Records.
4. Burjuman
BurJuman is located at the centre of Dubai's business & heritage districts of Bur Dubai. This mall is home to a number of brands that include Adidas, LC Waikiki, Mothercare, Nine West, Aldo, Inglot and many more. The mall also hosts a number of food and beverage outlets for you to enjoy.
5. Ibn Battuta Mall
This mall has shopping, dining as well as entertainment feel to it. It is home to a wide number of fashion, lifestyle and sporting shops, as well as Debenhams, Geant, Marks & Spencer and Decathlon. you can also enjoy many available food and drink shops. This mall also has a 21-screen cinema.
6. City Centre Deira
City Centre Deira was the first large-scale mixed-use shopping destination in the Middle East. This mall has more than 300 retail outlets and services as well as many restaurants. This mall's entertainment sections include a 20-screen cinema with 3000 seats.
7. Wafi Mall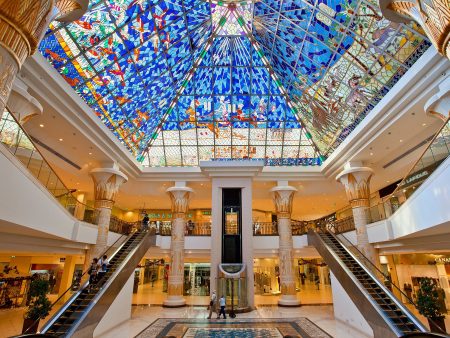 Wafi Mall is a unique architectural design that was inspired from Egyptian and Turkish architecture. This mall represents Egyptian Pharaohs, with amazing stained glass interior, one of a kind mosaics, carvings and many statues. The mall has over 350 retail outlets and more than 30 food and beverage stores.
8. City Centre Mirdif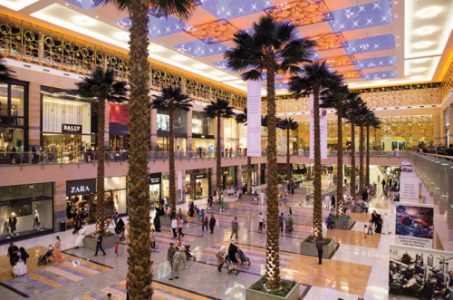 City Centre Mirdif is at Emirates Road and Tripoli Street. This mall has more than 430 stores, unique entertainment sights and many food and beverage outlets. Also, it houses Carrefour, Emax, Playnation, Centrepoint and Debenhams. Moreover, you can find a spa, haircut outlets as well as and a fitness centre in here.
9. Mercato
Mercato Mall is located in Jumeirah that feels like being in an Italian village. The mall is home to a wide number of international retail brands as well as plenty of bakeries.
10. Dubai Marina Mall
Located in the upscale waterfront community of Dubai Marina, Dubai Marina Mall offers its visitors with a casual shopping experience and is home to many classy fashion brands as well as a supermarket.
Suggest:
Cheap Eats in Dubai