7 Most Stunning Places in Japan
Japan has many places that brings tourists over. This country offers historic castles as well as fantastic floral displays. Here are some of the most beautiful places in Japan that are truly unbelievable.
1. Shikoku Island
Shikoku is Japan's 4th largest island. it's located southwest of the main island of Honshu. Also, this island is one of the country's most important pilgrimages. Other than it's holy temples, the island has some unique coastlines, mountain ranges as well as wild rivers.
2. Kenrokuen Garden
Kenrokuen Garden is one of the most beautiful one in Japan. Also, it is filled with amazing bridges, walking trails as well as teahouses. Each season shows a different side of the garden's beauty. you can see plum and cherry blossoms in the Spring time and maple tree leaves in the Fall.
3. Nachi Falls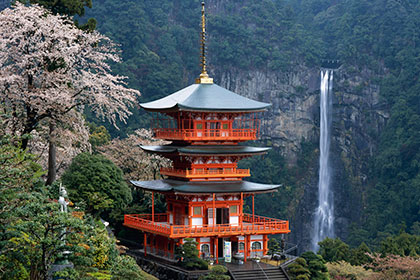 Nachi Falls is the tallest waterfall in Japan., tumbling down 133 metres (436 feet) into a rushing river below. The waterfall is overlooked by the gorgeous Nachi Taisha Shinto shrine, which is said to be more than 1,400 years old. Built in honour of the waterfall's kami (spirit god), the shrine is one of several Buddhist and Shinto religious sites found around the waterfall.
4. Matsumoto Castle
Matsumoto Castle is one of only a handful of original castles remaining in Japan. Initially built in 1504, it was expanded to its current form in the late 16th and early 17th centuries. Nicknamed Karasu-jō (Crow Castle), it's known for its beautiful black-and-white three-turreted main keep.
5. Nishinomaru Garden
Nishinomaru Garden is a gorgeous lawn garden that offers spectacular views of Osaka Castletower and the stone wall of its moat. The garden is covered with more than 600 cherry trees and more 95 different types of apricot flowers. It's a popular spot for cherry blossom viewings in the spring, with night-time illuminations held during the peak blooming periods.
6. Hitachi Seaside Park
Hitachi Seaside Park is famous for its fields of blue flowers that bloom in the spring. The park encompasses 190 hectares (470 acres), and more than 4.5 million blossoms blanket its fields every April. During the autumn, the park's rounded shrubs called kochia (bassia in English) turn a bright crimson colour, creating an almost equally mesmerising sight.
7. Sagano Bamboo Forest
The Sagano Bamboo Forest is located in Arashiyama, the western side of Kyoto. The bamboo forest is really famous for its beauty as well as for the sounds it makes because of the wind.