8 Best Attractions in Dubai
8 Best Attractions in Dubai
8 Best Attractions in Dubai – Dubai is a small place, however, it's packed with exciting sights for tourists to have a visit. It offers modern structures as well as cultural spots. This what makes the Dubai one of the best tourist hotspots worldwide.
1. Souk Madinat Jumeirah
This is one of the most famous tourism spots in Dubai, as Souk Madinat Jumeirah offers old school shops, souvenir stores, and more. It resembles an old market, with wooden decore and outdoor spaces. Also, it's full of tasty eateries and pubs.
2. Dubai Parks and Resorts
This amusement park is one of the recent attractions in Dubai, and is the best location for families. Dubai Parks and Resorts has 3 major parks. They are Legoland, Bollywood Parks as well as Motiongate. Everyone here can enjoy the rides, restaurants as well as its many events.
3. The Palm Jumeirah
The Palm Jumeirah is the largest artificial island worldwide. If you really want to enjoy this island, try staying in one of its 5-star hotels, like Atlantis, Fairmont The Palm as well as Anantara.
4. Ski Dubai
Ski Dubai is one of the Dubai's most famous attractions. It offers complete skiing as well as snowboarding experience. also, you will see penguins here. You won't need to bring warm clothes since all the clothing and equipment is at hand there.
5. Gold and Spice Souk
The Gold Souk and the Spice Souk are 5 minutes apart, and both give you a look into what Dubai used to be before it becomes a hub. Souk in Arabic means market. These markets are at Dubai Creek, and you can cross the water in a water taxi. At the Spice Souk, you can find the best spices in Middle East and at the Gold Souk very unique jewels.
6. Burj Al Arab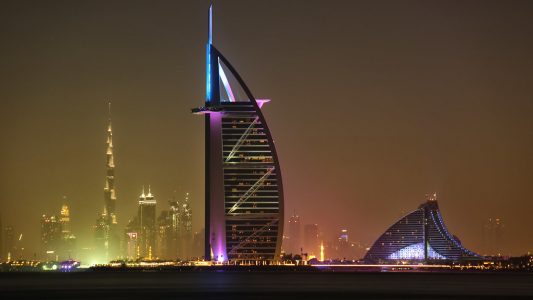 The Burj Al Arab is the only 7 star hotel in Dubai.Everyone visiting Dubai should take a picture of this hotel.
7. Dubai Mall
This building is the biggest shopping mall all over the world. The Dubai Mall houses over 1200 outlets, from some of the biggest luxury shops in the world such as Chanel & Cartier. They have trendier shops like Zara and Forever 21 as well. The mall also has a whole area selling jewelry and many food and beverage outlets.
8. Burj Khalifa
Burj Khalifa is the tallest building worldwide at over 800 meters. Also, it is one of the most fantastic sights in Dubai. To get the best view is to go to the 148th floors and see the city beneath you. This is one of the best experiences you can have in your life.
Suggest:
Cheap Eats in Dubai