Top 5 beach bars in Bali
Top 5 beach bars in Bali – Bali is an amazing place that offers many great beaches for your leisure. You can visit any of these beach bars to have a drink or cocktail and enjoy its fantastic scenery.
1. The Champlung
The Champlung is on the most popular stretch of Seminyak Beach thats is suitable for drinking and nightlife. You can identify this bar by its rows of beanbags and colourful beach umbrellas spread around the beach. You can get famous Champlung cocktails from $6 and local beer for $3. Also, this bar serves Pizzas that cost from $6 as well as ceviche for $4.
2. The Sand Beach Bar & Grill
If your plan for the day is to get a beanbag, seat back to the sound of the sea and watch tourists go by along Double Six Beach then this is your place. You can get a Bintang beer tower costing around $19. Also, they serve many international and Asian dishes with good portions from $5. They also offer burgers, spring rolls and quesadillas.
3. The Boardwalk
The classy atmosphere and fantastic tropical beach garden make the Boardwalk suitable for a relaxed, romantic location without having to pay high prices. This bar offers live events such as fire dance performance and acoustic music play. If you are hungry, you can order the Mediterranean dishes that offer great value starting from $3. Drink prices for local beers starts from $2 and for cocktails from $6 and finally for fresh juices from $2.
4. Blue 9 Beach Bar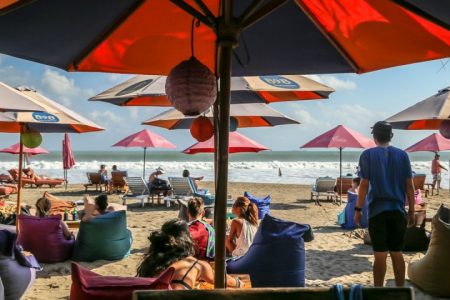 If you like to have late night parties at beach then you need to head to this place where they happen here regularly. You can get something to eat from international dishes, like  genuine wood fired pizzas starting from $4.
5. Capil Beach Bar & Grill
Double Six Beach is the center of most beach parties in Bali. Capil Beach Bar & Grill is another great place that you can lay back and relax. Also, if you need some food to keep you going you can try delicious bar snacks starting from $2 and the Capil pizza for just $6.
Suggest:
Best Bars in Tbilisi Georgia
Georgia travel tips
Top Bars in Goa