There are many places in Cuba to visit enthusiastic travelers. Some of these tourist attractions in Cuba are one of a kind that you will not find in any other place.  Cuba is one of the largest islands in the Caribbean that has a rich culture and history and is captivating and full of mysteries. Performing live music along with other things has made this part of the globe one of the best places for tourists to visit. You can still see vintage cars on the streets, beautiful old buildings in Cuba are eye-catching, and tourist areas attract a lot of of newcomers.
There are many natural beauties in Cuba. This large island is more than 3000 km of coastline and therefore has many beaches. Coral reefs glow in turquoise waters and the outskirts of the island have been a great area for celebrities. With such rich history and the beautiful tourist attractions in Cuba, this country really needs to visited at least once.
Old Havana a UNESCO Heritage Site
Old Havana is a UNESCO heritage site. Also, it is one of the best tourist attractions in Cuba that is well-preserved and well-illustrated in Cuban history.
Hiking the cobblestone streets of Havana and wandering the Great Baroque and neoclassical buildings can show you the Cuban life of past 200 years. The extensive renovations carried out in the area have given new life to its historic buildings.
Top tourist sights in this area include Plaza de la Cathedral, The Cathedral of San Cristobal, Bodeguita del Medio as well as Castillo de la Real Fuerza.
Also in Old Havana, Plaza Vieja is one of the most vibrant areas of this location. The main building in this city Casa del Conde Jaruco belongs to the eighteenth century and has beautiful colored windows. Near this beautiful attraction there is camera obscura which provides a beautiful view from the 35 meter high tower. Visitors must spend at least a day exploring the Old Town and its other attractions.
Varadero Stretched Along Peninsula de Hicacos
Varadero is one of Cuba's most famous coastal tourist attractions in Cuba. Furthermore, this beach is stretched along Peninsula de Hicacos by a sea that connects this area to the mainland.
More than 50 beautiful hotels are located in this popular area, with its white sandy beaches attracting many visitors from all over the world. Highlights of this area include Parque Natural Punta Hicacos (A natural shelter with a beautiful beach) and two caves called Cueva de Ambrosio and Cueva de Musulmanes. You can also  find Parque Josone in this area which hosts flower gardens, restaurants, a swimming pool and a small lake where visitors can take advantage of the available boats.
Northeast of Varadero, Cayo Piedra Underwater Park is a popular diving area where people can explore the underwater life and see all kinds of fish up close. In addition to diving, the area offers a variety of activities such as fishing, golf, skydiving and day trips to cultural sights.
Trinidad Showcasing Colonial Era
This city is a UNESCO World Heritage Site and one of most unique best tourist attractions in Cuba. Preserved old and beautiful buildings and cobblestone streets in the center of the city give visitors a strange colonial sense. Most of the architecture found in the area dates back to the 17th and 19th centuries. Today, Trinidad is one of Cuba's most popular tourist cities and its streets are often filled with foreign tourists.
One of these places to visit is Plaza Mayor that is the central square of the city. At the top of the square Neoclassical Church of the Holy Trinity is located. Other tourist areas of the city include Church and Monastery of Saint Francis with bell tower, Museum of Colonial Architecture, Art Gallery at Casa de Aldeman Ortiz as well as Palacio Brunet house built in year 1812. In the east of Trinidad, on the road to Sancti Spiritus, Dance de los Ingenios has numerous monuments dating back to the nineteenth century.
Guardalavaca located in The Province of Holguin
Guardalavaca in province of Holguin has lush and amazing beaches and is one of the quietest tourist attractions in Cuba. The lush foliage stretches along the beach and gives visitors a good shade. A day trip from Guardalavaca includes adventure in the jungle, cruises and tours to Santiago de Cuba. In the west of Guardalavaca an area called Baharan de Naranjo is located which has two large beaches and three islands. Chorro de Maita is also another travel option from Guardalavaca.
Playa Paraíso in Cayo Largo del Sur
In a country known for its beautiful beaches, Playa Paraíso in Cayo Largo del Sur island is one of the best tourist attractions in Cuba. This beautiful area is a string of fine white sands. The island of Cayo Largo del Sur is one of the popular destinations for people looking for sunlight. The area has a dry and sunny climate.
Cayo Coco a Quite Beach with Flamingos
Another one of Cuba's most beautiful beaches is Cayo Coco. This beach has a bridge to the mainland and many visitors travel through the air. The beaches where the sun shines daily are the main sights to visit in this area. Playa Los Flamencos is one of most beautiful tourist attractions in Cuba. Also, it has a 5km coastline where you can find fine sand here.
This is despite the fact that Playa is quiet, untouched and pristine, giving visitors a beautiful scenery. People who like animals can travel to El Baba Nature Park and enjoy a host of turtles, crocodiles and flamingos. Also, Cayo Guillermo beach which is connected by road to Cayo Coco is one of the most beautiful and touristy beaches in the area.
Parque Nacional Vinales in Sierra de los Organos
Parque Nacional Vinales is one of most picturesque tourist attractions in Cuba. It is also a UNESCO World Heritage Site, is a beautiful and lush valley in Sierra de los Organos North of Pinar del Rio. Limestone hills known as mogotes can be seen throughout the valley and have created a beautiful landscape in there.
The valley bed in Parque Nacional Vinales is an agricultural area where tobacco, fruits and vegetables grow. For those who are interested in outdoor hiking, this park offers hiking and horse riding in these hills. Nearby is the beautiful Vinales City Park, which is a great area for exploring the surrounding area. Travel companies have a day trip to Havana.
Baracoa a Park in The Province of Guantanamo
One of the most interesting tourist attractions in Cuba is the Beautiful and spectacular Baracoa. In fact, it is the oldest city in the country as well. The city was built in year 1511 in the province of Guantanamo and construction of first church in the area began at that time. This city until 1960, the construction year of La Farola Highway, was separated from the outside world and is still a remote area.
Today, many visitors from around the world visit this area for colonial architecture and beautiful waterfalls as well as its beautiful beaches. El Yunque also adds to the beauty of the area, and people who are interested in hiking and mountaineering can climb the 589-meter peak. The hillside is a UNESCO-listed heritage site and a refuge for rare birds and plants. To admire the special sights of the area, take the La Farola highway, a 49-kilometer stretch of road from Baracoa over the mountains. Visiting Museo Municipal will be interesting as well.
Fuerte Matachin is also a military fortress and provides a glimpse of Baracoa history. The castle itself has a very good view of the bay. Located 20 kilometers northwest of Baracoa, one of the best beaches in the area is located known as Playa Maguana.
The Malecon for Watching Sunsets
Malecon was built in 1902 and is considered to be one of most famous tourist attractions in Cuba and seaside resorts. Walking through this area reveals the history of the city. This seaside promenade is about 7 km long stretched from Habana Vieja to Vedado. Along the way, travelers can view old and preserved buildings of the 20th century, reflecting different architectural styles. These buildings are painted pink and yellow and are the best place to shoot artistic photos.
Santa Clara to See Cultural Part of The Country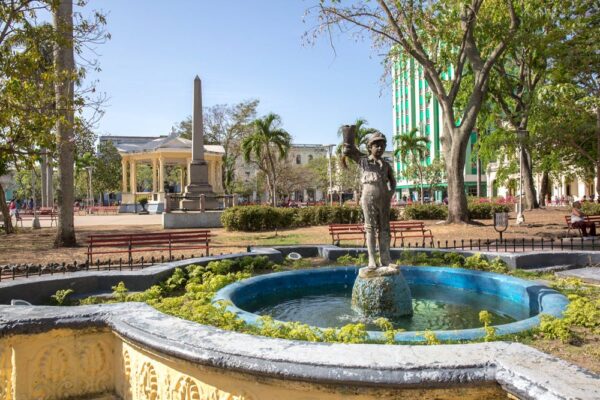 When seaside towns and resorts in this area look and feel alike, it's best to take a look at Santa Clara in Villa Clara Province admire its beauty. Santa Clara has many cultural places and is one of the most beautiful and attractive cities known for its existing university.
Ernesto 'Che' Guevara Memorial Comandante is one of most wholesome tourist attractions in Cuba. Also, Museo Historico de la Revolution exhibited personal works and items of Che Guevara. Che Guevara fans should visit Monument to the Toma del Tren Blindado which is a small museum in the area.
Santa Clara hosts Teatro de la Caridad which is also one of the few preserved theaters in Cuba. In spite of repeated renovations, most of the interior, such as furniture, artwork, decorations, and more, remains at its original position.
Castillo de San Pedro del Morro
Castillo del Morro is a UNESCO World Heritage Site and also one of the best preserved Spanish castles of the 17th century. This castle is the entrance to Santiago Bay, located on 10 kilometers southwest of Santiago de Cuba (The second largest city in the country). The castle is one of few tourist attractions in Cuba that still in a good shape.
Locals had originally built the castle to fight pirates, but it was also used as a prison at the 1700. Visitors today can explore various levels of the castle and find out about pirates. Travelers can also enjoy the beautiful view of the bay. Other cultural highlights of the Santiago de Cuba include Diego Velasquez Museum as well as Cementerio de Santa Ifigenia hosting the remains of some of the most famous military figures in Cuba. Parque Baconao, less than an hour's drive from the city. It is where visitors can take a closer look at the coffee fields and stroll through its beautiful gardens.
Peninsula de Zapata a Place for Bird Watching
Peninsula de Zapata is another one of tourist attractions in Cuba which is paradise for nature and bird lovers. It is a remote, with low population in Cuba and one of the largest lagoons in the Caribbean. Cienaga de Zapata Or Zapata Swamp as a UNESCO World Heritage Site hosts more than 150 different species of birds. In this area you can also find crocodiles. Part of this peninsula is dedicated to a natural shelter. Gran Parque Natural de Montemar is where visitors can see some of these creatures in their natural habitats.
Above the Bay of Pigs, Playa Larga is located that hosts a long, beautiful beach with lush vegetation. Eager divers can explore underwater life in numerous diving spots along the cliff. To the northeast of Playa Larga is a large bird sanctuary. Boca de Guama is the tourist center of the peninsula and its main attraction is Criadero de Cocodrilos which is a crocodile farm.
Parque Historico Militar located near Havana Bay
Parque Historico Militar includes two famous castles in Havana. It is one of beautiful tourist attractions in Cuba that definitely worth a visit. It is famous as Castillo de los Tres Reyes del Morro and Fortaleza de San Carlos de la Cabana.
El Morro is located at the entrance to the Havana Bay. It was built to fight pirates in the late sixteenth and early seventeenth centuries. Moreover, in the mid-19th century, the lighthouse was replaced by a stone. However, its main lamp still glows over the sea. Visitors can climb to the top of the castle and admire the magnificent view from this area to the ocean and the sea.
A short walk from El Morro takes you to Fortaleza de San Carlos de la Cabana. It was built in 1770 and is the largest Spanish fortress ever built. During the rule of the Batista regime, the castle became a military prison. Also, it was later used as Che Guevara's post-revolution headquarters. Visitors can explore the museum in the area that shows the history of the castle well, but the most popular time to visit at night is when actors wear nineteenth-century costumes.
Plaza de la Revolucion in Havana
Plaza de la Revolution, because of its important place in history of Havana attracts a lot of visitors. In 1998, Pope John Paul II celebrated a great occasion in this area. At the center of the Plaza de la Revolucion is a 109-meter-high gray tower that commemorates Cuban national hero José Martí. At the same time, there is a large white marble statue at its base. Beneath the statue, there is a gateway to the entrance of Jose Marti Memorial containing a museum about Martí. Visitors can climb to the top of the tower and have a great view of Havana. In front of the monument, Che Guevara's large and famous portrait adorns the interior.
Other than these beautiful tourist attractions in Cuba, if you are in the Caribbean, you should check out other countries in relative shirt distance like tourist attractions in Jamaica and explore the beauty of this country for a more interesting vacation.