The City of St. Petersburg is one of the most important tourist cities in Russia. There are, therefore, a variety of hotels in St Petersburg as well as other forms of accommodation for tourists around this city. Here we take a look at the top hotels in this great city.
Four Seasons Hotel Lion Palace St. Petersburg
Four Seasons Hotel Lion Palace is one of the top five-star hotels in St Petersburg. It is close to city attractions such as St. Isaac Church and the Bronze Horseman statue in Senate Square. This hotel has been renovated; however, the hotel's essence of 1820, like the staircases and the entrance hall, have remained in their original form. This unique hotel reflects the Russian imperial era along with a sense of modernity, glamor, and luxury.
Also, Lion Palace has 183 guest rooms as well as 26 magnificent suites. For extra payment, you can stay in the upper floor guest rooms that offer private terraces overlooking the cathedral.
The State Hermitage Museum Official Hotel
The State Hermitage Museum Official Hotel is one of the most luxurious 5-star hotels in St Petersburg and Russia. This hotel is a short distance from Nofsky Avenue and is unique in terms of luxury and beauty. One of the advantages of this hotel is that it is a short distance from the Hermitage Museum, hence its name.
The architectural spirit of classic Russian architecture and the designers tried to keep the spirit of a tsarist aristocratic palace alive in the design of this hotel. Therefore, you will see valuable works of art at every corner of this place. Moreover, this hotel is a short walk away from the nearest metro station, about 2 km from the historic and beautiful Moskovsky Rail Terminal station.
Hotel Astoria a Luxury Residency
The Astoria Hotel was designed and built by the famous architect Fyodor Ivanovich Lidval. The hotel can be named one of the most unique attractions and most beautiful hotels in St Petersburg. This is a luxury hotel that has had the honor of hosting prominent guests in its history. Astoria is in a great location along St. Isaac's Cathedral and offers guests the best amenities to maximize their comfort. This hotel is only a few minutes away from the main attractions of the city, such as Nevsky Avenue, Mariinsky Theatre as well as Palace Square.
Pushka Inn Hotel located near Palace Square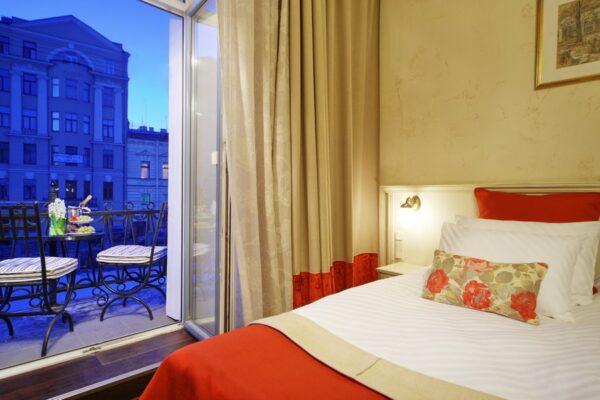 Pushka Inn Hotel is one of the top four-star hotels in St Petersburg in, Russia. This hotel, with its comfortable rooms and suites, is located near the Hermitage Museum and Palace Square. Also, you can stay in one of those rooms that have a balcony facing the city. Facilities at the hotel include free Wi-Fi, full-day service, and, more importantly, English-speaking staff.
Alexander House a Beautiful Boutique Hotel
Alexander House is a boutique hotel that is slightly further away from the city center. However, it has great restaurants, and they offer great wedding services here as well. The rooms here are very comfortable and feel more like your house than a formal hotel room. There is a garden here as well that has a café and a restaurant inside.
Station Hotel Premier V18 in Sobor Vladimirskoy Ikony Bozhiyey Materi