Best Shopping Malls in Izmir
Famous Shopping Malls in Izmir
Turkey is full of attractions and attractive shopping malls. As the third largest city in Turkey, you can visit some of the best shopping malls in Izmir and not be disappointed by them. This city is a place for relaxation, whether by walking along the beach or exploring the exciting shopping malls of Izmir.
Izmir shopping malls are visible the moment you set foot in the city. Moreover, you can find them all over the place from the Bornova Airport hall to the huge Agora in the southern part of the city. Therefore, it is a good option to visit the shopping malls in Izmir if you ever visit this city.
Optimum Outlet near Esbaş Subway Station
One of Izmir's newest shopping malls is Optimum Outlet. The long-delayed construction of the center finally opened with five floors, along with an underground car park a few miles from the airport. In this Izmir shopping center, you will find home appliances on the first floor. To buy clothes and jewelry, you need to go to the next floor. On the top floor you will also find shops suitable for children and teenagers. Food court and cinema are located on the same floor. Also, in this shopping center, there is an ice rink that can be seen from the food court and coffee shops.
Kemeralti Bazaar and Historical Market
One of the oldest traditional markets in Izmir is located in the heart of Izmir. In addition to being an attractive place for sightseeing and shopping, the Kemeralti Bazaar is one of Izmir's most important sights and a good shopping mall in Izmir. Around this bazaar, there are other old buildings such as a guest house, a bathroom and a mosque, which makes you feel like you are traveling in time. Before entering this bazaar, we recommend that you take a photo of the market entrance and the old clock tower.
Remember to try the famous Izmir candies. If you travel to this city in winter, drink a cup of Salep (a warm drink made from a combination of milk, flour, sugar and cinnamon) to warm up. Also, you can go to the city's restaurants for food, often for more than two generations, run by local families. Next, don't forget to take a walk on Havra Sokağı Street, where you can find fresh fruits and vegetables or buy souvenirs for your loved ones.
Forum Bornova in Kazımdirik
This mall is one of the largest hybrid projects (part of which is dedicated to the mall and the other part is residential). Moreover, this place is a three-story mall and has 600 apartment units, a spa, a gym and several restaurants. The Forum Bornova is one of the largest in terms of dimensions among the rest of shopping malls in Izmir and Turkey. The building consists of two parts, a hall and a park. Bernova's goal was to make it possible for people to take advantage of their leisure time and have fun, along with the amazing shopping experience. At the Forum Bornova, you can find goods and clothing from Turkish or other global brands at reasonable prices.
Agora Mall near Molla Kuyusu Bus Stop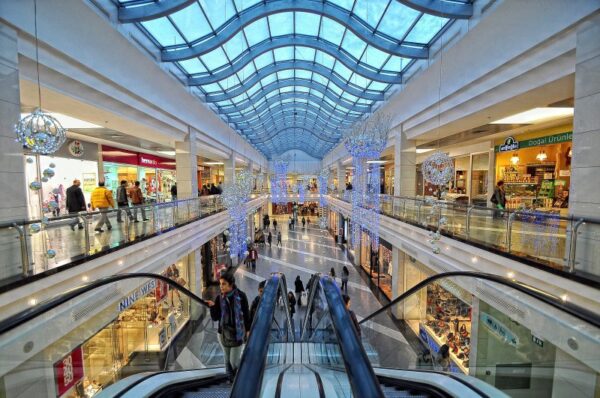 Agora is one of truly largest shopping malls in Izmir. This place has about 30,000 square meters of indoor space and nearly 90,000 square meters of outdoor space. Opened in March 2003, the mall takes its name from a word meaning (purchase). Agora mall focuses on customer satisfaction and service quality. Agora has been known as the largest fashion and entertainment center in Izmir since 2003, and by including a variety of world-famous brands, it has not only provided you with a comfortable and attractive purchase, but also offers you exciting and joyful experience.
If you are in turkey it is worth visiting the cheapest shopping malls in Istanbul offering more options than the shopping malls in Izmir. All these shopping malls sell approximately same local merchandise, however, the ones in Izmir differ from the ones in Istanbul in terms of lack of varieties of options.