Top Restaurants in Kutaisi
Top Restaurants in Kutaisi
This article introduces tourists and travelers to top restaurants in Kutaisi. These restaurant offer relatively cheap food with delicious flavors. Kutaisi, one of the medieval cities of Georgia, is full of impressive landmarks to explore. Here, you will find dinosaur footsteps, one of Georgia's UNESCO World Heritage Sites, caves, and museums for history buffs. When visiting any city, it's important to know where to dine and spend an evening indulging in the local experience. Even though the dining scene in Kutaisi is a bit limited, we have hand-picked some of the best restaurants for you to try out.
Bikentia's Kebabery
Bikentia's Kebabery is a must-visit place once in Kutaisi. Designed in the old Soviet style with six standing tables, the venue offers a uniquely authentic experience. Don't expect a wide variety of kebabs here; they have only one kind served with a beer or lemonade for a fixed price of 6 GEL (€2).
Paolo Restaurant
With the range of European and Georgian meals, Paolo restaurant offers a relaxing atmosphere with reasonable prices. The venue adds its own twist to local cuisine which makes it favorable for many Georgians as well as tourists. Moreover, you can enjoy live music.
Baraqa
Baraqa is one top restaurants in Kutaisi for local dishes. This is a place to eat Adjaruli khachapuri, or the cheese boat as it's called by many foreigners. The venue is non-smoking with large portions and reasonable prices. The menu is quite diverse offering plenty of vegetarian dishes as well.
Bar-Restaurant Palaty
With outstanding service, Bar-Restaurant Palaty is a favorite place of many locals and visitors to the country who stop in Kutaisi. The venue offers a wide variety of dishes and wine in a friendly atmosphere with live music in the evening. Here, you can taste Imeretian cheese from the region, fish, salads, sandwiches, meat dishes, and much more.
Hacker-Pschorr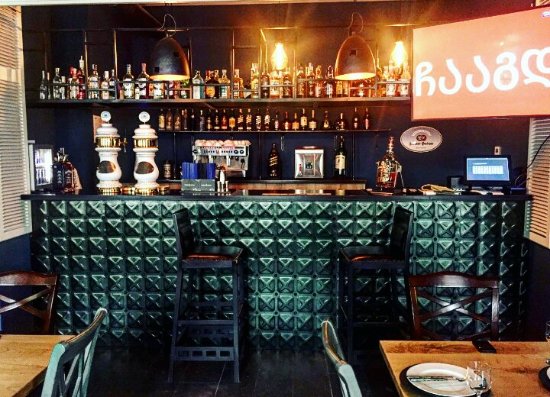 If you are looking for a good beer and food that goes well with the beverage, Hacker-Pschorr in Kutaisi is the place for you. With excellent service, a wide variety of beer types, friendly atmosphere makes this paces favorable to many Georgians and visitors. It is open 24 hours so if you happen to get hungry in the middle of the night, Hacker-Pschorr is there for you.
If you care for some drinks after your lunch or dinner, you can head to one of top bars in Kutaisi which they have a cozy environment. The bars offer Georgian wine, local beer as well as imported craft beer as well.