Top Seafood Restaurants in Paris
Famous Seafood Restaurants in Paris
The number of seafood restaurants in Paris is not small. Paris is a few hours from the sea, but this does not mean you can not access the seafood during your trip to Paris. Whether you crave poached oysters or crabs dipped in various delicious sauces, you can try these dishes in Parisian seafood restaurants.
Guy Savoy Located in Monnaie de Paris Museum
Restaurant Guy Savoy is one of the best restaurants in the world, located in the Monnaie de Paris Museum. Famous dishes of this luxury Parisian restaurant include blue lobster in the "Land and Sea" menu. Of course, the most creative dish of this restaurant is iced poached oysters. Since this is a fine-dining restaurant, you need a prior reservation. The seats are very limited, and the chef must know how many guests are coming in daily.
Máncora Cebicheria near Square du Temple Park
The cuisine of Máncora Cebicheria Restaurant is inspired by the coastal Máncora District in northern Peru. Fresh fish is chopped and soaked in a special sauce to prepare this dish. The restaurant also prepares a variety of traditional Peruvian dishes, such as octopus with Peruvian olives, AntiKuchu and Causa, creating an interesting mix for its customers. You can find this great Peruvian restaurant very close to Square du Temple and Temple subway station.
Les Pinces in the Le Marais Neighborhood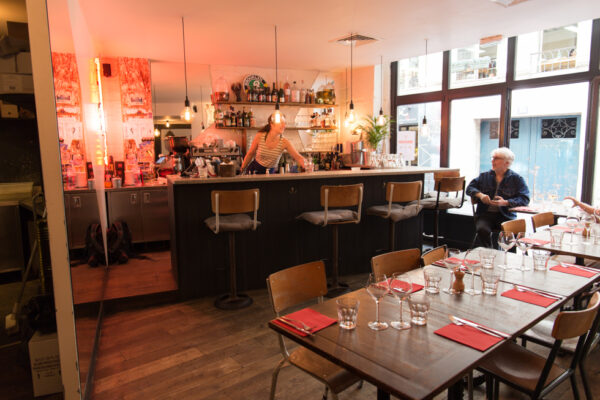 Les Pinces Restaurant is one of the top seafood restaurants in Paris in the Le Marais neighborhood. This place believes that you can get good quality seafood at a reasonable price. Also, you can order fresh lobster in this restaurant with home-fried potatoes, which come with various sauces. Of course, in addition to seafood, you can also order other meat-based dishes.
La Nouvelle Seine on The Parisian Quays
La Nouvelle Seine Restaurant, which overlooks the unique architecture of Notre Dame Cathedral, is one of the best seafood restaurants in Paris. Opened in 2012 on the Parisian quays, this floating restaurant has been offering culinary excellence to both local Parisian as well as those curious tourists. In addition to the delicious seafood of this restaurant, you can also enjoy its theatrical performances, which include various genres, like humor and so on. Also, Greek salad with squid, seasonal fruits, and the local fine wines are defiantly worth a try at this restaurant.
Gaspard de la Nuit
If you have a craving for aristocratic seafood in Paris, check out the Gaspard de la Nuit Restaurant, where the cooking skills of its chefs are unparalleled. Their most famous seafood dish comes with beef broth. The menu of this restaurant changes almost every 2 months, and they offer only one appetizer and main course as daily food so that they can offer it to their customers with the highest possible quality.
*Update: Gaspard de la Nuit seems to be no longer operational.
Seulement Sea Near Church of Saint-Sulpice
Another more budget-friendly seafood restaurants in Paris would be the Seulement Sea restaurant which is conveniently located very close to the Church of Saint-Sulpice. Renowned for the fantastic service as well as their fresh oysters, you are guaranteed to enjoy the food here.
As the name suggests, they only focus on seafood here, but they do that very well, and though the food presentation might not be as flamboyant as the high-end restaurants, the food does not lack in terms of flavor and quality. Another bonus point is that food and wine menus are quite extensive, and you have lots of options for desserts as well, all at affordable prices. Just make sure to get there early, as the number of seats is limited.