Top Buffalo Cafes and Coffee Shops
Many interesting Buffalo Cafes and coffee houses attract the attention of coffee enthusiasts. While the sights in New York City may be better than the ones in Buffalo, you should still take advantage of a trip to Buffalo. This great city has the culture, food, history, architecture, and art to make it a destination worth planning a trip around, all at a fraction of the price and without the endless queues.
Also, Buffalo is a city with a lot of character, heart, and culture, and there are many ways to experience it. Through museums, restaurants, galleries, festivals, and simply walking the streets, it exposes you to the outdoors that makes Buffalo one of the greatest cities in the US.
With a mix of cultures and ethnicities, each neighborhood creates a cultural envelope, from food to festivals and events, making Buffalo boroughs the most diverse place in the city.
The city is known for its delicious food. With a rich history filled with immigrants from all over the world, the food scene is just what you would expect. In fact, Buffalo is full of Irish, Polish, and Italian immigrants with deliciousness that shapes the city's character.
EM Tea Coffee Cup Cafe on Oakgrove Avenue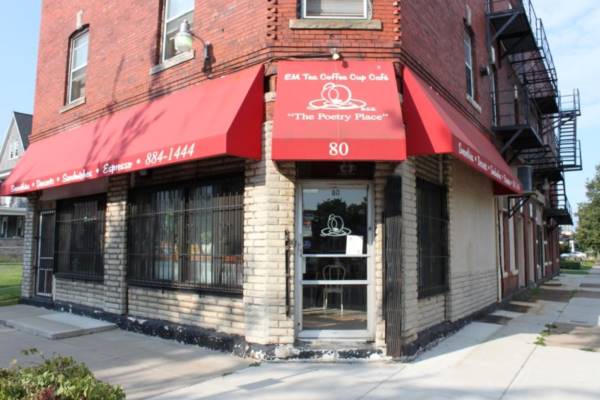 EM Tea, Coffee Cup Cafe, is one of the top neighborhood Buffalo cafes which is also popular with many locals. That is because they have a large breakfast menu at very reasonable prices. Some breakfast items include omelets, pancakes, sausage, and egg sandwiches. Other than some great coffee, you can order reasonably delicious lunch meals like chicken and steak hoagie, fish whopper, soup, and turkey clubs. The current location of EM Tea, Coffee Cup Cafe, is at 80 Oakgrove Avenue.
Kornerstone Cafe & Juice Bar in Larkin Center of Commerce
Kornerstone Cafe & Juice Bar Larkin is a handful of family-owned Buffalo cafes that used to attend nearby farmers markets in Kenmore starting in 2010. After many years of offering great quality coffee, fresh juices, and natural foods to the community, in December 2016, they decided to continue their coffee business from a brick & mortar café at 33 Elm Street, and since then, they have been a constant local favorite.
What you can get here includes vegan dishes, salads, sandwiches, breakfast deals, bowls, as well as various drinks like coffee, smoothies, and juices. The atmosphere here is very great though their menu items are slightly expensive. The Kornerstone Cafe & Juice Bar location is at 701 Seneca Street on the 1st floor of Larkin Center of Commerce.
Jake's Café in the New Westin Area
If you want a quick yet delicious breakfast, then you should go to Jake's Cafe. In fact, this joint is one of the best Buffalo cafes for having breakfast sandwiches filled with eggs, as well as bagels and some freshly baked pancakes. The lunch menu is good, too, for a quick bite. The kitchen here is open, and you can see cooks make grill sandwiches and burgers with sides of fresh juices and premium coffee. You can find Jake's Cafe at 250 Delaware Avenue in the new Westin area, accessible by public bus numbers 11 and 25.
Caffe Aroma on the Corner of Bidwell
Caffe aroma is one of the great European-style Buffalo cafes on the corner of Bidwell and Elmwood Avenue intersection. They are famous for their breakfast sandwiches like panini and bacon and ham bones. Also, the atmosphere is peaceful yet vibrant, and you can see many people come by here in the late evening hours. In addition, there is a patio here, too, that is perfect for outdoor sitting during the summer season.