Top Flea Markets in Denver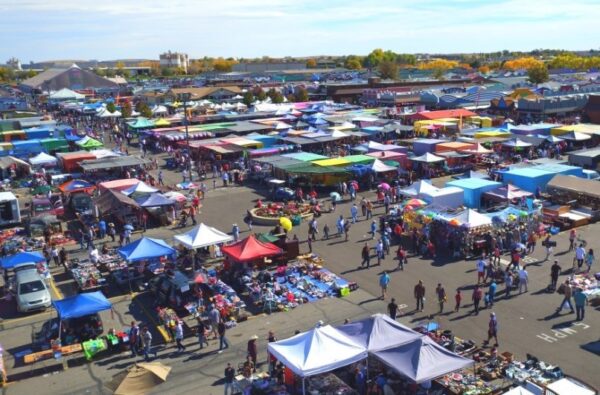 List of Flea Markets in Denver
Since the Denver city has a history which dates back to the Old West times, the flea markets in Denver are great location to find some unique items which you may not find anywhere else. Therefore, make sure to visit Denver if you are ever in the Colorado state and want to find yourself some well-priced antique items.
Mile High Flea Market at 7007 E 88th Avenue
Mile High Flea Market is one of largest and oldest flea markets in Denver as well as in the region of Rocky Mountain. This market had a humble beginning, in 1976, where individuals were selling their items in a parking lot. After a decade being there, the area moved to a 80-hectar field on the junction of I-76 and 88th Avenue. The Mile High Flea Market is open all year round, every Friday, Saturday and Sunday, and has well over 2000 sellers offering their merchandises. Also, there are many diverse food options and a live music stages here too.
Lafayette Collectibles & Flea Market East of Spaulding Street
Located in Boulder County, Lafayette Collectibles & Flea Market is slightly out of Denver, 30 minutes drive away in fact in Lafayette. With over 150 vendors selling everything from furniture, home décor, collectibles, vintage clothing, home goods and everything in between in low prices makes Lafayette Collectibles & Flea Market a good place to shop around. This market is located on 5000 square feet area, making sure there are lots items for shoppers to find and bring home. You can find Lafayette Collectibles at 130 E Spaulding St, which is accessible both by private vehicle and by "JUMP" public buses.
Federal Indoor Flea Market in Anillos Matrimonio Mall
Federal Indoor Flea Market is one of small flea markets in Denver. Here is suitable for those who want to shop for clothes, home appliances or some clay pots. There are more clothes here that are in great conditions making a great location if you are on a specific budget for buying great looking shirts or dresses. You can find this market inside Anillos matrimonio shopping mall in Federal Blvd between W 8th&9th Avenue roads. Bus numbers 30 and 31 have stop next door to this market.
Hampden Street Antique Market near Village Square Mall
Hampden Street Antique Market is an upscale indoor market. It is where you will be able to shop from over 100 venders all under one roof. For those that are looking for some rare and uncommon gifts, Hampden Street Antique Market is the place to be at. Some of the interesting items you may find here include military artifacts, Asian furnishings, jewelry, figurines and fanciful gifts. Moreover, located in 'Village Square' shopping mall, Hampden Street Antique Market is one of best Denver Colorado flea markets here.
Colorado Fresh Markets Inc in Cherry Creek Shopping Center
Colorado Fresh Markets Inc is not really a full-fledged flea market but more like a fresh produce market. However, you will still see some vendors selling some antique or second hand items to shoppers. The Cherry Creek Shopping Center is where you can visit the Colorado Fresh Markets Inc to buy some fresh vegetables or fruits and find some antique items.
The Farmer's Market at Highlands Square on W 32nd Ave
The Farmer's Market at Highlands Square is another place fresh produce as well as flea markets in Denver area. This market also offers some antique and old gift merchandise as well. Furthermore, this market is found in located in the Highlands Square district which is between W 32nd Ave & Lowell Blvd. Make sure to give them a visit on a Sunday which is the only day they operate. Bus 32 has a stop very close to here.