7 Things to Do in Japan During Winter
7 Things to Do in Japan During Winter
7 Things to Do in Japan During Winter – Beginning of December is a good time to visit Japan as it's the the month between high and low season. The winter season is cold, however there are not many visitors around the cities. Here are a few things to do while you are in Japan during the winter time.
1. Skiing in Yuzawa Resorts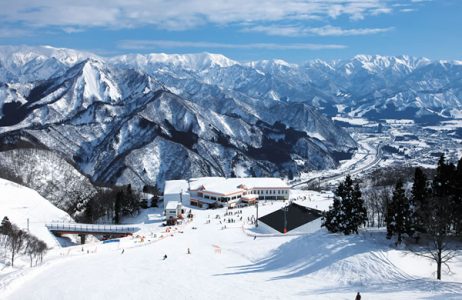 There are a total of 12 ski resorts in Yuzawa offering skiing and snow-related sports for all level of participant. If you just want to make some snowballs and play in the snow, well, you can do that in Yuzawa too.
2. Visiting the Blue Pond in Hokkaido
The Blue Pond is an unique blue colored lake in the forest near the town of Biei, Hokkaido. Further, the best time to see the Blue Pond is during the winter season when it's there is snow. This pond is even more beautiful at night when the color of the water is reflected onto the snow.
3. Bathing in hot springs of Yamagata
Getting into hot springs (onsen) is a way of life in Japan. In winter bathing in outdoor hot spring becomes a more memorable experience.There are 2 onsen public baths namely Shiroganeyu and Omokageyu, right in the center of Ginzan. Also, a free of charge Warashiyu public foot spa available for you.
4. Shopping during winter sales
Winter sales in Japan begging in December when retailers start discounting all their winter stock. Also, December is a fantastic month for getting cheaper home appliances as well. Further, in January you get cheaper prices on everything even lower when the famous 'lucky bags' go on sale.
5. Be at Fuji-Q Highland in Fujiyoshida
You might think that winter is not the right time to get into a theme park or maybe Japan is not really the place for it, however you should rethink that. Fuji-Q Highland is an amusement park at the base of Mount Fuji with some of the best rides worldwide. Because it is close to Tokyo, a lot of people rush here and you will wait a long time to get into the rides.
6. Visiting Jigokudani Monkey Park
The best time to visit Jigokudani Monkey Park is from December to March, is a good time to visit when there is snow. However, the best months are January & February when the temperatures be at -10 Celsius which is when the monkeys like to bathe.
7. Enjoying Sapporo Snow Festival
This is a week long celebration in Sapporo which is the capital of the Hokkaido. It takes place during first week of February and brings more than 2 million tourists and locals here yearly. Staying over is expensive, therefore if you want to travel there make sure to plan in advance. The best option is to arrive a few days prior the beginning of festival and leave after the end of it.