Top Souvenirs From Morocco
With unique culture and many local markets, Morocco is a heaven for shoppers. You can also buy many souvenirs to bring back home too.
Tadelakt Home Accessories
These accessories are colorful and shiny products with a tadelakt finishing. They all come in little containers, soap dishes and toothbrush holders in a range of colors from blue to brown.
Leather Bags
Buying leather in Marrakech is a must for visitors. Make sure to check out the quality before you buy which the best way is by smelling them.
Soaps
One of the best gifts to buy here are the soap bars. Orange blossom water and jasmine make for lovely soap bars and room sprays. Also, the addition of argan oil provides extra moisturizer for the skin.
Djellaba
In winter men and in summer time women wear this style. Also, various styles and quality of djellaba are available in Morocco.
Green Glass & Tableware
These unique glasses was at risk of disappearing when the factory closed, however, thanks to the Beldi Glass company, the tradition continues to this day. Also, the tea cups are available in various sizes and styles as well as Moroccan tableware.
Babouche
Babouche slippers are a traditional souvenir that you should really look forward to buy them.
Argan Oil
Essaouira is the only place in the world where argan trees grow. Also, argan oil is a really on demand commodity here. However, be careful as the quality of these oil bottles are not the same here.
Berber baskets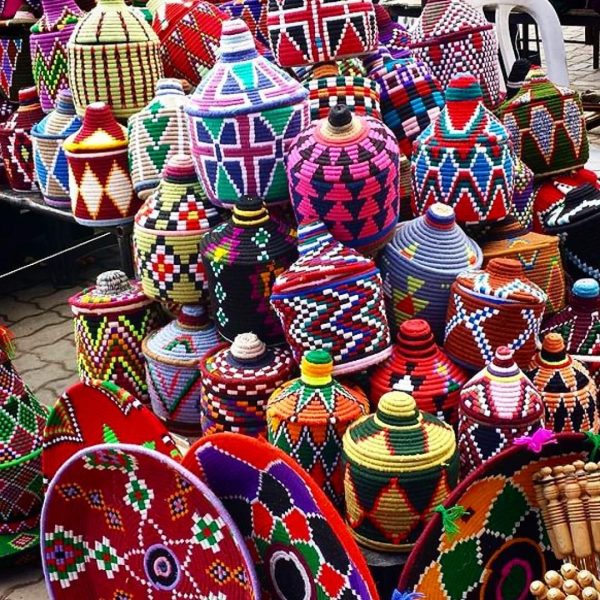 These breadbaskets are getting popular in recent years as restaurants include them as part of their interior décor.
Ras El Hanout
Ras el hanout means 'head of the shop' as it is the blend made by the local shopkeeper. Moreover, it is a blend of the best spices in the local market and includes mainly of cumin, cinnamon, allspice as well as ginger.