5 Cheap Places to Eat in Madrid
5 Cheap Places to Eat in Madrid
Tourists should try places selling cheap eats Madrid locals would go. Therefore, here are some of 5 cheap places to eat in Madrid while saving costs. Madrid is generally a very inexpensive place to eat. However, there are a few places in the city which offer delicious cuisine for a very low price. Check out the list below if you're hoping to there eat out on a budget.
1. Taqueria Tiki Taco
Mexican taquería is one cheap places to eat in Madrid. This is the place where it wants to distinguish Spanish culture with its flavors. In addition, as a tourist, if you like good and cheap tacos here is your place. The price usually ranges is around 4$ to 11$.
2. Pizza 3Cruces
Pizza 3Cruces makes great Italian pizza for cheap eats Madrid locals would love to eat. This place offers pizzas with great taste, fresh ingredients, as well as exceptional service. They offer pizzas at low prices ranging from 2$ to 11$.
3. Plenti
Plenti is another one of cheap places to eat in Madrid. It is a perfect and cozy place to have breakfast with fresh and quality products as well as good service. They offer exceptionally good pastry and coffee for your liking. Also, the ranges of their prices is between 2$ to 18$.
4. Bocadillos Oink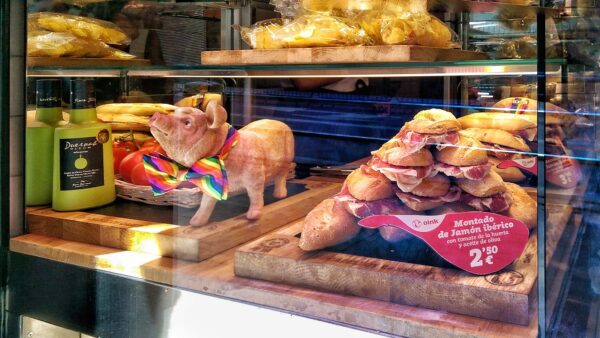 For cheap eats Madrid style, you should head to Bocadillos Oink. This shop is a perfect place for lunch or snack time. They are a takeaway food store, specializing in ham and cheese rolls, crusty rolls. In addition, the rolls and fillings are made fresh and their service is really efficient. The prices are less than 15$.
5. Real Talent Cafe
This Cafe is one of cheap places to eat in Madrid located in the center of Madrid, in an emblematic building of the 18th century. They offer great variety of products. Tourists can enjoy wonderful breakfasts, brunch, lunch as well as snacks. they also provide homemade pastries, dinner or you can just have a beer and enjoy their delicious tapas. The prices ranges from 4$ to 18$.
Also, if you are planning to travel to other cities like Barcelona, it is worth checking out 5 cheap places to eat in Barcelona. This article is suitable for budget conscious travelers to save money while enjoying delicious food offerings in Barcelona.