5 Cheap Places to Eat in Madrid
Affordable Restaurants & Cheap Places to Eat in Madrid
Tourists should try places selling cheap eats Madrid locals would go. Therefore, here are some of 5 cheap places to eat in Madrid while saving costs. Madrid is generally a very inexpensive place to eat. However, there are a few places in the city which offer delicious cuisine for a very low price. Check out the list below if you're hoping to there eat out on a budget.
1. Taqueria Tiki Taco near Plaza de España
Mexican taquería is one cheap places to eat in Madrid. This is the place where it wants to distinguish Spanish culture with its flavors. In addition, as a tourist, if you like good and cheap tacos here is your place. The price usually ranges is around 4$ to 11$. The location of this taco restaurant is near Plaza de España which is a popular tourist area. To get here, exit at Santo Domingo subway station and walk your way towards C. de San Bernardo street to see the Tiki Taco sign.
2. Pizza 3Cruces Serves Crêpes and Pizzas
Pizza 3Cruces makes great Italian pizza for cheap eats Madrid locals would love to eat. This place offers pizzas with great taste, fresh ingredients, as well as exceptional service. Other than think crust pizzas, they are very famous for their crêpes. With many toppings, these crêpes can also considered a good meal to go.  They offer pizzas at low prices ranging from 2$ to 11$.
3. Plenti Good for Healthy Breakfast
Opened in 2017, Plenti is another one of cheap places to eat in Madrid for British inspired food. It is a perfect and cozy place to have breakfast with fresh and quality products as well as good service. They offer exceptionally good pastry and coffee for your liking. Almost everything here is healthy and is made by love and care, Some of the menu items include cereals, toast, casseroled eggs, salads, soups and quiches. Also, the ranges of their prices is between 2$ to 18$. To find the, Just walk a short distance from the Museo Nacional del Prado.
4. Bocadillos Oink Sandwich Shop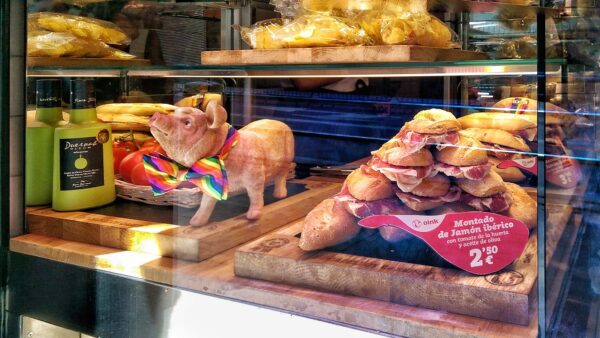 For cheap eats Madrid style, you should head to Bocadillos Oink. This shop is a perfect place for lunch or snack time. They are a takeaway food store, specializing in ham and cheese rolls, crusty rolls. In addition, the rolls and fillings are made fresh and their service is really efficient. The prices are less than 15$. You can find them near H10 Villa de la Reina Boutique Hotel and Gran Vía subway station.
5. Real Talent Cafe
This Cafe is one of cheap places to eat in Madrid located in the center of Madrid, in an emblematic building of the 18th century. They offer great variety of products. Tourists can enjoy wonderful breakfasts, brunch, lunch as well as snacks. they also provide homemade pastries, dinner or you can just have a beer and enjoy their delicious tapas. The prices ranges from 4$ to 18$.
Also, if you are planning to travel to other cities like Barcelona, it is worth checking out cheap places to eat in Barcelona. This article is suitable for budget conscious travelers to save money while enjoying delicious food offerings in Barcelona.
Finding The Right Cheap Eats Madrid Has for Travelers
There are loads of cheap eats Madrid has to offer, specially for those who love eating meat. Wherever you go there are cafes around the city, serving great food at very modest prices. Just need to try out all the streets that are near famous icons in this city. Start your food journey from Plaza Mayor and explore the surrounding area for food carts or small cafeterias.