7 Authentic Turkish Food to Eat in Istanbul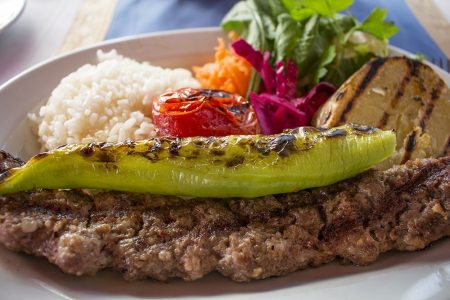 Best Food to Eat in Istanbul
Istanbul is the perfect place to enjoy the rich diversity of Turkish cuisine. Here are 7 authentic Turkish foods to eat in Istanbul when visiting this dynamic city. For many tourists and foreign residents, Turkish food has a combination of both east and West. Therefore, you can enjoy many types of food in this great city of Istanbul.
Balık Ekmek from Beykoz Balık Ekmek Restaurant
Balık Ekmek is the most famous tourist snack in a wide range of Turkish cuisines. This is a sandwich that has grilled fish, onions as well as salad. One of the best spots to get Balık Ekmek is in Beykoz Balık Ekmek Restaurant, located near Beykoz port on Kelle İbrahim Cadessi.
Döner in Karadeniz Döner Asım Usta
Döner is probably the most famous Turkish food to eat in Istanbul. This dish is becoming famous in Germany as well. Doner kebab has different types like dürüm which is a döner wrapped in lavaş bread. Also, there is Iskender kebab, which is döner on pide bread with yogurt, tomato sauce, and animal fat. One of the most famous places to eat in Istanbul for doner lovers is Karadeniz Döner Asım Usta.
Lahmacun in Halil Lahmacun Restaurant
Lahmacun is another one of the famous Turkish food to eat in Istanbul that is easy to get almost anywhere in Istanbul. It is a thin and crispy bread topped with minced seasoned meat, which is best with a squeeze of lemon and parsley before you roll it into a sandwich. The most well-known place to eat Lahmacun is in Halil Lahmacun Restaurant near Kadikoy station.
Kebab in Develi Etiler near Artists Park
Kebabs play a major part in introducing Turkish cuisine to the outside world. Let's see what type of kebabs you can get in Turkey. First is Adana & Urfa, which are spicy and normally seasoned lamb meat cooked on skewers. The second type is Beyti, which is cooked ground lamb or beef wrapped in lavaş bread with tomato sauce & yogurt. Further, it is şiş, which is grilled cubes of chicken or lamb meat.
Kuzu Tandır in Siirt Şeref Buryan Restaurant
Kuzu Tandır is a traditional Turkish food to eat in Istanbul made with lamb, cooked in a clay oven in the ground. Also, today, this dish is still made like the old days from tender meat and served with rice, nuts, and currants. The most delicious Kuzu Tandır is located in Siirt Şeref Buryan restaurant, very close to Pidecisi Ibrahim Usta restaurant.
Pide in Fatih Karadeniz Pidecisi Ibrahim Usta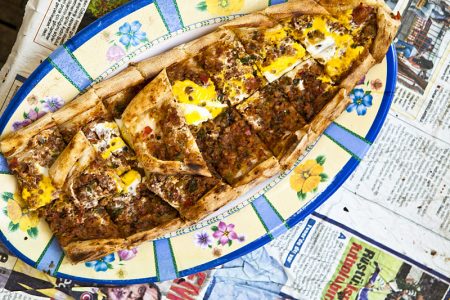 This baked bread has many different ingredients inside and is part of many nice Turkish cuisines. To make Pide, they add minced meat, spinach, and eggs, as well as spicy Turkish sausage and seasoned veal meat. The best place for pide is in Fatih Karadeniz Pidecisi Ibrahim Usta, located near Fatih Memorial Park.
The pitas you will eat here are prepared in accordance with the original and with quality ingredients. The secret of providing service since 1969, challenging the years, and increasing its regulars daily is that they do not compromise on quality. The pita is baked in the stone oven first and comes out quickly, filling the area with amazing aromas.
İçli Köfte in Haskral Hatay Sofrası Restaurant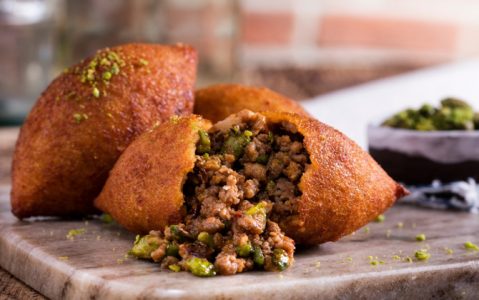 Köfte is an average yet tasty Turkish food to eat in Istanbul. Further, Içli köfte has a fantastic crispy outer layer made from bulgur packed with minced meat, parsley, pine nuts, and onions. Haskral Hatay Sofrası is one of the best places in Istanbul for all great dishes not only their famous cheesy künefe and crispy kadayıf, but also their İçli Köfte. If you are open to new tastes, try these İçli Köfte with their special sauce. Haskral Hatay Sofrası located in the İskender Paşa neighborhood between Sofular Street and Ragıp Bey Alley, near the Aksaray metro station.
If you want to explore more Turkish food in Istanbul as well as other cities of Turkey, try checking out Turkish cuisine, in which ingredients come from all corners of the country. Some of these dishes are specific to a particular area of the country.