Top 8 Bars in Istanbul for Tourists
Some of the Best Bars in Istanbul for Travelers
Tourists want to experience having a drink in a rooftop bar in Istanbul way. Therefore, here are the top 8 bars in Istanbul for tourists so that you can have a memorable experience on your trip. In a city with nightlife as lively and colorful as Istanbul, you can guarantee to find many stylish, simple, and welcoming pubs to have a drink in. Whether you want to have a wild night out or just a drink with friends, there is a bar for you here. Here we introduce 10 of the best for your pleasure.
1. Snog Roof Bar Located Near Galata Tower
Snog Roof Bar is a nice rooftop bar Istanbul has that also gives you one of the city's best views. It is very close to the Galata Tower in Istanbul. In all these rooftop bars, as their prices increase, the view gets nicer. Therefore, you can visit this bar at the end of your travel to give you the last good memory of the Istanbul trip.
2. Smyrna Cihangir Found in Kılıçali Paşa
If you want to visit one of the quirkiest bars in Istanbul, then Cafe Smyrna is the best bet. It is a former antique shop with a laid-back and old-fashioned feel. The tables outside are shaded from the street by awnings. This bar is a disarray of standing lamps & furniture. It is a favorite place for writers and the neighborhood's foreign journalists as well as expats. The outdoor tables provide a lovely place to enjoy a drink in the evening. This bar/restaurant is in Kılıçali Paşa near Cihangir View Park.
3. Sultan Pub & Cafe is Near Hagia Sophia Mosque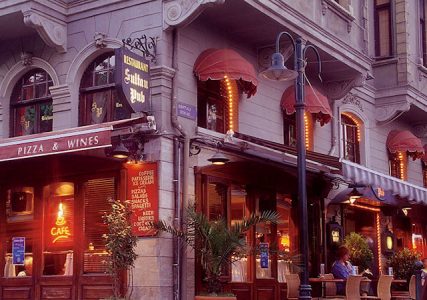 Even though there are many hotel bars in the old city, it's very hard to find a nice drink there. However, for those eager not to leave the neighborhood of Sultanahmet, there are a few choices. The Sultan Pub is one of the best bars in Istanbul. This place is a lurid, American-style bar with 3 floors. This bar serves alcoholic drinks and hamburgers near the Aya Sofya. The outer pavement seating is always nice, but the roof terrace has the best views over the street.
4. Just Bar Found on Akbıyık Cd
Two words that come to mind when remembering "Just Bar" are friendly and fun. You can be sure of a welcoming and lively environment in this social place full of friendly people looking to meet others. This is an amazing place for an enjoyable chat or to have a few drinks to get the clubbing started. And for shisha lovers, they offer nice ones here too. This bar is on Akbıyık Cd road, and the nearest bus stop close to Just Bar is at "Akbıyık."
5. 360 Istanbul on İstiklal Cad
360 is a rooftop bar Istanbul offers its visitors and tourists. It can cover all the views over Istanbul. As the name says, glamorous 360 is worth a visit for that reason alone. Instead of booking for dinner, come here early, convince the waiters to give you a desirable window seat, and sip your drink real slow. Then, go to the street below and find cheaper food to eat. To get here, start from Galatasaray Tram, stop, and walk to Building No:163 on İstiklal Cad.
6. Baylo Bistro & Bar Near Şişhane Subway Station
Baylo is also one of the best bars in Istanbul. This joint is a local favorite, so you will find its diners become your friends very soon. It is one of the limited neighborhood venues in Turkey. Its regulars always visit this bar once they can. This bar is at No 107 on Meşrutiyet Cd, very close to Şişhane Subway Station.
7. Litera Restaurant / Lounge-Bar Near Beyoğlu and Galatasaray
Litera is a nice rooftop bar in Istanbul, and visitors can enjoy having a drink inside. This is another one of the bars in Istanbul with a city view. It is on the 5th floor of the Goethe Institute and shows the old city, the Asian side, and the Bosphorus at your feet – glass walls and high tables with stools ensure everything is visible. Also, such views are all really rare and well worth visiting. Meanwhile, the institute below this place offers one of the most diverse cultural programs in Istanbul, from classical music to theater and photography. If you are near Beyoğlu and Galatasaray area, make sure to give them a visit. Their current location is No:32 on Yeni Çarşı Cd.
8. Büyük Londra Oteli Teras in Beyoğlu
Built in 1881, the Büyük Londra is an extremely nostalgic note of Beyoğlu's past. It intends to show the neighborhood's bohemian peak. Still, the unfashionable setting and talking parrot in the bar take you back to a more recent time. This place is unique and one of the best bars in Istanbul. The rooftop bar is slightly less old-fashioned and watches over the Golden Horn.
As a traveler, make sure to review 6 useful tips when traveling to Turkey. These tips are essential for every visitor to this country to make your trip more memorable and hassle-free in general. Some of these tips and guides are necessary because you can save up on your travel expenses and have a more memorable time there.
When to Visit the Rooftop Bar Istanbul
Recently, more and more bars are opening across this historic city. The right time to visit a rooftop bar in Istanbul is around late noon until the sun goes down. This is also the time to capture the beauty of the city, like city lights or the mosques nearby. The rule of thumb is to travel during warmer months of the year if you want to enjoy the full experience of these fantastic bars. That is because, during wintertime, you will be mostly sitting inside, hence missing the panoramic view of these rooftop bars in Istanbul.