Top Coffee Shops in Budapest
Best Coffee Shops in Budapest
Hungary is a very beautiful country in Europe and coffee enthusiasts can find the top cafes & coffee shops in Budapest. This city is full of great cafes that you can count on for breakfast or an afternoon coffee. Budapest is one of the most beautiful cities in Europe in Hungary and its café culture is rooted in it. Therefore, you are here for a pleasant coffee trip for the best coffee shops in Budapest.
Also, if you like to explore the nightlife of this city, you should try the one of the top bars in Budapest where most the fun lies. These bars offer local drinks as well as international sprits and drafts. They would be a good follow up to coffee shop journey of the day.
Coffee Shop 64 close to Blaha Lujza Tér Metro Station
Coffee Shop 64 name comes after the street number where it is located. This café has been operating for a short time, but has managed to establish itself among the professional coffee drinkers in Budapest in the same period. You can choose from a wide range of quality coffees on the menu and enjoy it with a fresh croissant. This café may seem very small, but the calm and friendly atmosphere and the warm attitude of the staff will be very pleasant. Due to the limited number of seats, it is better to arrive early.
Első Pesti Rétesház near Budapest Retro Erlebnispark Museum
Első Pesti Rétesház has a very unique name and can undoubtedly be considered one of the best coffee shops in Budapest to try traditional Hungarian sweets with a cup of coffee or tea. The strudel menu has a wide variety and you can choose from both sweet strudels and other flavors. The central location of this café and its atmosphere and warm and intimate services are other notable features.
Azték Choxolat! near PARC Városháza Market
Azték Choxolat or Nothing Café is known for its homemade candies, special chocolates and all kinds of hot chocolates. The hot chocolates here are one of the best in all of coffee shops in Budapest. In addition, you can order a great coffee and enjoy it with tempting sweets and cakes. This intimate café with large sofas and small wooden tables by the window is one of the highlights of Budapest.
Bistro Synago close to Dohány Street Synagogue
Bistro Synago formerly known as Café Zenit is located in the former Jewish district of Budapest. The coffee served to you is made from freshly roasted beans whose aroma you will never forget. The cakes are also very tasty and very nicely decorated. In addition, you can enjoy the beauty of the large synagogue in front of the café. There is also a small menu of other foods that includes a special zenit option.
Cafe Intenzo in Károli Gáspár Reformed University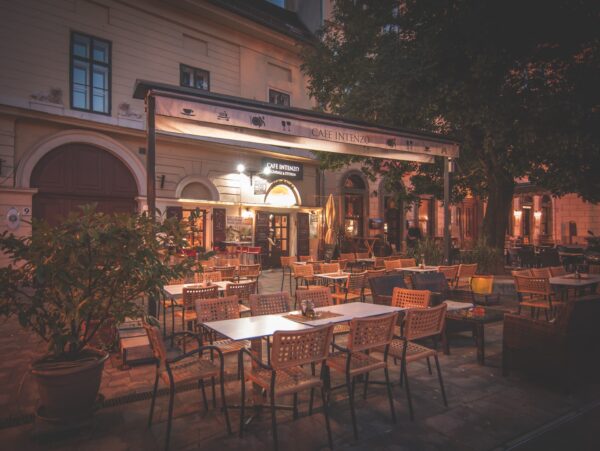 Cafe Intenzo is a lovely old café in the southern suburbs. The café is known for the quality of its coffee and food, free internet, warm staff and beautiful garden. You can sit in the beautiful garden and watch the beautiful sunset in a romantic setting by the candlelight. Apart from coffee and tea, the menu also includes a range of traditional Hungarian dishes.
Espresso Embassy near Liberty Square Park
Espresso Embassy is one of the first cafes on the third wave of Budapest. Named after the Montenegro embassy next door, its contemporary and industrial interior design, with its focus on coffee flavors and aromas, makes it an ideal coffee shop. The coffee beans used here can also be purchased separately.
Walzer Café in The Castle District Area
Walzer Café with its colorful décor and friendly atmosphere is located outside the city center and can be found on the other side of the Danube River. The building of this café is more than 7 centuries old making it one of the oldest operating coffee shops in Budapest. This café is located in the heart of the historical area of ​​Budapest Castle. This would be perfect for breakfast or an afternoon coffee, and the coffee and cakes you have here are amazing.
Prága kávéház és teázó near Kálvin tér Metro Station
Praga is a stylish and fashionable café that has been popular with students, artists and locals for many years. Its warm and intimate and slightly old-fashioned interior provides a great atmosphere for intimate and friendly chats complemented by a cup of coffee.
Piccolo Café Budapest near Oktogon Station
This small café is located in one of the beautiful and attractive squares, which makes it as one of fascinating coffee shops in Budapest. Piccolo Café is famous among the locals for its quality Italian coffees and you can drink one of the best espresso in the country. Of course, the quality of delicious sweets here are somethings that should not be forgotten.
*Update: This café is no longer operational.
Famous Cafes in Budapest
For those who just want to visit the most famous cafes in Budapest and experience quality coffee there, these coffee houses are located between Ferenciek tere and Kálvin tér subway stations near the Elisabeth Bridge and along the Danube River.