5 Cheap Places to Drink in Madrid
5 Cheap Places to Drink in Madrid
There a quite number of bars in Madrid that you can go to as a tourist. However, you should try to try one of these 5 cheap places to drink in Madrid if you want to save some money in your travel expenses. Madrid is one of Europe's most affordable cities. It's not difficult to find a a hotel on a budget. Also, eating and drinking are very affordable at the right places. If you are on a budget here, then these are the cheapest places you can drink in Madrid.
La Tona
This bar serves "Andalusian style" tapas and has a really good vibe as well. This bar is a cheap and suitable spot to get some beers and enjoy your fried fish. They have a few branches around the city as well. Also, don't be in a rush since they are laid back here.
Lizarran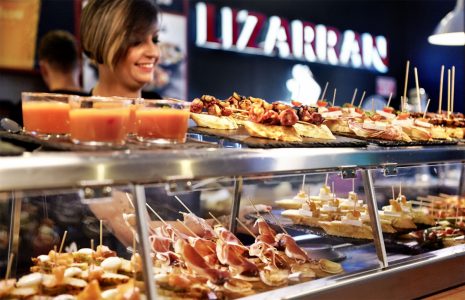 Lizarran is currently operating from a few locations in this city. This place is the one of the best bars in Madrid for people on a budget to drink beer & wine and some tapas. Also, you can have your beer with the huevos rotos which is one of their hearty salads.
Templo de Debod
The park is packed with tourists visiting the temple by day, however when the sun goes down, you can get beer or tinto de verano which is wine mixed with fanta limon here and chill on the grass The mostly costs beer 1 euro from the many walking street vendors nearby.
Entre Cáceres y Badajoz
You can find Entre Cáceres y Badajoz near Calle de Don Ramón de la Cruz. This bar is one of the few bars in Madrid that gives you free tapas when you get a drink. Therefore, you can eat your dinner here for less than 10 euros if you order a few beers.
100 Montaditos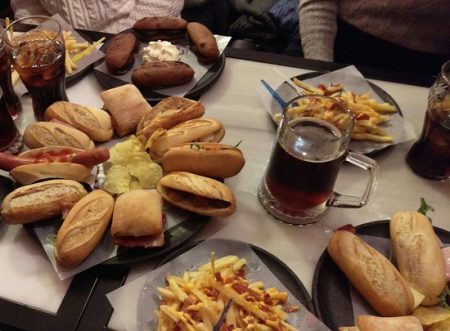 100 Montaditos, meaning 100 little sandwiches, is a bar with many locations throughout the city. This bar is for anyone who wants to drink at the lowest price possible. They have  a menu with a hundred sandwiches and snacks inside so you can eat and drink on a very tight budget as well.
Also, you can try checking 5 cheap places to eat in Madrid where they offer cheap but very delicious food to tourists. Moreover, these places are scattered around the city and you can find them on your path if you explore this city thoroughly.