Santa Fe Restaurants Guide
Santa Fe Restaurants Guide
Santa Fe restaurants are among some of the best in southwestern part of USA. For tourists who want to visit the best restaurants in Santa Fe then this article for you. Santa Fe, New Mexico is one of the top destinations in the southwestern United States. This is a city that embraces its natural environment, a city whose beautiful architecture is combined with a high desert landscape. A city that at the same time is one of the largest art and culinary capitals of America.
Sazón
Sazon is is one of top Santa Fe restaurants offering great Mexican food. This restaurant belongs to Chef Fernando Olea that combines traditional method of cooking with great ingredients to make great food here. The specialty here is their Mexican mole which is a combination of over thirty ingredients including ground spices, nuts, chocolate as well as chile. The average prices start from $15, however, there is chef special menu with the name of Degustación costing around $150. You can find Sazon restaurant at 221 Shelby St.
The Shed Restaurant
The Shed Restaurant is one of the best restaurants in Santa Fe for offering great red chile enchiladas. This restaurant has been in operation since 1953 which you can find it on Palace Avenue. They offer great lunch dinner desserts as well as a good selection of kids menu here. The food here is relatively cheap and the taste of almost all their dish is exceptional. Also, they have a good selection of Margaritas and Tequilas here.
The Pantry
The Pantry is another one of Santa Fe restaurant that offers great quality Mexican cuisine. This place has been serving customers comfort food since 1948. In fact it is a family run business that serves best some of the chile as well as ingredients in the city. Head to Cerrillos Rd to find The Pantry in there.
Izanami Restaurant
Izanami Restaurant is an upscale Japanese restaurant and one of few Asian Santa Fe restaurants that you can visit at Ten Thousand Waves Way. They source their seafood daily and it only lasts for the same day. The place has a great Zen garden nearby it and you can expect exquisite sushi here. As for the drinks, they have coffee as well as cold sake and tea that comes straight from shizuoka Japan.
La Choza Restaurant
La Choza Restaurant is one of the best Mexican restaurants in Santa Fe. They serve great red and green chile which makes this place a local favorite. The location of La Choza Restaurant is at Alarid St with a great patio dining for its customers. They serve lunch, dinner and have a great Margarita bar which makes here a suitable summer days.
Clafoutis
Clafoutis is a good French bakery that offer great breakfast deals as well as some nice French pastries with great tasting coffee. This institution is a family run business and you can see members of the family helping with the operation of this restaurant. You can visit them at 333 W Cordova Road if you want to have great healthy breakfast or supper.
Maria's New Mexican Kitchen
Maria's New Mexican Kitchen is another one of great Mexican restaurants in Santa Fe that offers traditional food like Fajitas and Tamales. This business started in 1050 and has been through many ownerships through the years but the food quality remains just as good. Their famous dish here is their Enchilada plate that is very filling and has great flavors. In fact, all their food is delicious and not overly expensive at all. The location of W this restaurant is at Cordova Rd.
If you are travelling through USA for good Mexican food, check out the best cheap places to eat in San Jose. These eateries offer great quality and filling dishes that can cost very cheap. San Jose also have a large community of Mexicans that know how to make authentic food using local ingredients.
The Ranch House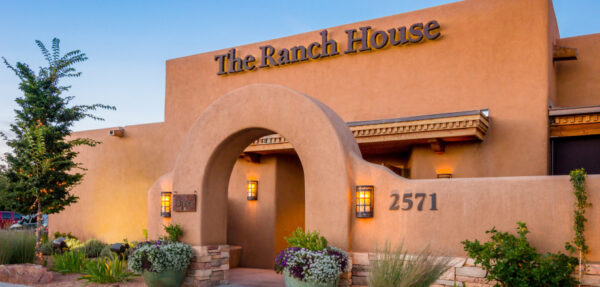 The Ranch House is one of Santa Fe Restaurants that actually serves great BBQ and grill in this town. The business started its operation in 2005 from a small restaurant and grow bigger in 2011 to be at its current building at 2571 Cristo's Road. This place has an Open-air Patio at the back and offers great happy hour prices like 1$ beer and $5 cocktails.
Piccolino
Piccolino is one of best restaurants in Santa Fe for Italian food. This is a family run institution and it separates itself from the rest by having checkered tablecloths. The food here is great and their specialty is home-made meatballs and great fresh pastas. Head to Agua Fria St to find this restaurant for some delicious Italian food.