Top Cheese Shops in Wisconsin
Best Cheese Shops in Wisconsin
Wisconsin cheese shops are available all over the this state. When visiting here, it is worth checking out some of the cheese shops in Wisconsin. Since cheese is one of main produces in Wisconsin, there are many factories produce a myriad type of chesses and the main one is yellow cheddar. This state has a lot of cows and as a result produces a lot of dairy products that come with very unique flavors.
West Allis Cheese & Sausage Shoppe in West Allis and Milwaukee
West Allis Cheese shop operates from two locations of West Allis as well as Milwaukee Public Market. The owners, Mark & Linda Lutz, started this cheese cafe in 2005. They sell many types of cheese here such as infamous brands such as Hook's and Deer Creek. In their shop, the main focus is on local cheddar cheese, however, you can still find Gouda and  Blue cheese as well as spicy sausages and a nice selection of pickles and sauces.
Mars Cheese Castle in Kenosha
The structure of this building resembles a castle hence the name. The place is huge and there is a restaurant here offering delicious cheesy dishes such as Classic Grilled Cheese as well as Rueben and Traditional BLT. Other than a large selection of local cheddar cheese you can see a bakery section having a few types of delicious bread and pie types. Moreover, there is a souvenir shop here selling shirts representing the Mars Cheese Castle shop.
Ehlenbach's Cheese Chalet Inc in DeForest Village
Ehlenbach's Cheese Chalet Inc is another one of cheese shops in Wisconsin that has a large offerings of cheese types as well as sausages, beef jerkies and gourmet dishes. This is a family owned business that is selling cheese to both locals and travelers since 1968. If you like handmade fudge candies, then this place is really good location to visit.
Simon's Specialty Cheese Store in Appleton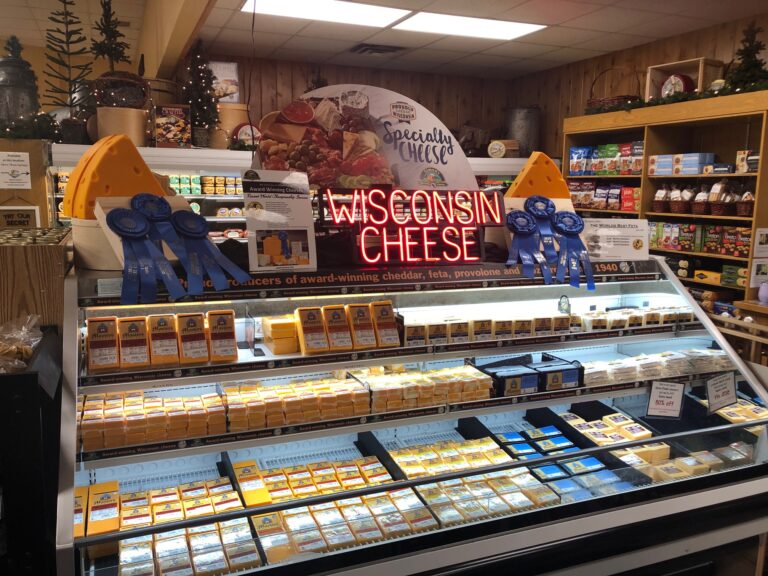 Simon's Specialty Cheese Store has a long history of making cheese to local shoppers. Originally, Simon's family started making cheese from an existing cheese factory and later they opened a humble shop to sell it to individuals directly as well. They have over 100 types of locally made cheese here that includes Mozzarella, cheddar, Feta as well as Provolone and their famous squeaky cheese curds that are actually very fresh. Like other cheese stores in Wisconsin, they have  a section for sausages, wine, beer as well as handmade candies and fudges. You can find them at 2735 Freedom Rd in Appleton area where the original store still stands.
Cedar Valley Cheese Store in Belgium Villages
Cedar Valley Cheese Store is another one of old cheese shops in Wisconsin that is serving quality cheese to locals since 1947. The place sells more than 300 different cheese and their most famous one is Factory Fresh String Cheese that comes directly from the factory next door. Also, they sell a good selection of red wines and spicy sausages here. You can visit Cedar Valley Cheese Store every day of the week expect major holidays at W3115 Jay Rd in Belgium area.
Wisconsin Cheese Mart located in Milwaukee
Since 1938, Wisconsin Cheese Mart has been serving serving locally produced cheese to customers at their store on Old World Third St in Milwaukee area. This makes Cheese Mart one of the oldest operating cheese shops in Wisconsin. Their sole focus is on proving quality cheese, which is over 150 types, and send them to other states in the United States. Also, they offer a good range of sausage and salami as well as candied fruits and cookies here. You can dine in their Brüdd Cafe and enjoy delicious cheesy products here.
If you are a food lover, you should also check out the best barbecue places for delicious Austin BBQ. The city of Austin offers great food like BBQ that has unique flavor and it is cooked slowly over many hours on grills and smoked from many types of wood as well.