Best Cafes And Coffee Shops in Bucharest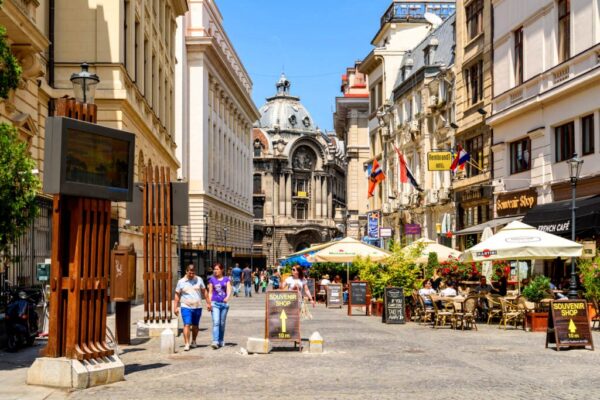 Best Cafes And Coffee Shops in Bucharest
Romania has many interesting and spectacular cafes. In this article, we take a look at the best cafes and coffee shops in Bucharest for tourists and visitors. The atmosphere of some cafes is very welcoming and intimate and some feel very luxurious. All of these cafes are worth a visit, especially the cafes that are set up after dark and live music.
M60
This coffee shop is located on a quiet street near the famous 'Strada Piața Amzei'. This area houses some of the best cafes and coffee shop sin Bucharest. The M60 is very famous for its avocado toast, delicious carrot cake and its minimalist designs. Plus, with the great coffees they serve, they create the same sense of relaxation and fun you desire in big and bustling cities.
Beans&Dots
Beans & Dots is the best place to freshen up in the morning or start your day doing your online business. In here, you can try a variety of delicious coffees and tarts. Moreover, you can chat with a creative crowd from Bucharest and enjoy your time. Be sure to visit the terrace of this café, regardless of the weather.
The Urbanist
When visiting the old center of Bucharest, be sure to check out The Urbanist coffee shop. This café is located in an interesting combination next to a denim and sportswear store and has an interesting atmosphere. From the sunset and its calmness, it gives way to an electronic dance scene. Furthermore, this popular café has a lovely terrace facing the street.
Energiea
Energiea is located in an old printing house known for its fresh and delicious food, great smoothies and its ever-relaxing atmosphere. Thin ribs, potato dishes with a magic of flavors are really memorable. Over the years, the industrial décor of vintage and terrace has clearly made this café one of the best cafes in Bucharest.
Twenty Eight
Twenty Eight has a social entrepreneurial structure in terms of modern design inspired by Middle East and has a major following in the artistic community. With excellent coffees, more than 50 special teas and desserts, this café has everything to attract the attention of city-wide design enthusiasts who also support social movements.
Origo
Origo is one of the main competitors for the title of best coffee shop in town. In Origo you can always have a cup of coffee. They come with a combination of the finest coffee beans prepared by skilled baristas and special coffee roasters in this coffee shop. In the evenings, the coffee shop serves a variety of drinks at once, and large crowds flock to it.
Frudisiac
Frudisiac serves healthy and delicious food that includes vegan and vegetarian dishes, incredible smoothies as well as delicious homemade pancakes. In warmer months, you can read and enjoy a collection of excellent magazines on the street-facing terrace.
J'ai Bistrot
J'ai Bistrot is a café that is famous throughout the city. Although the food is great, people get together for another reason. It attracts people for its sense of comfort and relaxation plus live music by local DJs. This café is located in one of the least known tourist neighborhoods of Bucharest. However, its old villas and houses attract architecture lovers.
Grand Café Van Gogh
Grand Café Van Gogh is one of the first coffee shops to be established after changing the old center of Bucharest. This location has turned into a party hangout, gaining more customers. This café is in a beautiful historical building and gives a Dutch feeling to the main artery of this neighborhood.
Acuarela
The atmosphere of Acuarela is warm, comfortable and very colorful. Also, its burgers are very popular with younger generation. If you visit this café in summer, a rainbow of umbrellas hanging in the sky above the garden. Therefore, they will welcome you and in winter you can enjoy the warmth of a large clay stove.