Singapore Tourist Attractions Guide
Best Singapore Tourist Attractions
Singapore tourist spots are amongst some of the nicest in the world. This article explores some of the Singapore tourist attractions that offer an informative view of this city and are nice to visit. Singapore has a fascinating history and a variety of ethnic neighborhoods to explore. There are also many family attractions and lovely public spaces that make visiting this modern city worthwhile.
Museum of Ice Cream at Loewen Road
The Museum of Ice Cream is one of the new Singapore tourist attractions that originated first in the United States. This place features lively, beautiful installations that will provide great fun and amusement. The Museum of Ice Cream address is at 100 Loewen Rd.
Slingshot Singapore near Clarke Quay
Slingshot Singapore is one of the new Singapore tourist spots that is located in Clarke Quay. This activity will give a lot of joy to people and will slingshot individuals to the sky and back at a height of 70m with a top speed of 160 km. It will be a nice experience for adrenaline junkies.
SkyHelix Sentosa near Universal Studios
SkyHelix Sentosa is another one of the Singapore tourist spots that has a 360-degree ride that will give tourists and travelers a nice view of the city. You can find this attraction when you visit Sentosa Island. This open-air sight will be a memorable activity you can do if you are not afraid of heights.
Sentosa Island Accessible by Tiger Sky Tower
Singapore is not very famous for being a beach destination; however, if you are interested in sunbathing, Sentosa Island is one of the Singapore tourist attractions that will offer you that. Sentosa Beach is a good place to spend time on the beach, and visitors can play volleyball on special grounds or enjoy boating and skimboarding. There are several other beach attractions. In addition to watching the Underwater World Aquarium, where you can swim with dolphins.
Universal Studios Singapore at Resorts World Sentosa
Singapore Studio Universal Amusement Park is one of the Singapore tourist spots and the best theme parks in the world. There are about 22 exciting activities that can provide you with an interesting journey that you will forget when you enter the park. In Singapore Studio Universe Park, you can take close-up photos with your favorite cartoon characters, and you can also celebrate your birthday or wedding in this entertainment complex. The amenities in this park are at a very high level, and this is one of the reasons why many travelers to this destination go to this theme park every year when traveling to Singapore.
Singapore Zoo at Mandai Lake Road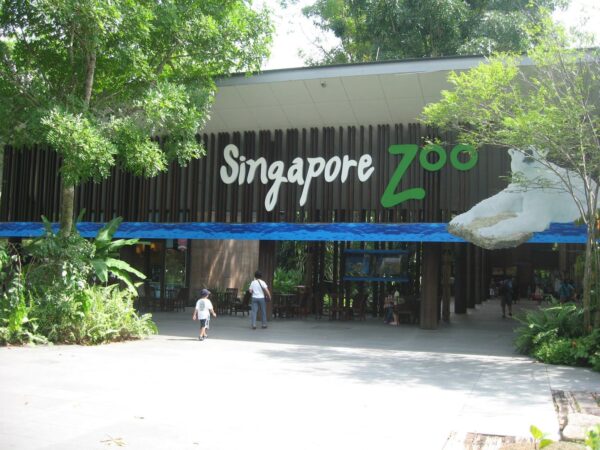 Zoo Singapore, which holds the title of the best rainforest zoo in the world, is one of the nicer Singapore Tourist Attractions you can visit. It seems that in this very clean and attractive zoo, the animals get proper treatment. Also, lush plant life and a suitable biological area have been provided for them as well. Visitors can also watch the feeding of some animals. You should spend at least a few hours exploring the zoo, but if that time still fails to satisfy your love of wildlife, you can also try the Night Ride and Jurong Bird Park.
Singapore Flyer in Marina Bay Street Circuit
Singapore Flyer is the world's largest observer carousel and one of the main Singapore tourist spots. Riding on this carousel, which is built on the three-story building of a travel terminal, is a unique experience. Maybe that's why it makes it difficult to choose between all of these attractions here. With this observation wheel, you can see various cityscapes, including the Singapore River, the Raffles Hotel, Marina Bay as well as Padang.
Singapore Botanic Gardens a UNESCO world Heritage Site
Singapore Botanic Gardens is one of the more green Singapore tourist attractions offering genuine plant life to tourists. The garden is more than three hectares and is located on the highest hill in the National Botanical Garden of Singapore. The National Orchid Garden is the largest exhibit of tropical orchids in the world and houses more than 60,000 orchids, including 1,000 native species and 2,000 grafted species. Another important area of ​​the garden is the Tan Hoon Siang Mist House, where you will see some of the most beautiful fragrant orchid flowers in the world. In the Singapore Orchid Garden, you will see amazing scenery that you have certainly not seen anywhere else. Large small plains and hills covered with beautiful orchid flowers are just one corner of this beauty.
National Museum of Singapore on Stamford Road
The National Museum of Singapore is one of the sights of Singapore, located on Stamford Street. This museum is the oldest museum in Singapore, dating back to 1849. Listen to soft music in a relaxed atmosphere and learn about the history, culture, and life of the Singaporean people by visiting different sections of the National Museum of Singapore.
Science Centre Singapore at Science Centre Road
The Singapore Museum of Art and Science is one of the few educational Singapore tourist attractions. You can find Science Centre near Marina Bay in Singapore. This museum was built as the first museum in the world to confront art and science. This complex is a great example of sculptural architecture that is symbolic. The design of this museum consists of two main parts. The main part of the building floats on the waters of Marina Bay and is surrounded by a large lotus pond. The other part is a flower-shaped structure made of ten floating petals. The Museum of Science and Art has 21 different galleries, each of which includes sections on art, science, music, and modern technology.
Punggol Waterway Park at Sentul Cres
Punggol water park is a multi-purpose natural Singapore tourist attraction with a lake and a park. You can find it just a few minutes walk north of the Punggol Town Centre. Moreover, this park makes it a suitable place for many recreational activities along the Punggol Waterway. Also tourists can also take a stroll to the old Punggol Road from here.
If you want to eat some tasty yet budget food, you should check out the 5 cheap places to eat in Singapore. These places offer great, delicious, yet filling dishes for a few dollars. In that way, you can spend more money on traveling around this country.
New Singapore Tourist Spots
Some of the more recent Singapore tourist spots are Palawan Sands, as well as Singapore tourist attractions for shoppers like Central Beach Bazaar and some themed arenas resembling other parts of Asia, like Trifecta by The Ride Side. It is good to know that there are very few locations in this country that have no admission fee, but most of these outdoor spots are free for travelers to roam around.