5 Cheap Places to Eat in Singapore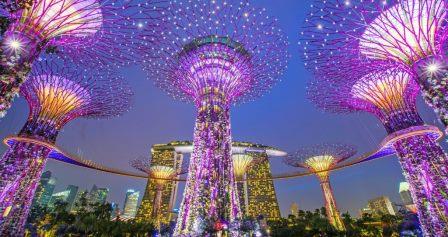 Affordable and Cheap Places to Eat in Singapore
This article explores 5 cheap places to eat in Singapore and where tourists can find the best affordable restaurants in Singapore. This place is a business minded country, so there are many expensive eateries open to serve the rich business people.  Also, this country has a vibrant culture of hawker food at very cheap prices. In fact, if you look a bit further, you can find shops selling cheap eats Singapore style at lower price compared to well known restaurants.
1. Lau Pa Sat Market (Telok Ayer Market) Hawker Center
Lau Pa Sat is the place to be to try all many cheap eats Singapore has to offer.  Also known as Telok Ayer Marke, it houses over 200 food stalls distributed along 8 hallways, all coming together at central atrium where the drinks stall dispenses refreshments such as water, beer as well as soft drinks.
Aside from the local dishes that you'll get at every hawker center such as Chinese, Malay, Indian and "Western" food, Lau Pa Sat also houses small shops serving Japanese, Filipino, Korean, Vietnamese. The food ranges somewhere between $4 to 11$. To get here, stop at Telok Ayer subway station. Then follow the Cross Street and turn to Robinson Rd. After a few meters you will see this hawker center.
*Update: there has been a major renovation here, adding to the cost of food prices. However it is still considered by many as one of top cheap places to eat in Singapore specially for some local food offerings.
2. Zam Zam a Popular Indian Restaurant
Zam Zam is one of the best affordable and cheap places to eat in Singapore for some Halal Indian food. Founded in 1908, this restaurant is in a legendary spot that's famous for serving Roti prata, murtabak, Nasi biryani. They are Indian Muslims operating this place so expect all Halal food in there. They also offer vegan and vegetarian options if you ask them. The space is big enough to dine inside and there is a second floor if downstairs was crowded. The Zam Zam Resturantis very close to Masjid Sultan which is accessible by getting off at Bugis subway station and walk your way to Arab Street.
3. The Coconut Club Singapore Famous for Nasi Lemak
Another of one most affordable and cheap places to eat in Singapore is The Coconut Club. This restaurant specializes in Nasi Lemak, a favored local dish. They also provide another local sweet flavored treat called Cendol. Their prices are relatively cheap so you can visit there and try this local dish whenever you pass by them. It is good to know that the food is taste very local and coconut milk used in many of their dishes. They are located very close to Sultan Mosque and Zam Zam restaurant.
4. Ya Kun Kaya Toast Good for Breakfast
If you love Singapore cheap food option then this place is for you. Also, if you like to get some toast and coffee, then this is your place to go. The Ya Kun Kaya Toast is a popular franchise and available in all the major streets and shopping malls across Singapore.  Their specialty is toasted bread with a jam like sweet, "kaya" offered by coffee, "kopi" for a reasonable price. As a result, for breakfast, Ya Kun Kaya Toast is one of the cheap places to eat in Singapore. Their menu item prices ranges from $2 to 7$.
5. Wee Nam Kee Hainanese Chicken Rice Restaurant
This Singapore cheap food joint is a chained restaurant all over the Asia. They specialize in serving steamed chicken and rice with unique flavors. The affordable price will surprise you and there is a nostalgic feel to this restaurant which is unique. The menu is quite simple and will suit even the pickiest food lovers. You can find this chicken restaurant at United Square Shopping Mall.
After visiting the best affordable restaurants in Singapore, try some of the bars in Singapore for a good time out and somewhat cheap price. These bars offer tasty cocktails as well as international alcoholic offerings that are also budget friendly.
Singapore Cheap Food and its Affordable Restaurants
To find Singapore cheap food offerings, you do not need to go far. Even next to many residential areas and condominiums, there are nice food courts for tasty budget food. However, in the CBD area, its is advised to take a look at shopping malls and next to religious ground. There you will find some good deals for breakfast and lunch.