7 Most Unique Hotels Around the World
Top Unique and Unusual Hotels to Visit
This article explores 7 most unique hotels around the world as well as unusual hotels that are one of a kind worldwide. Have you tried sleeping while hanging from the side of a mountain? What about staying over a hotel made out of ice? Some of the most unique hotels in the world offer crazy, one of a kind experiences for visitors and tourists.
1. Underwater Resort in Maldives
Underwater Resort in Maldives is the world's first underwater hotel which is located at the Conrad Maldives Island Maldives. However, it's not budget friendly. The most important feature is The Muraka which is a two-story villa placed five meters deep in the Indian Ocean. In Underwater Resort in Maldives, you will find yourself surrounded by marine life with wide view top and below the sea. Also, you need to pay a massive $50,000 bill for a night. This place is called the best hotel in the world more than one time.
2. Sweden's Ice Hotel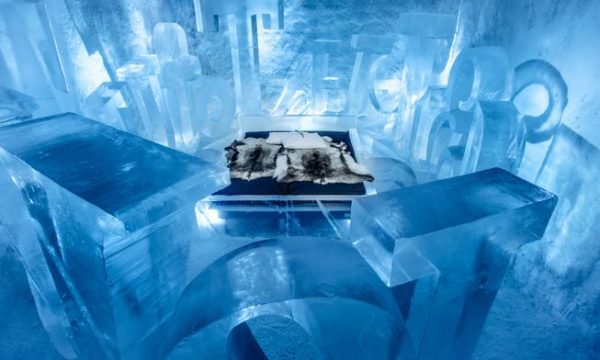 This time you can plan to relax at an unusual hotel in Sweden's Ice hotel. You can find Sweden's Ice Hotel in the north of the Arctic Circle in Jukkasjärvi city. They need to build this hotel every year and it includes 20 rooms. Everything is basically is made of ice and you can have drink at an ice bar too. This resort is the perfect location for watching the northern lights as well.
3. Peru's Sky Lodge Adventure Suites
If you afraid of heights then this this unusual hotel is not for you. In Peru Sky Lodge, you can sleep in a transparent capsule placed 400 meters above the ground at this hotel. Peru Sky Lodge suites are at the sacred village of Cuzco in Peru. Visitors and tourists will have to make a 90 minute climb up the hill before using zip line to get to that place. It is scary at first but worth the view making it as one of few unique hotels around the world.
4. Tree House Villa in Brazil
Designers build tree house villa in Brazil from demolition woods. Also, this tree house villa is equipped with an open rain forest shower, kitchen, a yoga place as well as a private pool. This five-star tree house villa is another one of the most unique hotels around the world. It is located in the coastal state of Bahia where you can feel the nature from a luxurious place.
5. Beach Bubble in the Maldives
Another one of unusual hotels near the seaside is beach Bubbles Hotel in Maldives. You can spend your romantic night under the stars inside the Beach Bubble Maldives at the Finolhu Resort. This see through bubble is at a private beach to keep your privacy at bay.
6. Floating Villa in Zanzibar
You can go to the Manta Resort located in Zanzibar and have a stay in the underwater suite on your own private floating island. It is one of the most unique hotels around the world. You will see sea life while on bed and enjoy snorkeling in fantastic clean blue waters. Also, it is all for people who want to have a private time with their loved ones.
7. Hotel Marques De Riscal in Spain
Design enthusiasts will appreciate a stay at Hotel Marques De Riscal, created by architect Frank Gehry. Hotel Marques De Riscal is an unusual hotel. It has a beautiful modern building which is located in the medieval village of Elciego that look over an amazing scenery. Also, Hotel Marques De Riscal is overlooking vineyards in Basque wine country which gives it even more dream like feel.
If you are looking for a cheaper resorts to spend your honeymoon, check out 5 affordable romantic destinations and best couples vacations spots. These locations offer pristine views yet are not over crowded and will not cost huge sums of money to stay in them.