5 Best Bars in London City
5 Best Bars in London City
5 Best Bars in London City – The drinking scene in London is one of the best in the world. You can get cocktail bars as well as traditional London pubs if you want to have a drink the old fashioned way. Here you can find some of the best pubs in London on your next trip
1. Dukes Bar
You can use your mobile phone here. Therefore, you should start socializing with other people in this bar. This bar is slightly pricy, however, the quality of the service and the drinks are fantastic.
2.Happiness Forgets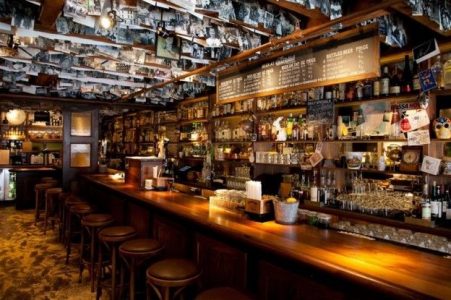 This basement bar is a favorite among liquor fans. This bar is for everyone and you can find working class as well as posh people here which is really interesting.
3. White Lyan
This cocktail bar is known for not offering ice. They, on the other hand, give you a cold bottle like the old fashioned way. However, that is not the best this about this bar. You can't find any sugar, fruit or citrus here. Also, the drinks are made right on the spot and to order. Make sure to definitely give this bar a shot.
4. The Pub With No Name
This corner bar is famous for its creative cocktails and design. Also, movie lovers will love the atmosphere and design here reminding them of some famous films.
5. The Mayor of Scaredy Cat Town
This bar offers a good vibe and a wide range of cocktails, from Rosie and Gin to the Linchberg-Leith Lemonade.
Suggest:
Cheap Food in London