Top 5 Restaurants in Denizli
Famous Denizli Restaurants in Turkey
Denizli restaurants offer great variety of Turkish dishes, however they are mostly meat based. Here are top 5 restaurants in Denizli that you can get some relatively cheap yet delicious dishes. Denizli is an industrial city in the south part of Turkey. Also, Denizli is located in the Aegean Region of Turkey, therefore, it has more Mediterranean side to it. Here are 5 eateries for you if you are traveling to this city in Turkey.
1. Baloğlu Pide at Şht. Albay Karaoğlanoğlu Cd
Baloğlu Pide is one of the best Denizli Restaurants in town. In this restaurant, the friendliness as well as service quality of the staff is truly exceptional. This place should be on your list if like eat good food and enjoy the crowd too. This is alos another great place if you are on a tight budget. To get to Baloğlu Pide, head to Şht. Albay Karaoğlanoğlu Cd, near Tavas Square.
2. Gazezoglu Pide near Denizli Merkez
Gazezoglu Pide is a humble yet busy place among Denizli restaurants. They mostly selling their food in lunch time to the local workers in the Kaleici neighborhood. The pide as well as all the food on the menu here is really fresh. Also the prices are really cheap, though no one there speaks English. This is one of the best places to eat lunch in Denizli Merkez. Just know what you want to order and tell the chef to make it since there is no actual menu.
3. Kebapçı Enver near Kebapçı Halil Albaş
This place is really famous, however, you only get tasty Denizli Kebap here. Kebapçı Enver is one of those Denizli restaurants offering top quality meat based dishes. Also, the catch is there is no spoon or fork here and you need to eat with your hands. Also, for you to eat here, you should be quick since after lunch time they finish all kebaps. In fact, this is the place for tourists looking for local taste in town very close to another great restaurant, Kebapçı Halil Albaş.
4. Kebapçı Halil Albaş close to Bayramyeri Square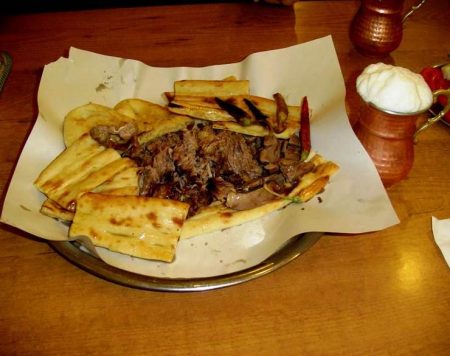 If you are in Denizli, you should give this place a visit. The other name for this restaurant is "Pala". Also, the food here is really tasty. The success of this place is because of its simplicity. The decoration here isn't fancy but they always keep this place clean and hygienic. However, you will get to eat the most delicious meat in Denizli if you really like meat. This is a place to get yourself some tasty meal for the day and then head outside to do some sightseeing. You can find Kebapçı Halil Albaş near Sarayköy Street very close to Bayramyeri Square.
5. Hacı Şerif Famous for Helva Desserts
Haci Serif is not really famous among Denizli restaurants for kebaps but for desserts as well. It is located near Yildirim that serves Helvasi on top of ice cream base. It's a small shop therefore you might miss it at first. Also, they speak a little English here so the communication will not be an issue. The Halva is not really sweet and has a rich texture. This is a dessert that you can actually see in other middle eastern countries, however, the Turkish one has different texture.
Also, if you want to travel to Istanbul with a small budget, then you should check out these 5 cheap places to eat in Istanbul. These eateries offer great quality food that are palatable and will not cost a lot of money. Also, they are readily available throughout the city.