Everybody has unique places to visit in mind, but where does one get started from? Here are some of most spectacular sightseeing places in the world to see before you die.
Whitehaven Beach on Whitsunday Island in Australia
White Heaven Beach is famous for its white sands. The beach is 7km away from Whitsunday Islands. The island is accessible through the tourist ports of Airlie Beach, Shute Harbor and Hamilton Island. This beach is known as the cleanest beach and one of most beautiful sightseeing places in the world. Therefore, you cannot bring any animals from outside on this beach.
If you are interested to relax on other beaches around the world and have some fun at night, you can check out many islands for relaxation and nightlife over the globe.
The Westin Maui Resort & Spain in Ka'anapali of Hawaii
The Westin Maui Resort & Spa in Ka'anapali in USA is one of unique places to visit in summer times. It is a splendid resort with several pools and docks welcoming guests to this complex. Also, it features spectacular views, friendly services, a fabulous sauna and beautiful pools. There is a legendary white sand beach near by the Westin Maui Resort & Spa as well.
Fairy Pools in Glenbrittle City of Scotland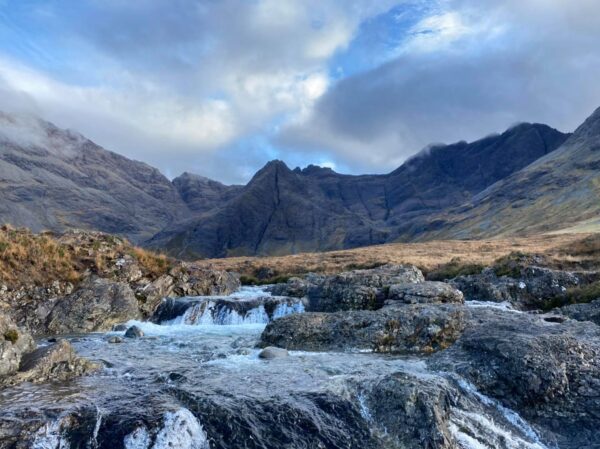 If you are going to visit one of very unique sightseeing places in Europe, you must definitely visit these legendary pools in the Cuillin Hills. The magical pools and waterfalls with clear and cold water that form on top of the surrounding hills and flow downstream.
Marble Caverns of Carrera Lake in Chile
The Marble Caverns of Carrera Lake in Patagonia Chile, are one of the unique places to visit the world. They are easily the most beautiful cave networks in South America. A natural azure temple, with marble walls inside this water-filled cave network, reflects the geographical glory of this amazing planet of ours.
Shaharah bridge located in Northern Yemen
The Shaharah bridge was built in the 17th century to connect the high mountain towns to the Yemeni state. The bridge was also used against Turkish invaders. This bridge has a beautiful view and is one of the famous tourist attractions.
Havasu Falls in Grand Canyon National Park in USA
It is easy to say that Havasu Falls represent heaven on earth. This is a beautiful and exciting waterfall in the heart of Grand Canyon National Park which houses many sightseeing places for adventurous tourists. The spectacular waterfalls and secluded community within the Havasupai Indian Reservation attract many tourists each year. The Havasupai people have a close connection to water and land. This turquoise water is sacred to the natives.
Fjaðrárgljúfur Canyon in Kirkjubæjarklaustur in Iceland
Fjaðrárgljúfur is a valley in eastern south side of Iceland and one of unique places to visit of you like seeing natural beauties. This premise is 100 m deep and about 2 km long. Also, the Fjaðrá River flows through here, hence the name. The valley is near the village of Kirkjubæjarklaustur. Moreover, this rock formation has been formed by the gradual erosion of glacial water flowing through rocks and palagonite over thousands of years.
Arang Kel, Neelam Valley of Kashmir