10 Most Unique Bottle Shops in Sydney
10 Most Unique Bottle Shops in Sydney
When it comes to drinking, Australians know how to do it. This article explores 10 most unique bottle shops in Sydney for travelers and even locals. These shops offer specific liquor that you might not find in big stores. They offer good prices for rare whiskeys, beer, natural wine as well as rose wine. These are the most unique places you should visit before going for your friend's wedding anniversary or any special occasion.
1. Beer Cartel for Craft Beer
Beer Cartel is one of the finest Bottle Shops in Sydney. This Beer shop sells unique and excellent brews coming from around the globe as well as local brews produced in Australia. They have more than 300 types of beer in house and more a thousand in their online store. So, you will not run out of option if you visit their shop. You can find beer du jour which is a half gallon glass container filled right up to the top for approximately $25. Also, if you want something smaller in size, you can get a liter squealer for about $15 instead.
2. The Oak Barrel to Get Aged Sake and Wine
Oak Barrel is another one of top bottle shops in Sydney CBD area. This off-license is one of Australia's oldest bottle shops for aged whiskies. With age comes experience and they have expertise in providing large selection of beer.  They offer a sizable selection of craft beers at display and a massive range at the back of the store. If you are unable to find your beer type here then most probably out of luck in other places as well. Also, they have a massive selection of local and international organic wines and their spirit choices are exquisite. This shop is the place to go for fancy gifts as well as rare bottles for your loved ones.
3. Platinum Liquor Located in Bellevue Hill
Platinum Liquor is another good example of bottle shops in Sydney. Owned by Bellamy Brothers, each of them have different expertise: Tony belongs to the wine world & Adam is for the craft beer one. Only a handful of outlets in Sydney can brag about having such selection of American whiskeys & craft beers. This branch is located in Bellevue Hill.
4. Best Cellars a Place for Rare Wines
Best Cellars is another one of bottle shops in Sydney CBD zone. The liquor selection in this store is constantly changing. They normally have the latest and large options for French classics, as well as a magnificent collection of vintage Aussie spirits. If you really want some rare wines then you will probably find them here.
5. The Drink Hive inside The Cannery Mall
If you want one of the best home-made liquor stores Sidney offers, then you should visit The Drink Hive. There is always an average bottle shop next to any pub or supermarket in Sydney. However when you want to treat yourself something special, then you should give this shop a try. This store is the first bottle shop in this city to establish refillable wine & beer stations. Also, you will find a nice range of hand-selected boutique brands on the shelves as well as in the fridges. You can find this shop in The Cannery shopping mall.
6. Five Ways Cellars in Fiveways Paddington
Five Ways Cellars is another one of the most interesting bottle shops in Sydney near Fiveways Paddington. This shop in Paddington has been in the business for more than 30 odd years. This place is a local legend and has its loyal customers. You should always ask for some advice as you may find something hidden behind other bottles.
7. World of Whisky in Cosmopolitan Shopping Centre Management
The World of Whiskey is one of most unique liquor stores Sydney has to offer. It is a pleasant whiskey shop in a in Double Bay area. Shopping for whiskey isn't cheap here and you are to spend a minimum of $100 on a bottle here. They also offer interesting Japanese whiskeys as well. World of whiskey has tasting events on Thursdays and Sundays. The catch is you need to book a few months in advance due to this shop's popularity. This shop is located inside Cosmopolitan Shopping Centre Management.
8. P&V Wine near The Urban Newtown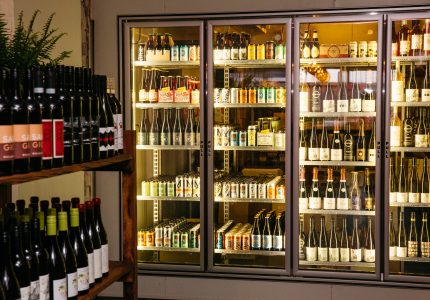 P&V Wine has become one of newly emerging bottle shops in Sydney near The Urban Newtown hotel. This shop is relatively new to the city which offer some very interesting vibes. You will get a great selection of spirits and beer as well as ready-made meals and good oysters.
9. Liquor on Oxford in Darlinghurst
This shop has a fantastic range of beers and focuses mainly on European beer brands, as well as exceptional spirits and wines. Also, the staff are very helpful, friendly and really know what they are talking about. You won't regret giving them a visit and maybe you got yourself a bottle as well. You can find this bottle shop Sydney CBD district near Darlinghurst.
10. Broadway Cellars near Victoria Park
Broadway Cellars is one of smaller liquor stores Sydney visitors can check out. They specialize in Spanish wine. They offer a solid selection for Spanish and South American red wines. If you need to grab a bite after your wine tasting, they have a small deli section selling smoked meats and pickles as well. you can find this shop just at the corner of Victoria park.
Also, if you are interested in gave a cup of coffee in another Australian cities, you can check out some of the most affordable cafes in Melbourne. They are reasonably cheap and and you can get your coffee with locally made desserts and sweets here as well.
Some of the Liquor Stores Sydney has in CBD Area
most of the liquor stores Sydney has to offer are located in the CBD area. However, there are some at the edge of Darlinghurst, Haymarket and Barangaroo. The pricing depends on the quality of the bottles and them being imported or locally made. therefore, make sure to compare these shops to find what you are looking for.