Most Delicious Foods to Eat in Philippines
List of Top Food in Philippines
Asia is a food paradise for many travelers. For Southeast Asia travelers, this article focuses on the most delicious food in Philippines. In addition to the traditional methods of cooking in Philippines, the cuisine of the Philippines has been influenced by other areas. Therefore, this creates an appetizing and new combination for many travelers. Various factors also influence the culture and food of the Philippines due to the migration of new cultures. If you combine these factors with traditional Filipino cooking techniques, their skill in combining different flavors, the optimal use of all available ingredients, and the creation of unique flavors, the result will be a taste that is hard to get in any part of Asia.
Kare-Kare A Stew with Peanut Sauce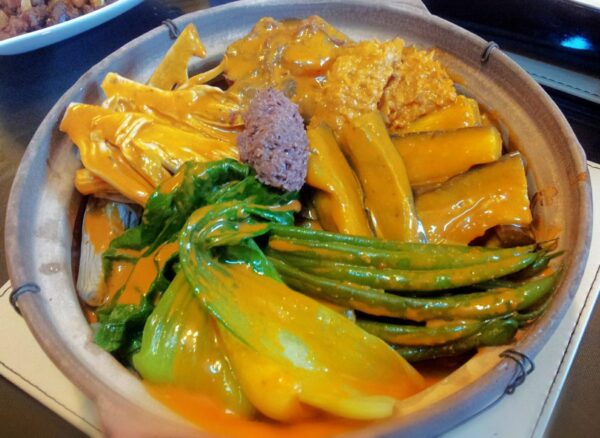 Kare-Kare stew is made from peanut sauce and ox tail. However, other parts of the ox with more meat can also be added. Locals serve this dish with bagoong, which is made by fermenting fish and shrimp sauce. In fact, most Filipinos believe that eating Kare-Kare would not be complete without this sauce.
Crispy Pata Deep Friend Pork Knuckles
Crispy Pata is a good alternative to another famous food in Philippines, Lechon. To prepare this delicious dish, the pork leg meat is completely fried to make it crispy. Then they serve it in smaller bites with soy sauce, vinegar, a few pieces of garlic, and red pepper.
Pancit Guisado Noodle Dish
There are several types of noodle dishes, of which Pancit Guisado is the most popular in the country. This food symbolizes longevity and is almost always served at Filipino birthday parties, making it one of the most popular dishes among tourists who come to the Philippines. To cook this dish, chopped vegetables, and meat are added to the roasted noodles, and all of them are cooked in broth, soy sauce, or fish sauce.
Filipino Lumpia or Egg Rolls
Filipino Lumpia is the crispy version of Egg rolls. To prepare this dish, you fill the inside of the rolls with meat and vegetables. Then, they fry them and serve them with sour and sweet sauce. Because Lumpia has a simple cooking recipe, Filipinos serve it at most of their gatherings (especially when the population is large).
Dinuguan A Dark Gravy With Meat Inside
Dinuguan may look strange than other Filipino stews. This food is prepared by cooking meat and several other by-products with vinegar altogether. Also, Dinoguan is usually served with puto, which is a relatively sweet rice cake that complements the taste of this stew well.
Ginataang kalabasa A Dish with Coconut Milk
Gata, or coconut milk, plays an important role in cooking, and anything that uses coconut milk to cook it is expected to taste great. Ginataang kalabasa is a dish that you can try for a change of taste. Just cook your favorite vegetables in some coconut milk. Usually, the combination of squash and green beans in this dish brings an interesting flavor. Moreover, you can add a little hot pepper to this dish as well.
Chicken Inasal Marinated with Vinegar
Chicken Inasal is a delicious grilled chicken, the best of which is another type of lechon manok. Also, it is one of the most international friendly food in Philippines. To prepare this dish, the chicken should be soaked in vinegar, orange pieces, lemongrass, and ginger. Inasal chicken gets its golden-brown and appetizing color from annatto oil. This dish is served with rice; a little annatto oil is then poured on the rice.
Arroz caldo A Rice Porridge Dish
Arroz caldo is a type of rice porridge that is often served for breakfast and dinner. This food tastes of vinegar, garlic, onion, delicious meat bouillon, and pieces of cooked chicken and eggs that are added to this mixture.
Philippine adobo
Adobo is one of the most famous food in Philippines, which is prepared by boiling meat or chicken or a combination of both in soy sauce and vinegar. Black pepper and dried fragrant leaves are added to make the food taste better.
Sinigang a Traditional Food
Sinigang is one of the traditional food in Philippines. This delicious soup usually gets its sour taste from tamarind, and sometimes sour fruit is used to make it more sour. Moreover, Sinigang can be cooked with various vegetables and meats, including fish and shrimp, which are more popular.
Sisig Mix of Chicken Liver and Pork
Sisig is a dish made from chicken liver and pork. Locals use a stone plate and serve it very hot while it sizzles. Some add mayonnaise, or raw eggs are added while cooking, and the food is still hot.
Bulalo Originated in Batangas Province
Bulalo can be a good choice on a rainy day in the Philippines. Especially in Batangas province, which is famous for cooking this food in Philippines. To make this delicious soup, the beef shanks, along with the bone marrow, are lightly cooked in a little water and fish sauce, onions, and black pepper. Then, they add some corn and vegetables for more flavor.
Pancit Palabok Rice Noodle with Egg
Palabok is another popular way to cook Pancit. This food in Philippines has a light orange color, and different ingredients are used to flavor it. Palabok is mixed with shrimp sauce during cooking, which gets its remarkable color from the seed powder of the annatto plant. Finally, you can put pieces of boiled eggs, smoked fish, and onions on top of this food.
Bistek Tagalog Beefsteak Marinated with Soy Sauce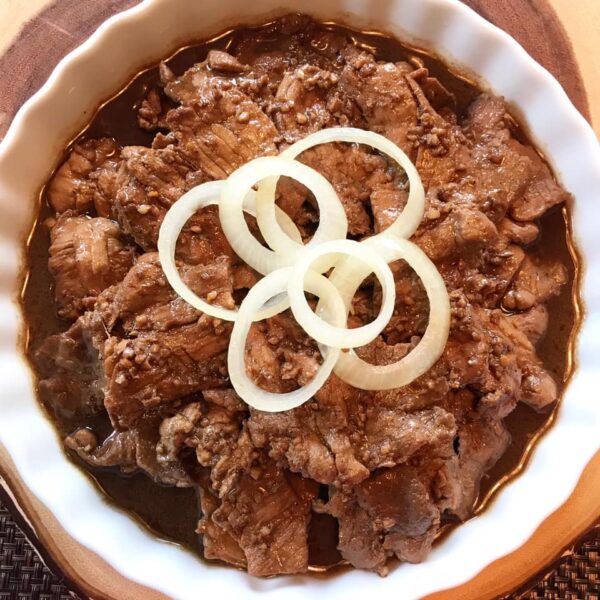 Bistek Tagalog, Philippine Beef Steak, is a delicious combination of salty, sour, and sweet flavors. Moreover, tourists know this food in Philippines to be the most delicious food to eat in the Philippines. To prepare this dish, pieces of beef are cut into thin slices and soaked in a combination of soy sauce and orange pieces. Next, locals fry them and place the caramelized onion slices with them. These onions are sweet enough to even out the salty and sour taste of the meat.
Kaldereta Mix of Tomato Sauce and Beef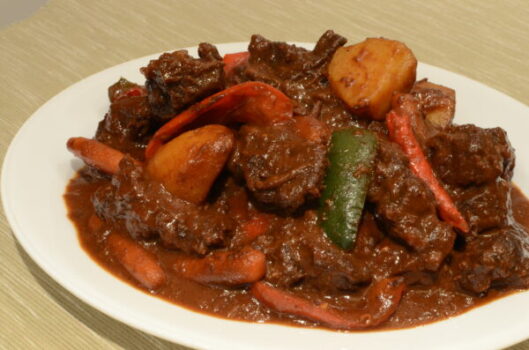 Kaldereta is a type of food in Philippines that is flavored with tomato sauce and beef. Instead of beef, you can use goat meat to prepare this dish. Also, locals add liver paste and a combination of vegetables such as carrots, bell peppers, and potatoes for more flavor.
Inihaw na Liempo or Grilled Pork Belly
To make Inihaw na Liempo, the meat is soaked in some ingredients and then grilled. Then, the broth is poured over the meat while cooking to make it more juicy. Ingredients needed to soak the meat can combine soy sauce, fish sauce, banana sauce, garlic, oranges bits, brown sugar, salt, and pepper. This dish can be served with plain rice.
Also, you can check out some cheap Manila food from local vendors. These foods are good options for budget travelers, yet they are very healthy and filling. Some of the dishes mentioned above are found there, and many more.