Best Flea Markets in Michigan
Indoor and Outdoor Flea Markets in Michigan
There are a few worthy flea markets in Michigan, and below, you can find them explained in detail. The state of Michigan as a whole is a friendly part of the US, and due to its geographical location, there are a lot of movements in and out of this state hence the availability of many antiques and specialty items here.
Reits Flea Market Located Opposite Lake Cora
Considerably one of the biggest flea markets in Michigan, with hundreds of outdoor vendors selling everything you need, is the Reits Flea market. Opened in 1966, located in Paw Paw village, Reits Flea Market is a great place for families to come and enjoy some quality time together and see what is on offer. Sometimes you can find great treasures here, but mainly furniture, clothing, antiques, and toys are sold at this market.
If you get hungry, there is a good restaurant on-site called Cathey's Kitchen which sells fantastic yet cheap food from early morning till late evening. Moreover, Reits Flea Market opens every Saturday and Sunday from 8 am to 4 pm from mid-April all the way to October 31st. It is good to know that the parking here is free, there is no admission fee, and you can also bring your pet animals inside though you are responsible for cleaning up after them. The exact location of Reits Flea Market is at 45146 West Red Arrow Highway, opposite Lake Cora.
Dave's Place Flea Market on West Red Arrow Highway
Along the same highway where Reits Flea is at 37802 West Red Arrow Highway, you can find one of the best indoor flea markets in Michigan, which is the Dave's Place Flea Market. This place operates the same hours as Reits, from 8 am to 4 pm, but they operate all year round. Even though this is a small indoor market, there are so many items available, including collectibles, antiques, homeware, and many more, that you really need to inspect them carefully. Otherwise, you might lose some hidden gems. Moreover, this is a great place to visit and find yourself some interesting items at reasonable prices.
Royal Oak Sunday Antiques & Flea Market on East Eleven Mille Road
When in Royal Oak, it is worth checking out the local Farmers Market at 316 East Eleven Mille Road. Over the years, many small vendors displayed their second-hand and antique items in this farmer's market. With growing popularity, these vendors gathered here finally formed their own flea market, which is now called Royal Oak Sunday Antiques & Flea Market. As the name suggests, you can shop at this flea market every Sunday from 8m to 3 pm to find yourself some collectibles and antiques.
Dixieland Flea Market Located in Waterford Township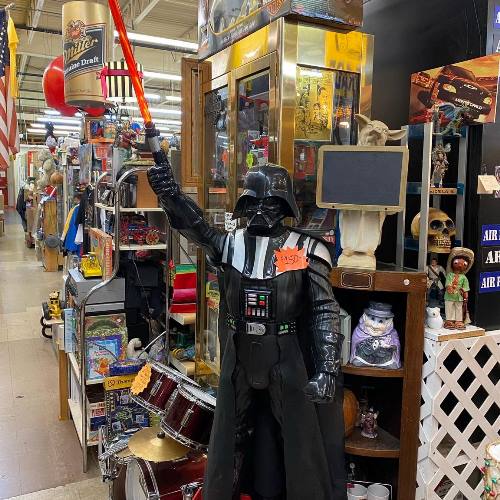 Located in Waterford Township, there you can find another one of the great flea markets in Michigan. With an area of nearly 90,000 square feet and an accessible location on the corner of Dixie Highway and Telegraph Road, shoppers are guaranteed to find great specialty items and antiques here.
Opened in 1976, this is a family-friendly market where all members of the family can get something they find interesting and enjoy quality time while doing so. These items include toys, paintings, costumes, clothing, jewelry, and many more, both in new and used conditions. As for the food, you can dine in one of the available foodcourts offering Italian, Mexican, Asian, and American cuisines. The Dixieland Flea Market hours are from 10 am to 6 pm on Saturdays and Sundays and from 4 pm to 9 pm on Fridays.
Greenlawn Grove Flea Market on Middlebelt Road
Another outdoor flea market in Michigan is Greenlawn Grove Flea Market which is located at 16447 Middlebelt Road in Michigan. This place might look small at first glance, but with over 300 vendors, you can find something that you always wanted. Mostly, you can find clothes, tools, and household appliances here. The Greenlawn Grove Flea Market hours are from 7 am to 3 pm every Saturday and Sunday.
County Line Trade Center in Warren
An unassuming market, County Line Trade Center in Warren is the place to get great deals on jewelry, household items, clothes, perfume, as well as video games. Located at 20900 Dequindre Road, they are fully operational on weekends from 10 am to 8 pm.