Top 5 Bakeries in New York
Top 5 Bakeries in New York
Top 5 Bakeries in New York – The fantastic thing about New York is that almost at every corner, there's a bakery offering some of the best bread or pastries that you will not have elsewhere. However, at only a few places across the city you can find one of a kind bread, pastries, and sweet cakes. Here are the bakeries that you should give them a visit because of their talented chefs who bake in them.
1. Bien Cuit
Bien Cuit means well-baked in French language. This shop is as one of the city's best bakeries that offers lovely whole grain bread loaves, baguettes as well as pastries.
2. Recolte Bakery
The owner, Peng-Chieh Wang is a master of bread making art. He puts softer Japanese flours into some breads and pastries to get an airier consistency. The chocolate croissants here have a touch of orange zest, while a bread named the Pink Lady includes raspberry, lychee as well as rose petal flavor. Make sure to try the seasonal fruit tarts that come with fresh berries, or the pastry jewel with ham and melted cheese.
3. Arcade Bakery
You will find this bakery in a humble office building and that's what makes here so unique. This bakery & café is a tiny shop that offers fantastic classic French bread and pastries by Roger Gural.
4. Artopolis Bakery
Inside this bakery feels like a fairy-tale where powdered sugar is like snowflakes and smell of honey syrup flows through the place. They offer almost a hundred different Greek items like tsourekia, vasilopita. Also, they have a buffet of cookies & sweet cakes including melomakarona, kourabiedes, kataifi. Furthermore, there are olive oil & sesame seeds cookies as well as pistachios and chocolate pastries. Also, they offer many variations of baklava here.
5. Hot Bread Kitchen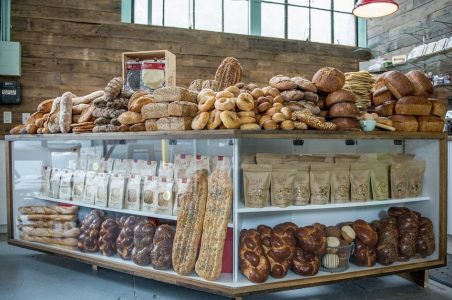 Hot Bread Kitchen is a special place. This bakery offers international sweets such as naan, challah, Moroccan m'sen as well as tortillas. The purpose of this shop is to create a chance for economic growth through jobs in food sector with training.
Suggest:
Top Bars In Hollywood