7 Best Cheapest Pizzas in New York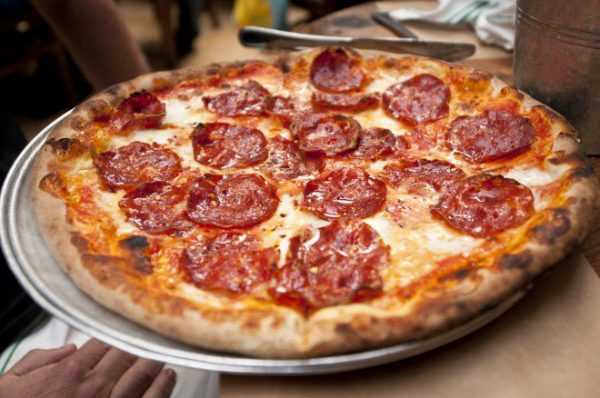 Best Pizzas in New York for Food Lovers
If you want to get the best pizza in NYC and do not pay a hefty price for it, then check out the 7 best pizzas in New York for budget-minded food lovers. NY pizzas are famous throughout the world. Also, New York is known for its tasty pizza, and you don't need to spend a lot to eat some of the best. Here we discuss the best pizza slices in New York City for under $5. Some slices are just for one dollar.
1. Vinny Vincenz Pizza
Vinny Vincenz Pizza, an East Village shop, is considered to be the king of the single-dollar slice. Also, it is one of the best pizzas in New York. However, their slice price goes up to $1.50 after 6 in the evening. This pizza place is very popular, so don't be shocked if you see several people queuing there. Even with a long queue, it moves fast, and like other pizzerias here, Vinny Vincenz Pizza is fantastic if you want a quick and cheap lunch that is great on the move.
*Update: Vinny Vincenz Pizza seems to be no longer operational.
2. 99 Cent Fresh Pizza Locate Near 43rd Street
When you just want some NY pizzas, you can get a $1 slice at 99 Cent Fresh Pizza is near Bryant Park. Locals have lunch here at least once a week since it is considered as one of the best pizzas in New York. Further, 2 slices and a soft drink cost just $2.75, about the same price as a subway ticket. They always finish what they bake, so the pizza is always fresh. You can find them at 43rd Street, Broadway, and W 40th St.
3. 2 Bros Pizza on 46th St
2 Bros Pizza is famous as the best pizza in NYC that you can buy cheaply. This shop sells a slice of pizza for just a buck an unbelievable price. The best shop selling $1 NY pizzas slices is at 2 Bros Pizza. Also, you can get 2 slices and a soft drink for only $3 here, and they have branches across the city.
2 bros pizza locations are at W 46th St, St Marks Pl, 6th, 8th and 9th avenues.
4. Table 87 in Brooklyn
Table 87, in Brooklyn, is for travelers who want to try one of the best pizzas in New York. Something is memorizing about a pizza just out of a coal oven, and this shop is the only pizzeria that you can buy coal oven pizza by the slice from. You can get one of their slices for about $4.
5. Best Pizza on 1st Avenue
Best Pizza in NYC is on 1st Avenue in Stonehenge 57, another New York pizzeria with the delicious local style of NY pizzas. However, the winning pizza here is the white slice. Their white slice includes mozzarella, ricotta, pecorino cheese, caramelized onions, as well as sesame seeds. It is a mixture of flavors that just work together, and every bite is heavenly. Both their regular slice as well as their white slice cost you about 4 dollars.
6. L&B Spumoni Gardens
L&B Spumoni Gardens, located in Gravesend has one of the best pizzas in NYC, a huge Sicilian slice for about 3 Dollars. What is unique about their pizza is that they place the sauce on top of the cheese. Also, it is the best pick for the best Sicilian slice in the entire NYC, and you should give it a try. It is truly one of the best pizzas in New York if you like thin-slice Sicilian pies.
7. Joe's Pizza in Broadway
Joe's Pizza offers the most typical NY pizzas that are very classic. It is loved by the locals because its tomato sauce is slightly sweeter than in other shops, the cheese is a high-quality product, and the crust is just perfect. This slice will cost you just $3.
Also, if you like some desserts after your NY pizzas, try checking out where to get the best ice cream in New York. These ice cream stores offer many unique toppings and flavors you cannot get in other places in the United States. They are a good compliment to New York Pizzas as well.
Getting the Best Pizza in NYC for The Cheap
In order to find the best pizza in NYC, you need to look around Lower Manhattan, along the 6th to 8th avenues as well as near Central Park. Many of these shops are great places to go after you had a beer or two. The prices vary for the whole pies, but it is advised just to get slices as they are the most budget-friendly options. Some of them have deals that come with a drink as well.