Famous Cafes in Lisbon
This article provides a guide to the best coffee in Lisbon and where to find the top 7 cafes in Lisbon for tourists and travelers. The city of Lisbon is especially famous for its historic antiquity, as well as having the best cafes for coffee lovers for the taste of Portuguese espresso. It is not difficult to find high-quality coffee, especially in Lisbon cafes. There are many cafes in the city that will give you a taste of this intoxicating coffee. The Portuguese love to go to cafes and drink 'Bica.' The people of this city are looking for an opportunity to best coffee in Lisbon in any situation.
1. The Mill is an Australian Coffee Shop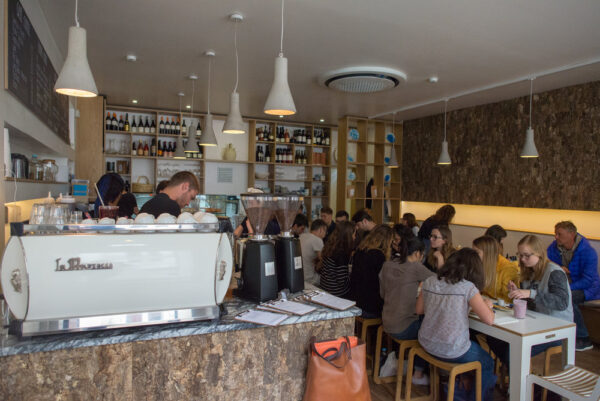 The Mill is an Australian-style cafe offering some of the best coffee in Lisbon. The café focuses on making fresh, high-quality ingredients that go hand in hand with the Australian culinary scene. Of course, to complete the breakfast daily, there is also quality coffee on the menu. On weekends until around noon, the Mill coffee shop serves all kinds of breakfast, from Australian Vegemite to eggs and Chorizo sausages.
Here you can drink a latte, cold brew coffee, as well as a variety of coffees made from local coffee beans and roasted in-house. In addition, the menu of this cafe includes traditional Portuguese drinks such as Pingado coffee, with milk.
2. Fábrica Coffee Roasters in Portas de Santo Antão Street
The cafe is located in Portas de Santo Antão Street and was one of the pioneers in the production of specialty coffee among cafes in Lisbon. Also, you can find all kinds of drinks here, from Caffè Americano to cappuccino and latte, which all are made from beans roasted in the same coffeehouse. The shop also offers salads, local sandwiches, and a variety of breads and pastries to its customers. The interior decoration here is a blend of realistic and industrial styles that makes Fábrica Coffee Roasters the best place to have a great cup of coffee.
3. Bettina & Niccolò Corallo in Jardim do Principe Real
The café is located in Jardim do Principe Real and specializes in coffee and chocolate. In this pleasant cafe, a very fresh espresso is served with chocolate syrup and various delicious desserts. In addition, this place offers some of the best coffee in Lisbon. Also, it is a symbol of sustainable production in this city. Coffee beans and chocolate are made from a farm on the island of São Tomé e Príncipe in Africa. The farm is owned by families who also manage the cafe. If you don't like eating chocolate, you can enjoy your espresso with traditional Portuguese sweets.
4. Brick Cafe Lisboa in The Intendente Neighborhood
The cafe's inner decoration, attractive setting, and attentive staff encourage customers to come to Brick Cafe over and over. This simple place is located in the 'Intendente' neighborhood and perfectly harmonizes with this street's local and inviting atmosphere. Although the coffee here tastes really good, what really makes this cafe stand out among cafes in Lisbon is the wonderful menu that changes every day, offering traditional Portuguese cuisine at a reasonable price. This cafe is definitely one of the best places to eat a good meal for budget travelers.
5. Café Martinho da Arcada One of Oldest in Town
The famous Martinho da Arcada Café reopened in 1782 and is known as one of the oldest cafes in Lisbon. It is worth mentioning that this place was the hangout of the great Portuguese poets, including Fernando Pessoa, whose painting is displayed on the wall here. Amadeo de Souza Cardoso, a painter and a Portuguese poet, were two of Martinho da Arcada's most prolific clients. The café is located in Comércio Square, which is probably why most of its customers today are tourists.
6. Pastelaria Versailles close to Saldanha Metro Station
Versailles café has been a symbol of Lisbon's iconic pastry since 1922, very close to the Saldanha subway station. Also, it offers some of the best coffee in Lisbon. It has gained popularity for a number of reasons. Despite its reputation as one of the most famous coffee and tea houses in Europe, the cafe has managed to maintain its Portuguese originality. Versailles not only serves the best Portuguese sweets but is also known as the traditional restaurant that prepares the most delicious and high-quality dishes of Portugal.
7. Jardim da Estrela Coffee Shop
The café is located in a cozy corner of the picturesque Jardim da Estrela. Also, it is one of the ideal cafes in Lisbon to sit in the open air and enjoy a beautiful day. In this cafe, you can watch the ducks around the pond or watch the locals moving about. The menu here is simple and traditional, but it comes with great drinks. Jardim da Sterla, with its pleasant and beautiful atmosphere, is good enough to spend a unique day here.
Best Coffee in Lisbon for a Budget
To find the best coffee in Lisbon, you can head to the surrounding area of Parque Eduardo VII. These are the places where younger generations and tourists hang around and where the most fun attractions are located at.
How about Coffee near Praça do Areeiro Square
How about Coffee is one of those budget cafes in Lisbon for having some nice desserts, vegan brunch, and delicious coffee. The baristas here are very friendly, and the atmosphere here is very pleasant and relaxing. You should also try their homemade desserts and toasts, which are quite popular with coffee lovers here. You can find How about Coffee at R. Abade Faria 54B, very close to the Areeiro Subway station part of Praça do Areeiro square.
Chiado Caffe at Rua do Loreto
Another one of the cafes in Lisbon, if you want pastries and bread, would be Chiado Caffe. This is a place to get yourself some delicious baked goods like croissants, Jesuits, artisanal bread, and the most famous Portuguese egg custard. Same with their coffee, they use high-quality ingredients and make everything fresh at very low prices. Head to Rua do Loreto 45 47 in close proximity to Calhariz (Bica) stop to find Chiado Caffe.
Pop Cereal Café Located in Bairro Alto
There are very few cafes in Lisbon, like Pop Cereal Café. Located in Bairro Alto, both have some childhood memories in a vibrant cafe while trying some of the best coffee in Lisbon for the cheap. Everything here is about cereal mixes and very creamy coffee. The only thing you need to be aware of is the level of sweetness is obviously much higher than the rest coffee houses, but it is definitely worth a visit.