Why Should You Visit Las Vegas in 6 reason
Why Should You Visit Las Vegas in 6 reason
There are many places to visit in Las Vegas and this article explains why should you visit Las Vegas in 6 reasons. Las Vegas Tourists often love to travel here because it is one of those places those places that you need to visit even for one time only. Over the years, Las Vegas has transformed from its gambling brand to become a family-friendly destination. If visiting this place is on your bucket list, here are 6 reasons for you.
1. This City Never Sleeps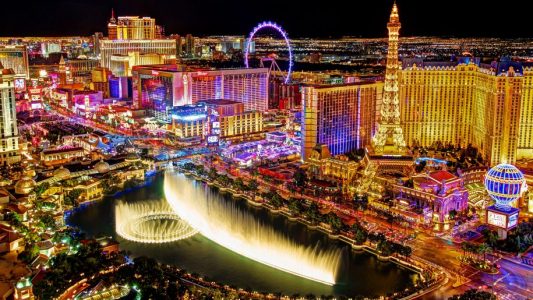 The Nightlife here is one the reasons to visit Las Vegas. In fact, the nightlife here is the craziest throughout the world, sometimes it even goes crazier. This city is a party center that gets so flashy and crazy that the slogan is "What Happens in Vegas, Stays in Vegas". So what so special about this city is that everyone you see is after to have the best night of their lives.
2. So Many Buffets to Try
When you are in this city, it is a must to try one of many world famous buffets here. These buffers are a feature of this city and places to visit in Las Vegas if you want to get your belly full of delicious food. You will see buffets with all you can eat promotions at almost all the main hotels here. You can try the Bacchanal Buffet at Caesar's Palace as well as another Buffet at Bellagio which all of them taste delicious.
3. The Hotels Are Everything
In order to visit Las Vegas and fully experience it, Las Vegas tourists should stay in its magnificent hotels. In this city there is no shortage of luxury hotels and you will find grand hotels all over Las Vegas. The money is no issue here, therefore, hotels are providing everything the customers ask. When you take a walk along the streets, you will see many amazing places to admire here. You will see the Egyptian style pyramids as well as The Venetian with its own water canal. It's not uncommon to spend your days walking in and out some of many hotel lobbies.
4. The Strip's Sightseeing
The Las Vegas strip is one of the best places to visit in Las Vegas. It resembles another planet. There are many free of cost entertaining activities over the strip. This road feels like a massive stage. The fist thing Las Vegas tourists might want to is to take a picture with the "Welcome to Fabulous Las Vegas, Nevada" sign. Next, you want to visit the fountains of Bellagio as well as Fall of Atlantis show. If you like nature, you can visit zoo attraction of Wildlife Habitat at Flamingo Las Vegas, and High Roller for the view over the city, This is the tallest observation wheel in the globe.
5. Entertainment Shows
Las Vegas tourists can attend the many concerts and big shows happing so often throughout the city. Keep a close watch on the deadlines and the event time lines to get to buy these shows before they sellout. These concerts and entertainments shows are the best places to visit in Las Vegas if you want to have a great time.
6. You Can Visit Other Cities From There
One of the best features about visiting Vegas is that you can take a road trip to close spots such as San Francisco, Los Angeles as well as the Grand Canyon. Las Vegas tourists can rent a car and drive from this city.  The drive from Vegas to Southern California is slightly more than 4 hours, but if you reach there late you will be at traffic for a long time.
If you want to travel easier and with more comfort in the United States, try learning some of the travel tips for USA. These tips will help you manage your time and get to know different laws and regulations in each county. Such tips can prevent you from falling into trouble in the country.