Top 7 Attractions in Berlin
Beautiful Attractions in Berlin
There are a few options for tourists interested in doing some sightseeing in Berlin. This article explores the top 7 attractions in Berlin that you should visit as a tourist. Through time, Berlin has seen war, division, and destruction. However it manages to reinvent itself all the time. For all this city has been through, Berlin itself is a mark in history. Here are some of the best places to visit to better understand this city.
East Side Gallery in Berlin-Friedrichshain
Berlin Wall is one of the historical attractions in Belin with a not-so-positive history behind it. This wall once separated West Germany from East. It was a divider between freedom and the tyranny of communism in a single country. A small section of the wall has become a major art gallery. You can look at memorials, the wall, and the old border watchtowers here. The easiest way to get here is from the Warschauer Straße and walking towards the Mühlenstraße avenue.
Reichstag Building The German Parlement Building
This unique dome structure is fully made from glass & steel. It is home to the German Parliament. The rooftop terrace, as well as the dome of this building, are open to the public. Also, the park here is good for taking a break from sightseeing in Berlin and having some food or cold drinks.
Brandenburg Gate Representing German Reunification
The Brandenburg Gate is another sign of German reunification and one of the more famous attractions in Berlin. This gate has stood through time, witnessing the rise and fall of empires. Also, it is truly Berlin's signature attraction. Hotel Adlon and the Academy of the Arts also reside here, and you can arrive here from the Brandenburger Tor station.
Museum Island near U Rotes Rathaus Station
Through your sightseeing in Berlin, you might end up at Museum Island. Over the river Spree, there are 5 famous museums available. Name of these museums are Altes, Bode, Pergamon, Neus as well as Alte National Gallery. This island has been a UNESCO World Heritage site since its renovation after World War II. You can reach here from the U Rotes Rathaus metro station.
Berlin Wall Memorial or Gedenkstätte Berliner Mauer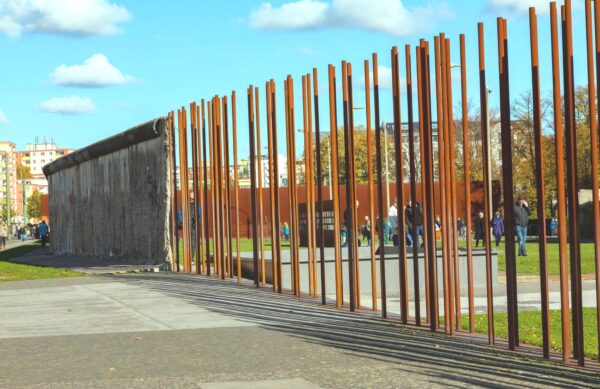 Berlin Wall Memorial, or Gedenkstätte Berliner Mauer, is one of the more educational attractions in Berlin. To learn the history of the Berlin Wall, supplement the East Side Gallery with a trip to the Berlin Wall Memorial, the last piece of the preserved, real Berlin Wall. See the original border fortifications, a viewing tower, and the infamous 'death strip,' and read much more information. The Berlin Nordbahnhof and U Naturkundemuseum stations are the closest stops near this memorial war.
TV Tower Also Known as Berliner Fernsehturm
TV Tower, Fernsehturm, is the tallest structure in the city and one of the main attractions in Berlin. For many years, it was a symbol of East German socialism. However, today, the tower is a landmark of unified Berlin. Here, tourists can enjoy panoramic views of Berlin, and it is easily accessible from the U Rotes Rathaus station.
Mauerpark in The Prenzlauer Berg District
You can find Mauerpark near the Berlin Wall Memorial. This park offers many food stalls with a lot of live music playing. The food court & flea market between Prenzlauer Berg and Wedding brings about 40 thousand visitors every Sunday. Also, it is good to rest if you plan to do a lot of sightseeing in Berlin. This park is accessible via the Eberswalder Straße transit station in The Prenzlauer Berg District.
A Guide for Sightseeing in Berlin
The most important things to know while doing sightseeing in Berlin are to have some cash on hand and use public transport to both save money and get to most of these tourist attractions in Berlin with more ease if you do not speak German. Try asking for a city ticket, which can be used in other German cities as well.
If you are planning to stay longer in Germany, you can actually make wonderful day trips from Berlin. These day trips give you more perspective on German life and culture. They might even change some beliefs that you might have had in the process.