Most Delicious Food in Tanzania
Famous Food in Tanzania
Traditional African cuisine is a very tasty delicacy to try and tourist should really try most delicious food in Tanzania. The country's diet is based on starchy foods such as corn, millet, pilaf, legumes and cornmeal. Tanzanian cuisine has gradually become more diverse over the years, from vegetables and fruits to dairy products and meat. Portuguese explorers brought cassava and peanut starch, which are a vital part of these delicious food in Tanzania.
Nyama choma or Grilled Meat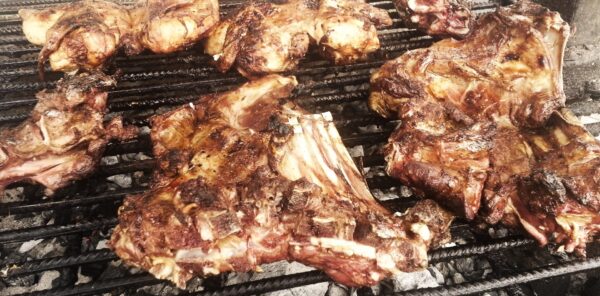 If there is one food that can be considered inherently Tanzanian and truly East African, it must be Nyama Choma. Also, Nyama Chuma means grilled meat and is served by grilling goat, fish or chicken with grilled bananas or ugali. In preparing this food, fresh meat is used, which is placed on a metal grid and charcoal to be lightly grilled.
Chapati Bread Similar to Indian Roti
The traditional Tanzanian (Chapati Bread) is similar to the flatbread or "Roti" of the Indians. This bread is made without sprouting and its raw materials do not use baking powder or dough. Chapati is very popular among the "Swahili" regions of Tanzania, and of course it can be considered a favorite of every Tanzanian.
Ndizi na nyama or Plantains With Meat Dish
Ndizi na nyama or plantains with meat or fish is another delicious food in Tanzania that you can enjoy at the Tanzanian table. This dish is prepared in the form of meat pieces with carrots, African fruits, sweet peppers, bananas, okra as well as fish.
Wali na maharage or Rice and Beans
Wali na maharage which can be translated as "rice and beans", is a Tanzanian dish made with fish, vegetables or meat. Rice is often cooked with milk or coconut oil. This food is prepared based on the usual flavors of East Africa. However, its order can easily be changed based on the materials found in any environment. Spices such as cinnamon, cardamom, cumin, pepper or cloves can also be seasoned.
Wali wa nazi a Rice Dish With Coconut Milk
Wali wa nazi is a rice cooked with coconut milk and is mainly eaten by the coastal people living on the shores of the Indian Ocean. This nutritious and creamy food is eaten with chicken, meat, curry or fish. These ten delicious Tanzanian dishes show that people in the country prefer beans, corn flour, millet and corn.
Ugali the National Food of Tanzania
Ugali is a food that can be considered the national food of Tanzania. This firm dough is made with corn flour, cassava powder, corn or millet, and usually comes with a sauce of fish, meat, cooked vegetables or legumes. Ugali is usually served in a large bowl with all the people at the table. A good Ugali should not be too sticky or dry.
Pilau Made for Celebrations
Pilau is food that is prepared only for celebrations or weekends. Such food was originally known in western India, but has become a popular food in Tanzania's coastal areas. This rice dish is usually served with "Kachumbari" which is a salad of raw materials including chopped tomatoes, chili peppers and onions.
Mchemsho or Assorted Chicken Soup
Mchemsho also known as "Chicken Soup" is one of the special dishes of Tanzania and is consumed in the northern part of the country. Although it is a very tasty food, it is not one of the daily foods of the people because it uses a lot of ingredients in its preparation. It also makes it more expensive than other local dishes. Ingredients for this dish include carrots, potatoes, green beans, eggplant, cabbage, onions, bananas, tomatoes, okra, sweet peppers and spices.
Supu ya Ndizi or Plantain Soup
Plantain soup, known locally as Supu ya Ndizi, is another traditional Tanzanian dish. People in Tanzania make this by pounding and kneading green bananas and then cooking them in chicken broth. Also, you can have this banana soup in a soup bowl and add salt and pepper to it as for seasoning.
Ndizi Kaanga Made of Fried Green Plantain
Ndizi Kaanga is a fried green plantain that is very popular in Tanzania. Also, locals usually eat this without sugar, but you can sprinkle a little sugar on it to make it taste sweeter. Some people add salt and pepper to it and eat it with Kachumbari. Ndizi Kaanga is one of the delicious food in Tanzania that you will find at street grocery stores.