Top Burgers London Tourists Can Enjoy
Best of Burgers London Offers
If you love some good burgers London has you covered. This post introduces tourists to some of the best London burger shops this city has to offer. London, as a metropolitan city, has imported one food culture, and one of them is American and French-style burgers. In this city, there is no shortage of delicious sandwiches, and in this post, you get to see where to go for your midday craving.
Burger & Lobster in Soho
Burger & Lobster has some of the most unique burgers London has to offer. It is a combination of beef patties and lobster meat. The story of this interesting food started in a small pub in London, and now they have grown extensively. Burger & Lobster operates from nice locations in London as well as other countries like Dubai, Singapore, and Malaysia. It is good to know that Burger & Lobster use Atlantic lobsters as well as prime family-farmed beef in their burgers. The prime locations of this eatery are Soho, Leicester Square, and Threadneedle Street.
Five Guys in Soho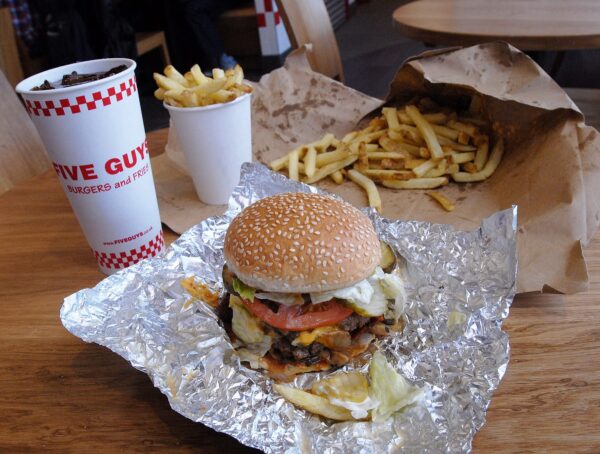 Since its start in 1986, Five Guys, as a family business, has been dishing out amazingly fresh burgers and fries to customers in the USA. This popular burger franchise brought its good burgers to London as time passed. Even in this city, Five Guys are considered some of the best burgers London has that you can visit. Everything here, including the bread, beef patties, and vegetables, are fresh, and that is how Five Guys are got so famous. Tourists can find Five Guys shops near famous landmarks such as Chinatown and The Photographer's Gallery.
Honest Burgers near London Bridge
Honest burgers London is one of the best shops for very budget-friendly sandwiches and very good portions of rosemary fries. This burger chain has a lot of branches all over the city. You can even find them in the heart of London near Piccadilly, Leicester Square, and Tottenham Court Road stations.
Byron at Soho and Mayfair
Byron is amongst the best London burger shops for offering huge burgers that are also made to order. You can find them near the bustling part of the city, like Soho and Mayfair areas. The good thing about dining here is that you get to enjoy hand-crafted beef, chicken, and vegetarian burgers that come with bottomless fries.
Burger & Beyond near Camden Market
For some of the juiciest burgers London has to offer, you need to take a visit to Burger & Beyond. Their prices are reasonable, and the burgers come in single and double options. Also, they have a street food option available at Camden Market that sells simple, tasty burgers with fries and Tater Tots. If you want to dine in their minimalist yet beautiful restaurant, get off Shoreditch High Street station and then head north on Shoreditch High Street road towards Boundary Gardens. The famous sandwiches here are Bacon Butter Burger, Bougie Burger, Shoreditch Hot Chicken, and Vegan Mushroom Raclette. Besides burgers, you can also get good deals on milkshakes and cocktails here.
Neat Burger near The Photographers' Gallery
Neat Burger is one of the best London burger shops for plant-based veggie burgers. In fact, even the cheese used here is plant-based. This place is a good option for budget-conscious travelers and diners since almost all of their burgers and sandwiches cost £10 or less. Then, with a small amount, you can add some extras like fries and desserts. It is interesting to know that they also offer milkshakes and cocktails here. If you are gluten intolerant, they have a few choices for you; however, they are not focused on making everything gluten-free here. Their main store is at Princes Street, a short distance from Oxford Circus Underground Station. Moreover, you can find them at Camden Lock Market and Soho, near Shaftesbury Ave.
Ghost Burgers near Geffrye Museum
If you are a fan of simple and classic yet delicious burgers, head to Ghost Burgers on Kingsland Rd. You can reach this amazing eatery by getting off at Hoxton train station. After eating here, it is worth checking out Columbia Road Flower Market, which you can reach just by walking for a few minutes. The burger choices here are simple, and you can have prime wagyu beef, chicken, or veggie patties. Their prices here are reasonable, and you can fill your stomach up properly with less than £20 here. Also, make sure to try their incredible sauces here too, which they are also famous for.
Burgeri for Halal Food
For halal burgers London visitors can try Burger Joint. Located in the heart of London at the northern end of Carnaby Street, Burgeri is a Doha-based hamburger joint that sells classic burgers and fries for customers who seek halal and delicious food in this city. The burgers here are tasty; however, the portions are not as big as the other options mentioned here.
BaBa G's at Pop Brixton
BaBa G's have been part of the street food scene for a very long time in this city. If you crave some unique burgers London has to offer, which you can almost not get anywhere else, try visiting one of BaBa G's hamburger stores. the current stores are located at Pop Brixton, West Yard in Stables Market, Brockley, and near London Bridge overlooking The Shard. According to the time of their weekday operation, BaBa G's is only good for evening dining and dinner meals.
Patty & Bun near Covet Garden
Patty & Bun has some of the heartiest sPatty & Bun has some of the heartiest sandwiches this city offers for as low as £10 each. You can find its main store in James Street; however, they have other branches in some other parts of the city as well. The vibe in Patty & Bun is more suitable for the younger generation, and the shop design indicates that.
Haché Burgers near Camden Market
In Haché, tourists and locals can get to experience some of the most delicious Parisian-inspired burgers London offers. Other than burgers, you can have other French and international dishes here. Overall, Haché offers a healthier approach to classic burgers and adds more exotic ingredients to them. Some locations where you can visit Haché are Camden, Clapham, Belham, Shoreditch, Kingston, Chelsea, and Holborn.
Truffle Located in Soho
Truffle is one of the best London burger shops, which offers luxury products to consumers in an affordable and easy way. They categorize themselves as street food providers hence the affordable price tag of £10 for almost all their burgers. They operate from Soho, Under the Hungerford Bridge, and the Seven Dials Market. Make sure to order some wine, beer, or cocktails with your food to complete the magical experience here.
Big Fernand near Victoria and Albert Museum
Big Ferdinand provides one of the top French-style sandwiches visitors can enjoy. The burgers here are definitely a must-try who love quality over quantity. The prices are reasonable costing in the neighborhood of 12£; however, the quality of the ingredients is top-notch. Expect an explosion of flavors when visiting Big Ferdinand near South Kensington Station.
Best London Burger Shops for Halal Burgers
There is no shortage of London burger shops selling quality halal burgers around this city. The areas in which you can get halal sandwiches include Camden, Mayfair, and mainly East London. These are some of the most hearty burgers London has to offer, and they are always of quality while maintaining their halal certificate.