Best Barbecue Places in Austin
Famous Austin BBQ Restaurant
Austin BBQ is one of the most famous cooking methods across the United States. If you want to get to the best barbecue places in Austin, then this article is for you. Barbecue is a way of life in Austin and there's just no way around it. This smoked meats scene is so important here and locals really proud of it. Here are the best of Austin BBQ eateries and diners for both locals and travelers.
Black's Barbecue Austin near Hemphill Park
The Austin branch of the famous Black's Barbecue will have to do for those who can't travel to the smoked meats capital of Texas. While the entire menu is not really broad, Black's Barbecue offers some of the best Austin BBQ in town. The Black's Barbecue Austin menu includes Beef Brisket, Pork Ribs, Barbecue Chicken, Pulled Pork and Turkey Breast all sold at great prices, by pound and even offered as gluten free options. There are homemade sausages as well sold per ring which roughly a quarter pound. there are nice cheap sides and desserts available too with gluten free options again. You can find Black's Barbecue at 3110 Guadalupe Street near Hemphill Park which is operated by Black family for many generations.
Micklethwait Craft Meats near George Washington Carver Museum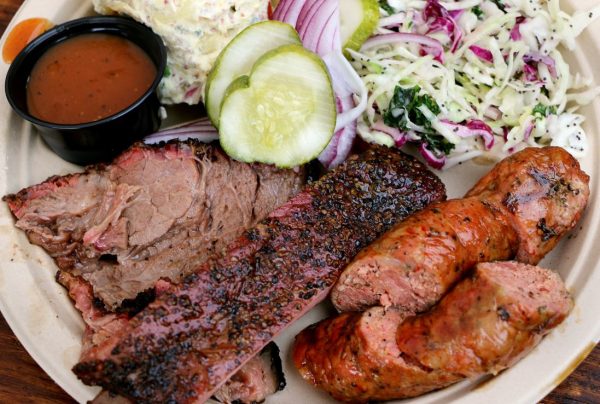 Micklethwait Craft Meats is one of the top barbecue places in Austin and famous for its ribs and sausages. This barbecue trailer shop, opened in 2012, serves creative house-made sausages that change daily from an old Comet trailer in a beautiful backyard by Tom Micklethwait and Ren Garcia experienced pitmasters. Also, the  Micklethwait Craft Meats menu has the usual and unexpected meats like brisket, pulled lamb as well as great sides. The Micklethwait Craft Meats Location is at 1309 Rosewood Avenue which you can reach by taking buses 2 and 485. This barbecue house is also near Texas State Cemetery and George Washington Carver Museum.
Terry Black's Barbecue near Butler Metro Park
To get some of the more homey Austin BBQ, head to Terry Black's Barbecue located at Barton Springs Rd. At Terry Black's, the typical meats are served, along with beer as well as even wine options. This legendary barbecue is open from 10 in the morning until very late in the evening hours selling premium cuts of beef, a bite pricier than the rest, with dairy-free and vegan choices as well. Terry Black's Barbecue location is at 1003 Barton Springs Road very close to Butler Metro Park. Bus 30 and 105 have stops very close to this park and this restaurant.
La Barbecue at East Cesar Chavez
La Barbecue is another one of barbeque places in Austin that makes its own sausages and smoke its own ribs using natural wood. Also, La Barbecue from LeAnn Mueller smokes the same beautiful briskets, ribs, as well as sausages that have people waiting in long lines. this is a great place for those who do not like very sweet side dishes as most of the food offerings here are not come with added sugar in them including the rubs for their barbeque meat.
Because of the owners Germanic background, there are various German inspired dishes and sausages available here. The meat used in their smoker is mostly come from grass-fed cows and is free of hormones. The current location of La Barbecue is at 2401 East Cesar Chavez which there is a bus stop right in front of it operated by bus number 17.
Franklin Barbecue Famous for its Briskets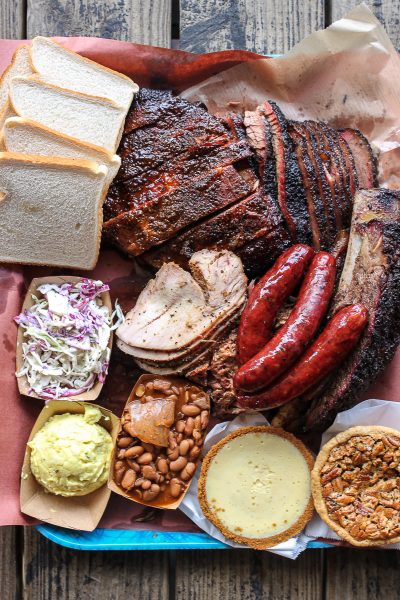 Franklin Barbecue forms long lines at its door for offering some of the best Austin BBQ in town. This restaurant opened with a humble beginnings in 2006 from a small-sized smoker trailer and has grown exponentially since then. In fact, many famous individuals including presidents have dined here to try their delicious barbecue.
As a result, you will see long lines being formed every day. These long lines worth the wait for such perfect briskets from pitmaster Aaron Franklin. If you want to plan ahead, they accept pre-orders as well. The menu at Franklin Barbecue includes brisket, pulled pork, turkey and sausages which you can order in pound or sandwiched sizes. On the side you can get various pies and  potato salad, pinto beans and slaw as well. The Franklin Barbecue location is at 900 East 11th Street, accessible by buses 2 and 485 from near by "11th/Branch" bus stop. Also, you can get off at "12th/Branch" if you are taking bus number 6 and take the Branch street to get here.