Top Budget Restaurants in Melbourne
Cheap Eats in Melbourne
Melbourne is a place where hungry tourists would like to visit at a low cost and try some of the top cheap eats in Melbourne. Budget is really important to many travelers in Australia, and finding a suitable restaurant for lunch or dinner is not easy. Especially when you consider a restaurant that offers good food and fast service. Melbourne, Australia, has many budget restaurants, and choosing between them is not simple.
Aagaman Restaurant Best for its Indian Food
On Melbourne's Bay Street, you will find the Aagaman Indo-Nepali Restaurant. This is one of the restaurants in the city that offers some good cheap eats in Melbourne. The restaurant serves a variety of Indian and Nepalese dishes, especially vegetarian dishes. What locals like to eat is the chicken tikka in this restaurant, which comes with pickled mint bags. Also, you should try the special Vietnamese dumplings here as well. In addition, Aagaman Restaurant serves a typical lunch thali with hot, fresh bread for lunch.
Etto Pasta Bar for Cheap Italian Food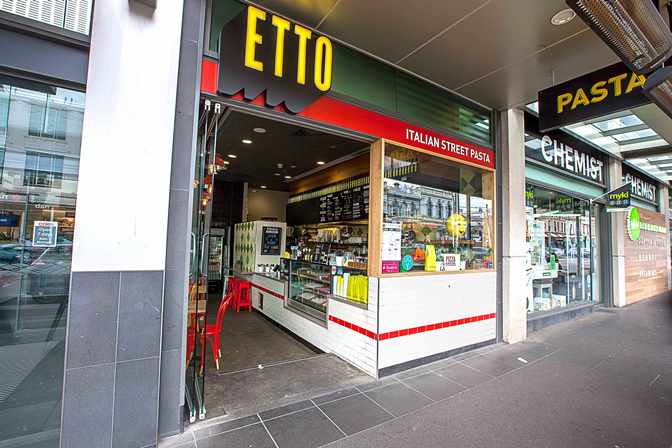 If you are thinking about Italian food and pasta, Etto is the right choice. Etto Restaurant is located in the southern part of Melbourne and offers a variety of delicious pastas and sauces. Of course, the pizzas of this restaurant are as delicious and famous as its plates of pasta, and if you want, you can order a genuine Italian Neapolitan pizza here too.
Simply Spanish in South Melbourne
One of the most delicious must-try in South Melbourne markets is paella. Paella is a Spanish dish whose main ingredient is rice and is sold in large and colorful containers. Therefore, head to Simply Delicious to try one of the few Spanish food and cheap eats in Melbourne. Moreover, seafood is another one of the different types of food that is sold in Simply Spanish restaurants.
Kenzan Japanese Restaurant in Collins Place Plaza
The Kenzan Japanese Restaurant is located inside Collins Place, so it may not be very popular. You can order great sushi at this restaurant with some discounts at times. Of course, after your sushi meal is over, you can also order green tea ice cream as a dessert.
Chick-In in Liberty Tower
The Chick-In restaurant is located in the back alleys of Melbourne and serves butter-fried food. If you crave fried chicken, you will not leave this restaurant unsatisfied. Among the restaurant's chicken menu, two models are the most popular. The first is a whole chicken, which is one top cheap eats in Melbourne and enough for two people in terms of volume. Next is the extraordinary food of gang jung. Gang Yong is actually a large amount of boneless chicken that is sliced ​​and served with a spicy but sweet sauce. Of course, you can have rice noodles next to this food as well.
Tuck Shop Take Away Hamburger Restaurant
If you want to eat a burger, be sure to head out to the Tuck Shop Take Away. This restaurant is one of the best burger joints in Melbourne. Just try the burgers at this restaurant once to get back here. The burgers of this restaurant are prepared from completely fresh meats. Of course, the most important part of these burgers is the special and delicious sauce that is poured on them.
Update: Tuck Shop Take Away is no longer open.
Skewer'd Selling Souvlaki and Yeero
If you feel hungry after a short walk on the beaches of Port Melbourne, Skewer'd Restaurant is just near you. In this restaurant, you will experience one of the best yeero and other cheap eats in Melbourne. Yeero is a freshly baked meat sandwich with fresh pita bread, originally a Greek dish that comes with a variety of meats, hot chips, tomatoes, onions, and tomato sauce.
Red Petite Thai Cafe Best for Pad Thai
Red Petite is a small and cozy Thai restaurant located on the busy Clarendon Street. The restaurant serves a variety of Thai dishes. The pad thai of this restaurant is large in size, and the combination of spices and rice makes it very wonderful.
The Borek Bakehouse in Queen Victoria Market
Melbourne's Borek Shop is the best place to go to enjoy some good cheap eats in Melbourne. Located in Queen Victoria Market, it is where you can buy large, hot, fresh, and delicious pieces of Turkish bread for just a few dollars. You can choose the contents of these breads depending on your taste. Of course, it does not matter if you choose meat, broccoli, cheese, spinach, or vegetables that come with the bread because they are all very tasty anyway.
Hunky Dory Fish & chips Restaurant
If you crave Fish & Chips, you have no better choice than Hunky Dory. It is one of the best eateries in Melbourne for Fish & Chips. This collection has several branches, and you can have each meal in large containers that you can easily share with others.
Also, if you crave sweets and chocolates, you should head to some of the best chocolate shops in Melbourne. These stores have a lot of different chocolate types, such as vegan and handmade truffles and chocolate bars. Some of the prices are reasonable, and some others are slightly more expensive.