Best Bars in Konya
Konya nightlife is slowly gaining more momentum among foreign travelers. As for tourists, they should visit one of the bars in Konya if they want to have a good time in that city. Konya is one of the most conservative cities in Turkey. Therefore, the nightlife scene isn't that great as a result. Even though this is not a drinking city, there are still a few bars to get into at night. Most of the famous bars are located in the central part of the city, and interestingly, you will see fewer tourists in them when you compare them with bars in Istanbul or even in the neighboring cities.
Mr. Frog Pub Bistro Part of Grand Hotel
Mr. Frog Pub Bistro is the place if you want to experience what Konya nightlife offers travelers. This bar offers good live music, and the atmosphere is pleasant. The service is acceptable. Also, they serve both alcoholic and non-alcoholic beverages as well. You can find this bar in the Grand Hotel of the city. Because of its location, the food order, and sometimes, the drinks are slightly more expensive on the weekends than the roadside pubs. However, the quality is still better in terms of quality.
Exclusive Pub on Yeni Meram Street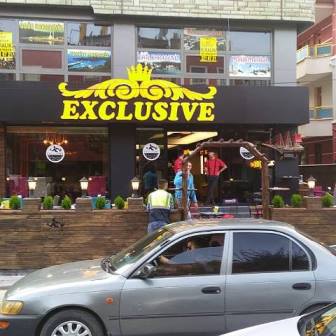 Exclusive is one of the bars in Konya that is suitable for those who want to hear nice music playing in the background. The music in this bar changes depending on the theme of the day. Also, it is one of the few places in the city to grab a drink. Furthermore, the prices are reasonable as well. The food is more of hit and miss, but the local Raki and beer are always good. The location of this pub is alongside the Yeni Meram Cd road.
Konya reyna bar on Istanbul Street
Konya Reyna Bar is one of the more famous bars in Konya that offers a lot of nice cocktails, and it is a very happening place to be. As a tourist, your Konya nightlife is incomplete if you are visiting this place at least once during your stay in this city. You can find this nightclub/bar in the Horozluhan neighborhood. To get here, you can take the tram and stop at Otogar station. Then, find your way to Adıbelli Street.
Cafe Extrablatt at Grand Hotel Konya
Cafe Extrablatt is another famous bars in Konya that is a franchise coffee house. This bar is located inside the respected Grand Hotel. They serve coffee as well as amazing beer and cocktails. The atmosphere here is really good for a drink, and their service is also top-notch. This bar is suitable who like to drink average-priced drinks in a cozy environment and have some quality desserts and International food. Also, sometimes, during the weekends, there is a DJ with live music here.
Dukas Pub in The Yeni Şehir Neighborhood
Dukas Pub is a hidden gem among the local bistro bars in this city. The prices are very reasonable, and mostly local drinks are served accompanied by some nuts on the side. There are local beers and international brands of whiskeys. This bar is located in the Yeni Şehir neighborhood near Alaaddin Hill Park and accessible by the Belediye tram stop.
If you are traveling here on a budget or just want to save some money for partying, then check out budget places to eat in Konya. These eateries offer good grubs that are both delicious and budget-friendly. This can help you save money on your trip.