Best Restaurants in Kusadasi
List of Restaurants in Kusadasi
Most of the best restaurants in Kusadasi offer fresh food from mostly the sea nearby. In fact, the food you get in Kusadasi is prepared using fresh ingredients such as vegetables, fish as well as fruit. Furthermore, most of the meals in Kusadasi are very famous internationally as well, like kebap, pide, grilled lamb or chicken skewers and kofte (meatballs) . There is no shortage of good food here, however finding the best takes time and a bit of luck. Here are best restaurant that might satisfy your hunger with their excellent dishes.
Marvista Restaurant Part of İlayda Hotel
This is one of the best restaurants in Kusadasi. You are sure to get good quality food as well as amazingly good service here. This eatery belongs to the İlayda Hotel and as a result you get fantastic customer service, well-mannered staff and properly set dinner tables. All you get here is adequately cooked and the fish dishes as well as their deserts are the meals you need to try here. In fact, the menu is mostly of Mediterranean dishes. Another good thing about is that it is close to ancient city of Ephesus, with historical and cultural values, the House of the Virgin Mary, St. John's Church and Isa Bey Mosque.
Green Garden Restaurant for the Best Kebabs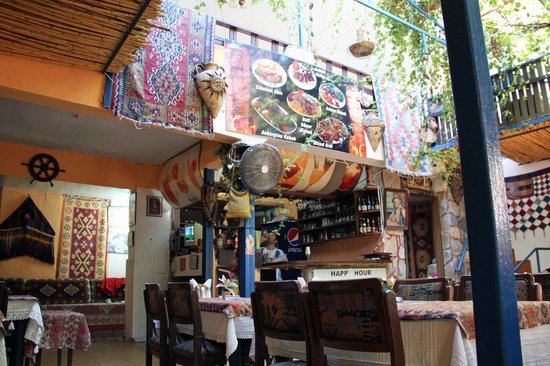 This humble restaurant offers good mix of both Turkish as well as European food with its lovely setting and really friendly staff. The food you get will warm you on the inside and its portion is more than enough for the reasonable you pay. Also, if you wish to have very authentic Turkish kebabs in a very Turkish setting, make sure to try this restaurant. The staff are very friendly here and most important of all you can get beer to have alone or with your food.
Liman Balik Seafood Restaurant
What you most likely come here for is the really nice view of the harbour you get from Liman Balik. Perhaps, Liman Balik is the best restaurants in Kusadasi for see view or there are very few like it here. The area here is calmer than the other parts of Kusadasi which suits you if you want to have relaxing meal. Also, they have really good selection of mezes as well as fish dishes. The staff are very polite and you will definitely like the flavor of the food here. The location of Liman Balik seafood restaurant is at Hülya Koçyiğit Cd. No:3.
Mare Restaurant & Bistro Kusadasi for Pizzas
This bistro has a relaxed and laid back vibe to it which makes you want to go inside and relax. The food here also tastes great and the staff are helpful and attentive too. The good location of this bistro as well as its excellent menu and its cleanliness makes you visit here more than once during you stay. Make sure to try the pizza here. Some of other dishes you can try here include international food like pastas, steaks, fried squid and tuna salad.
Ladies Beach Hotel Restaurant for International Tourists
Ladies Beach Hotel Restaurant is a great place to eat and drink in a lazy afternoon in a relaxed location overlooking the beach. This hotel has one of the best views overlooking the beach nearby. The food is slightly more expensive, however, their cocktails are to die for in here. This is one of restaurants in Kusadasi where you will mostly see foreign tourists. Therefore, most of the food here is catered to international customers. Another good thing is that you can just visit them from getting sun tanned in the Ladies Beach near by ang hop in for some beer or light meals.