Budget Accommodations in Prague
Cheap Accommodations in Prague
Hostels in Prague are amongst some of the best in Europe for budget tourists or backpackers looking for cheap accommodations in Prague. If you want to choose from these budget accommodations, it is really hard work, and to make your work easier, we have prepared a selection of the best hostels in Prague for you. Each of these hostels has its own way of entertaining travelers of all ages, and they are all clean and tidy. You can also use the free internet during your stay.
Sir Toby's Hostel near Vltava River
Among the hostels in Prague, Sir Toby's Hostel is the most aesthetically unique and beautiful. This hostel combines dark antique wood to create a unique atmosphere. You will clearly notice that this hostel has been designed with great care and attention to detail. Instead of a room number, this accommodation has a unique name and even a different theme for each dorm. Also, there are some very attractive private rooms on the upper floors.
Mosaic House nearby Karlovo náměstí Park
Mosaic House is the largest hostel in the city and offers a variety of activities and a wide range of rooms to its guests. This is a super hostel; that is to say, it is one of the new, modern, and stylish accommodations in Prague. The hostel was proud to be the first fully sustainable green building in Prague and the first to launch its own water purification system in the Czech Republic. All the energy used here is 100% renewable and will be ideal for travelers who pay special attention to the environment.
Brix Hostel near Vítkov Landmark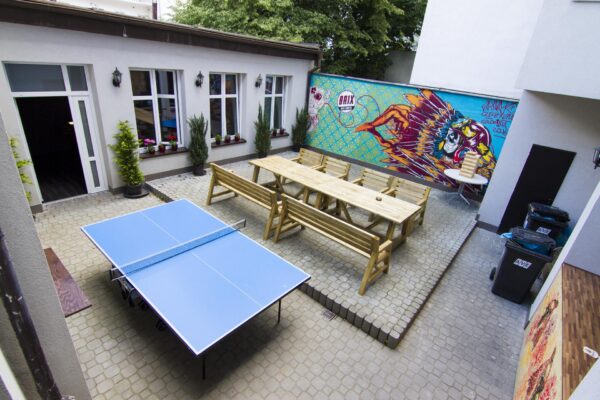 Brix Hostel is one of the newest hostels in Prague, located in the chic and historic neighborhood of Zizkov. It may not be downtown, but you can easily get there by bus or tram nearby. In this neighborhood, you can watch the daily life of the natives of Prague and, at the same time, have easy access to the tourist spots. There are many restaurants, cafes, and shops near the hostel as well.
Pension & Hostel Downtown Close to Národní třída Station
Hostel DownTown is another one of the accommodations in Prague well located in the city center. The hostel offers a variety of private and group rooms on six floors and has friendly staff ready to help. The hostel guides will give you information and can make good suggestions on transportation, entertainment, and attractions. The large group kitchen here has several gas stoves as well as a giant refrigerator to store food. It is more popular among young people and has a good vibe to it.
NYX Hotel Prague near Náměstí Republiky Station
NYX Prague is a hotel that combines budget accommodation with a style that is not boring. It welcomes guests with a variety of ideas and expectations. The facilities of the complex include free internet, live music, a hookah hall, a game room with interactive electronic games, and so on. Rooms also vary from double rooms to dormitory ones.
Czech Inn near Havlíček Gardens
The moment you reach the Czech Inn, you will admire its unique beauty and décor. Bright colors create a good balance against muted tones, and the combination of modern and old furniture and strange decorations that can be seen throughout the building makes this hostel one of the most attractive you have ever experienced. The place is not limited to these appearances and has many things to offer to its guests. You can choose your room from shared rooms or private rooms. Also, many entertainments are suitable for socializing with other guests as well as the nearby Havlíček Gardens.
Sophie's Hostel for Ladies Travelling Alone
Sophie's Hostel is an ideal choice for ladies who go backpacking alone and want those safe accommodations in Prague. There are several common rooms for women, and each room can accommodate 5 people at the same time. Each room also has a dedicated modern kitchen. In fact, each of these rooms resembles a mini-apartment. This hostel has good breakfasts, and its hot dishes are very similar to home-cooked meals.
The Madhouse Prague best Place for Parties
The MadHouse Hostel is another one of the best hostels in Prague for a party and will be perfect for an exciting stay. You can have a small private party here and meet new people. Periodic dinners in the large kitchen with drinks are happening at a very low cost. The MadHouse Hostel has only shared rooms.
Clown and Bard Hostel in The Zizkov District
The Clown and Bard is another one of the budget accommodations in Prague. The hostel is located in the Zizkov district and is surrounded by various cafes and restaurants. If you take the tram, you will reach the city center in less than a few minutes. You can even watch one of the most beautiful sunset views nearby this hostel.
Plus Prague Hostel located in Praha 7
Plus, Prague Hostel is located in Praha 7, a short distance from the city center, but its tranquility is very pleasant, and you will find a tram stop in front of the hostel. Here, you will find attractive facilities such as a swimming pool, sauna, private club, and volleyball court, as well as a restaurant that will give you a great experience along with the nightlife. Group and private rooms are very large and comfortable are available here. Moreover, group rooms for women also offer a free welcome package making this place one of the women-friendly accommodations in Prague.
Since budget is concerned here, you can also try the top cheap restaurants in Prague to save more money. These locations have great quality food for the cheap that will not break the bank. Also, you get to eat local food and flavors at a lower cost.
Cheap Hostels in Prague
The best areas to search for cheap hostels in Prague are Praha 7, 2, and old town. These are the places where the rates are very competitive, and many hostels and accommodations in Prague are available here for those looking for a short stay on a budget.