Kentucky Caverns; An Underground Journey
List of Kentucky Caverns
Kentucky caverns are a result of millions of years of giant limestone formation. These formations formed the karst landscape that you can see in this state as well as Mississippi. This area was previously underwater, and as a result, you will see that there are many amphibian fossils found here. Here are some of these caves and caverns which you can visit in Kentucky to get to know the state's geology.
Lost River Cave in Hellertown
Lost River Cave is one of Kentucky Caverns where you can have a tour boat. The 25-acre surrounding area of this cave was donated in 1986 to Western Kentucky University. After that, that wooded area expanded to over 60 acres, providing a great walking experience to its visitors. Other than normal limestone formations in this facility, you can enjoy other recreational activities as well. Those include visiting a butterfly habitat, traveling by zip lines, and walking along the Nature Explore Playscape trails here.
Also, there are a lot of activities for children and all members of a family here, making sure everyone will have a great time here. You can even shop for jewelry, fossils, collectibles, and local food products near the Visitor Center there. The Lost River Caverns tickets are set at $15 for each adult and $10 for one child.
Mammoth Cave with Longest Cave System in The World
Mammoth Cave is perhaps the most famous one among the Kentucky Caverns. In fact, it is the longest-known cave system in the entire globe. This system stretches for 400 miles and is also very close to the Bowling Green trails as well. Similar to Lost River Cave, the Mammoth Cave also has a nice park above it where you can have a nice walk or have a family picnic. It is also interesting to know that Mammoth Cave is the second oldest attraction in the country, being around for over 200 years in the public eye. The Mammoth Cave tickets for the tour inside the gave are currently at $22 per adult and $16 per child.
Crystal Onyx Cave Located on Prewitts Knob
Crystal Onyx is family-owned, operates with a laid-back attitude, and tours are mostly unscripted. This cave was originally opened for tours in 1965 and, after many years of closures in between, started operating regularly in 2018. Also, it is one of the premier caves in Kentucky that offers a beautiful setting throughout.
The location of this cavern is on Prewitts Knob, providing a vast and diversified limestone formation. It takes almost one hour and a half to tour the underground pathways. This journey has a few stops where you can admire the place and learn more about the geological wonders here. Crystal Onyx Cave tickets are about $16 per individual.
Diamond Caverns in Park City
One of the most beautiful Kentucky caverns, Diamond Caverns, is very close to Mammoth Cave National Park. The pathways along this cave feel like a cathedral, and the lighting here is just fantastic, showcasing all the aspects of these limestone formations. They are open all year long, and the tours are one mile long with knowledgeable tour guides. Diamond Caverns prices for admission are $22 plus taxes for adults and half of that for children.
Louisville Mega Cavern in Louisville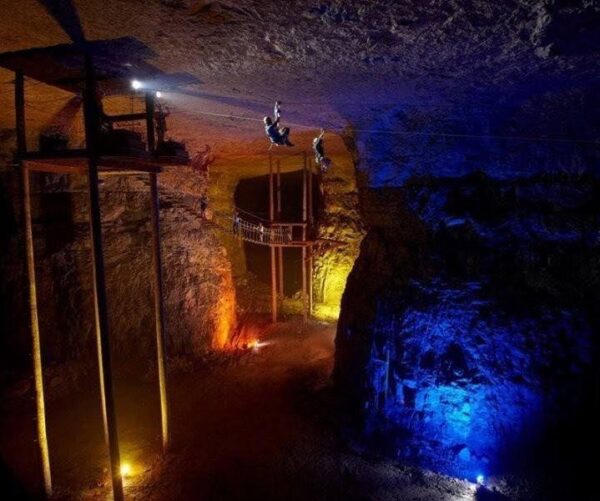 Louisville Mega Cavern is truly one of the best Kentucky caverns to go for experiencing the longest underground Zipline adventure statewide. If you like to have an adventurous cave trip, this is the cave you should definitely visit. You can do various activities here, including biking, exploring the caves, and using ziplines to travel across the caves. All these activities need special equipment, which is available when you pay and sign a waiver.
Also, at some points, there are some height and weight requirements for the safety of the visitors, so make sure to read the conditions carefully. At the moment, Louisville Mega Cavern prices are as follows; Mega Zip Line tickets cost $105, Mega Quest around $40, Mega Walking around $22, Mega Bike about $40, and Mega Tram will cost you about $22 all of which are after taxes.