Top Restaurants in Red Deer
Nice Restaurants in Red Deer
Red Deer is a beautiful city in Alberta, Canada, and restaurants in Red Deer absolutely showcase these beauties in their cuisines. This city has many old-style Americana eateries, immigrant-run businesses, and even a few First Nations restaurants. Here, you will see some of the best food you can eat in this city for very good prices if you are traveling from Calgary to Edmonton.
St Albert is another city that might be on your way. Also, restaurants in St Albert Canada offer a wide range of local and international cuisines. The locals love their food, and you might show interest in their food as well.
Freshslice Pizza Located on Dunlop Street
Freshslice Pizza is the place to satisfy your cravings for a good quality pizza since you do not need to order the entire pie and just want a few slices. Since its inception in 1999, this pizzeria has been all about the health of the customers by using the freshest and highest quality ingredients. The good thing about here is that they offer cheaper pizza than the competition while using healthier multi-grain crusts and low-calorie sauces.
If you wish to try their extra-large pies, you will get more value for your money since it is slightly larger than other pizza shops. Moreover, access to Freshslice Pizza is very simple, and many buses like R2, R122, R123, R136, R150, and R150 have stops nearby here. You just need to stop at the junction of Dunlop Street & 30 Avenue when taking these public transports.
Pupuseria Cristy Inc. inside Unimarket Food Supplier
Pupuseria Cristy Inc. is truly one of the best Latin American restaurants in Red Deer and heaven for having Birria tacos. Also, as it is said in the name of this eatery, you can have Pupusa flatbread, all made in authentic ways. The staff here is very friendly, and you will get your order perfectly and speedily most of the time. Nearby, you can do some appliance shopping since there are many interesting stores in the vicinity of Cristy Inc. shop.
Pizzitaliana Pasta,Shawarma And Donair in West Park Shopping Centre
Located in the West Park neighborhood, at West Park Shopping Center, you will find one of the top restaurants in Red Deer for pizzas called Pizzitaliana. What makes them great is that they have been in business for many years and have kept their menu simple yet with the highest quality. Here, they offer about 15 variations of food like pasta, pizza, donairs, wings, and shawarmas.
Also, they make their dough fresh daily here, and they only use homemade sauces for pizzas & pasta. If you happen to be in that area on a Friday night and looking for some late-night pizza, make sure to give Pizzitaliana a visit. You can use buses R3 or R151 and stop at a cross-section of 57 Avenue & 38 Street to get here.
Hash Breakfast Eatery on 66 Street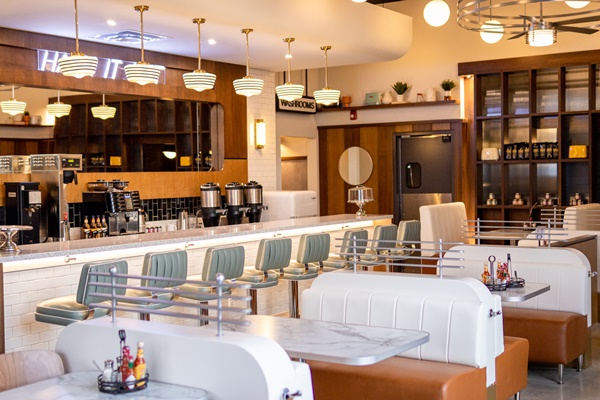 There is something magical about eating breakfast in a proper diner, and Hash Breakfast Eatery does not disappoint in that sense. Truly, Hash Breakfast Eatery is one of the best breakfast restaurants in Red Deer. The interior design here is absolutely magnificent, and the old classic breakfast options have gotten delicious twists.
The ingredients used here are simple; eggs, potatoes, and some toasted bread. However, there are loads of varieties made with these simple ingredients here. Also, you can order old-fashioned smoothies and modern smoothie bowls here too. This is an upscale eatery, and their prices, as a result, are higher than average, but the quality is superb. The location of the restaurant is in the proximity of many motels and holiday inns, benefitting those who stay nearby 66 Street.
Glenn's Restaurant & Gift Shop a Family Friendly Restaurant
Glenn's Restaurant was an eatery born in 1986 to provide food and coffee to farmers, truckers, and travelers every day of the week, all day long. Over the years, Glenn's Restaurant started serving tea, and now they have 250 different kinds of them on offer. You can choose your tea and ask them to brew it right there for you or just take it home to brew it later.
Prior to or after finishing your meal, make sure to take a look at their gift shop next door. It is where they sell interesting items like teapots, clothing, and even some gnomes. Glenn's Restaurant is a great place for families where they can enjoy early breakfast or late dinners in a nice and friendly environment. This restaurant is on Leva Avenue near Lake Street, where only bus R12 stops there.
Forno for Italian Food
When it comes to Italian restaurants in Red Deer, Forno is the name that comes to mind and is loved by locals. The interesting thing about here is that it is right next to the Hash Breakfast Eatery. Some of the menu items include pizza, appetizers, salads, paninis, pasta, and some main courses. The pizza here is a wood oven, and Prosciutto is authentic. Also, the atmosphere here is very wonderful, and kids can have their menu there. Surprisingly, this place is super affordable, with the main course, desserts, and a few alcoholic drinks all set at reasonable prices.
Danielle's Red Deer for Cheap Pizzas
There is no shortage of good pizza restaurants in Red Deer, and Danielle's is definitely one of them. In fact, similar to Pizzitaliana eatery, you are greeted with multiple choices like pizzas, pasta, donairs & wraps. Even though their prices are on the low-end side, they have not made any compromises on the quality or portions, for that matter. This is a genuinely good fast-food restaurant that operates till the early hours of the morning. Danielle's is on 49 Street, very close to City Hall Park and Highway 2A intersection.
Denny's near SB 50 Avenue
Denny's reputation explains for itself when it comes to hearty food among restaurants in Red Deer. It is because you are guaranteed to enjoy some quality American comfort food. Moreover, what they are truly famous for is their well-cooked and heart breakfast varieties. It is because they have gathered decades of culinary experience, and their brand is going strong, which is an indication of their greatness. The food might be, in terms of prices, similar to the competition. However, the portion is much larger. This branch of Denny's is located near 50 Avenue & 30 Street intersection. If you are taking buses to arrive here, bus numbers R1, R2, R3, and R151 have stops right in front of this restaurant.
Pho Thuy Duong Restaurant for Vietnamese Dishes
Pho Thuy Duong is really one of the best Vietnamese restaurants in Red Deer for eating genuine Vietnamese food. In fact, they have some of the nicest Pho and spicy beef satays around. The staff is always helpful, friendly, and happy to help you select food. Most of the prices here are reasonable for the portions that you receive. Just make sure to inform them beforehand if you suffer from any nut allergy since they use nuts a lot in their dishes.
Taco Monster a Restaurant for Kids
Taco Monster is the place among restaurants in Red Deer where you bring the kids to enjoy some delicious tacos in small sizes. The good thing is that they make your order on the spot using the freshest ingredients. This is why this Taqueria has been popular with families with young kids, as the food is safe, and they do not make a mess when eating it. Adults can enjoy the food here as beer options are served with your meal if you dine inside the Gasoline Alley Farmers' Market branch.