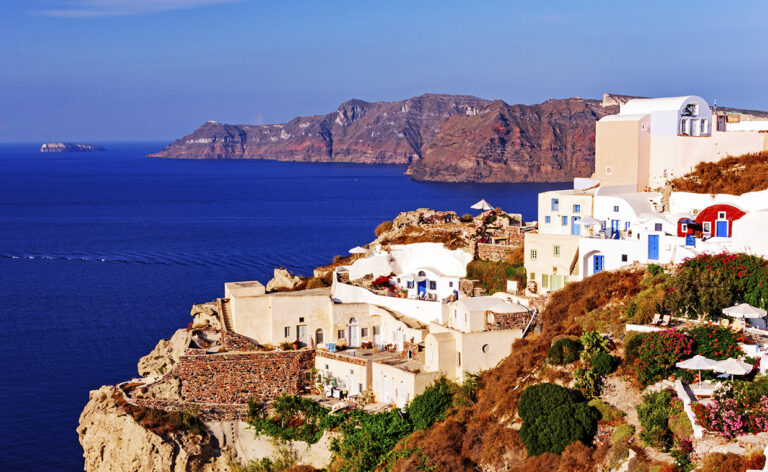 Best Beaches in Santorini
The island of Santorini is one of the many islands in Greece. Also, the beaches in Santorini are the top tourist destinations in the country, and many tourists travel to the island every year to spend their holidays on these beaches. The beaches in Santorini are composed of volcanic and rocky sand. These beaches are very beautiful and unique, but those who are looking for white sand beaches will be disappointed. Tourists traveling to Santorini can be sure that swimming in the clear waters of the island will be a very enjoyable experience.
Perissa Black Sand Beach near Fira
Perissa Santorini and Perivolos beaches are necessarily very long beaches, which is the accommodation of many tourists and people interested in beach parties. Also, it should also be noted that there are several restaurants and hotels in this area, and you can stay in one of these hotels. Perissa Santorini Beach becomes much calmer when you move south and enter the Agios Georgios area.
Kamari Beach with Black Sands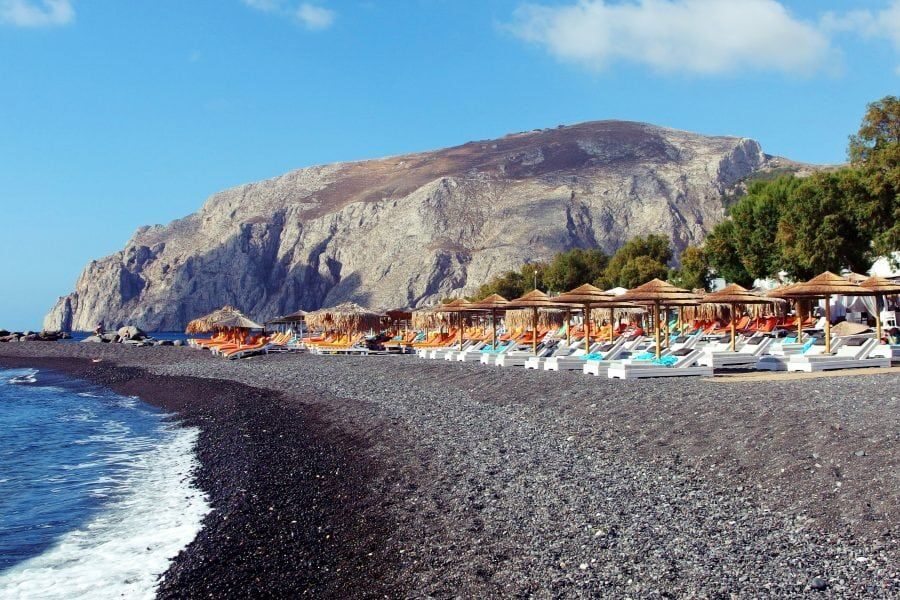 The two beaches of Perissa Santorini and Kamari Beach are almost identical; however, they are separated by a large rocky mountain. Their black sandy beaches attract sunbathing enthusiasts. The beauty of these beaches is beyond imagination, and until they are seen with the naked eye, it is impossible to believe that such heavenly landscapes exist on Earth.
Kamari Beach's black sands are very hot. In summer, you can not walk on the sand without slippers. Even looking at the waves coming back from the shore, you can see the heat rising from them. In some parts of the beach, there are benches sheltered from the sun with umbrellas, and local cafes with the sound of music invite tourists for a cool drink. These cafes in Kamari Beach as well as Perissa Beach, have a kind of wooden walk from the entrance to the sea and from the sea to the benches. Therefore, after swimming, you can easily come to your bench and order a drink.
Red Beach Santorini with Red Sands
The rocks and sands of this beach are red and have an amazing backdrop. Apart from the scenic scenery, there is not much on this beach. The red beach Santorini is just 20 minutes drive from Fira and is located south of the city. Walking on this beach can be difficult for some people. Remember to watch out for falling rocks when walking along the red beach. There have been reports of rocks falling along the shoreline, so it is best to be careful when walking along the shore.
Monolithos Beach a Very Quiet Place
Monolithos Beach, located a few kilometers north of Kamari Beach, has the most pleasant sand and is the most family-friendly beaches in Santorini (unlike other beaches, you can build sand castles with your children). Also, Monolithos Beach is very quiet and has a small collection of hotels and restaurants. The shallow slopes of the sea floor on this beach are much more suitable for children than other beaches that have steep slopes.
Paralia Vlichada close to Fira
Paralia Vlichada or also famous as vlychada beach. It also has a beautiful view, and you can walk a few hundred meters to get delicious grilled fish. Furthermore, you can visit the tomato factory on this beach as well. On the other hand, you can see "Villa Michalis," which is surrounded by sun beds, umbrellas, and beach cafes. In fact, you can even get good free WiFi here.
One of the advantages of staying in vlychada beach is that it is non-touristy. All the accommodation here comes alive only in summertime. Restaurants in this area are cheap and good, and the beach is rarely crowded. If you want to see the vlychada beach and enjoy its beautiful scenery, be sure to rent a car to visit all the beaches in Santorini.
Greece has many cities that offer once in a life time-traveling experience. The most famous one is Athens. Therefore, make sure to visit the best attractions in Athens after you visit the pristine beaches in Santorini to get to know the cultural attractants of this great country.