Most Delicious Greek Foods
The Best of Authentic Greek Foods
Greece is literally a paradise of food. Athens is the place to have the most delicious Greek foods in Greece for tourists. The authentic Greek cuisine has a Mediterranean-like style and at the same time reflects a special Greek flavor. In Greece, a variety of dishes are famous to be the most healthy around the world. The taste and cooking style of Greek food is influenced by Turkish, Arabic as well as the Middle Eastern cuisine. In Greece and its beautiful cities, you can try delicious Greek foods that you have never experienced before.
Souvlaki a Meat Grilled Served with Pita
Souvlaki is very popular in Greece itself and can be found in restaurants as well as road side stores all over Greece. The sauce used in this dish comes with mint, and yogurt. Also, this dish combines meat with spices and Aromatic vegetables. Moreover, Souvlaki dish comes with pita bread, salad or rice. This dish is prepared from different meats of chicken, lamb as well as beef.
Spanakopita a Greek Spinach Pie
One of the most delicious pies in Greece is Spanakopita or spinach pie, which is one of the traditional Greek dishes. This Spinach pie is available at every hour of the day and you can eat it as any meal you like. Spanakopita is made from a combination of layers of Phyllo dough, feta cheese, butter and spinach and baked in the oven.
Moussaka a Dish Like Lasagna
Moussaka is one of the most delicious and famous Greek dishes that is made from eggplant, minced meat and tomatoes. This delicious Greek dish comes with a special white sauce and it is generally baked in the oven. Moussaka, almost has a meaning of moistened, is served by the Greeks as lunch and main course. Due to its filling and large portion, in some restaurants. it is also used as a dinner dish. Also, if you are a vegetarian, you can order meatless variety of this food.
Kolokythoanthoi a Zucchini or Pumpkin Pie
Kolokythoanthoi is another delicious Greek food is stuffed pumpkin flower. Also, you can order the stuffing from vegetables, cheese, meat and rice to your liking. To cook this dish, it is soaked in a special dough and then fried until it is golden in color.
Fasolada include Beans with Tomatoes
Fasolada, or white bean soup, is undoubtedly cooked in any Greek kitchen and a standout among most healthy Greek foods. It is simple in its appearance, yet it has many flavors and is is a mixture of fresh vegetables and herbs. With white beans, olive oil and vegetables of your choice, this soup is not only delicious but also very nutritious. If you want to experience healthy Greek food, choosing this delicious soup is absolutely the right choice. In addition, this soup is also the national food of Greece.
Keftedes Made out of Ground Lamb or Beef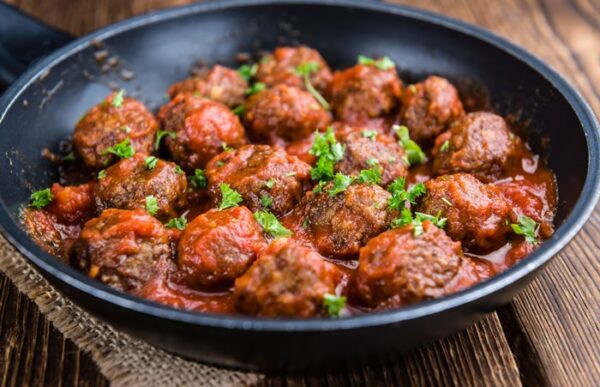 The number of meat dishes in Greece is very large and varied, and Greek meatballs are one of these delicious meat dishes. Greek meatballs are cooked in small sizes, and this delicious Greek food is mostly served as an appetizer with tomato sauce or ketchup. If you like rice, you can order and taste it with this food. Also, in terms of price, Greek meatballs are economical and budget friendly.
Lamb Kleftiko Made Out of Slow-Cooked Lamb
Lamb Kleftiko is one of the best traditional Greek foods. The method of preparing this dish is that first the lamb is marinated with garlic, olive oil and lemon juice, then the meat is placed on low heat for a long time to cook completely and slowly. This food is very delicious and the reason is that it gets cooked for a long time. This dish generally comes with vegetables and potatoes on the side.
Tiropita Cheese Pie
Tripota is the same as Greek cheese pie and one of the most popular and delicious Greek foods. Greeks use this delicious Greek food as an appetizer or snack. This food is prepared in different sizes, but the traditional way of preparing it is in tringle shape. The name of this dish means triangle in Greek as well. If you like the taste of cheese, be sure to try this food.
Gyro Similar to Doner kebab
Another Greek meat dish is Gyro, which is one of the most delicious and cheapest Greek foods. Gyro is like Turkish Doner kebab and in some cases it is even tastier. You can this dish with chicken, lamb, beef or a combination of them all. Also, if you are thinking of reducing travel costs, this food can be a good choice for your main meals. Similar to these amazing dishes in Greece, if you area traveling to Cyprus, then you are greeted with the same amazingly flavorful meals. In fact, food in Cyprus is very similar to the ones on Greece and they are also very healthy and very cost efficient.