Although nothing replaces the great, natural taste of home-made food, we sometimes like to get together with family and friends and eat in a different place outside of home. A great restaurant regardless of the quality of the food and service, gets more attention if its cheerful, lively and, of course, has a unique environment.
Across the globe, luxury hotels, resorts and high-end restaurants can be found in the many parts which their reputation has been repeatedly praised. Places where their expensive services and unique food offerings are not easily erased from memory. But what about the landscape and the vibe that surrounds them? Are these options also interesting for paying customers? Before you think about the answer, join us for a list of the world's most spectacular restaurants where sometimes the scenery exceeds even the taste of food.
If you are interested in other wonders of the world, you can check out best monuments in the world and their interesting stories.
1. Wildman Wilderness Lodge, Northern Territory, Australia
Amidst the wild and untamed lands of the Northern Territory of Australia and at the heart of the breathtaking scenery of this part, the Wildman Wilderness Lodge promises a different, memorable and special stay for its travelers and guests. This restaurant is nearby "Mary River" which is located between "Darwin" and "Kakadu National Park".
2. Delaire Graff Restaurant, Stellenbosch, South Africa
This restaurant is a jewel that shines in the heart of South Africa. However, things have changed for this restaurant since the famous British jewelry maker, "Laurence Graff OBE", took the ownership of it. Laurence who himself is the director and founder of Graff Diamond International, has been in the process of evolving and rebuilding this place since he acquired this vast, fertile and scenic property in 2003.
He intended to turn this property into an art center, a relaxing resort and, of course, a popular tourist destination in South Africa where visitors would see Dutch colonial architecture contrasting with African architecture and the artistic and historical achievements of its native and original inhabitants. To this end, he has brought some of his valuable art treasures to the collection, and has also benefited from the remarkable works of contemporary South African artists.
3. Ngorongoro Crater Lodge, Grungoro Protected Area, Tanzania
Visitors to this small paradise can easily forget the climatic problems of the area simply because of the spectacular scenery and spectacular views of one of the world's most luxurious resorts. Here's where you wake up in the luxuries of a magnificent Baroque era palace, lounging on elaborate furniture and watching your reflection in golden mirrors. In addition, you spend your meal under chandeliers made of glittering beads and walled in with valuable artwork. Finally, just look out the window and enjoy one of the most beautiful and fascinating landscapes in that area.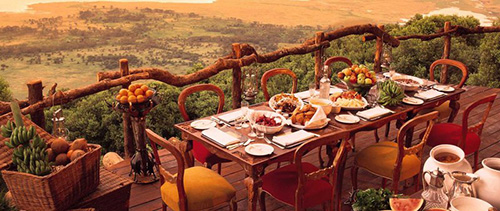 4. Kupu Kupu Barong Villas & Tree Spa by L'Occitane, Bali, Indonesia
The "La View restaurant" located in the complex, is a two-storey restaurant with numerous terraces overlooking the magnificent and lush landscapes, offers Asian dishes inspired by the wonderful French flavors which will surely leave a fantastic memory for you to remember.
5. Ayung Terrace, Sayan, Indonesia
The lush and fertile nature of Southeast Asia always offers a happy and dreamy stay. The restaurant in Ayung Terrace is no exception. This restaurant is called "Rijsttafel" inviting its guests on a memorable journey through the rich and colorful history of Indonesia's delicious and varied food. The name of this restaurant in Dutch means "Rice Table" and so its owners decided to provide conventional food used to be available in the country's Dutch colonies, which are about 350 years old. Beautiful landscapes and tasty food are provided here for tourists and locals alike.
6. Tapasake, Northern Atoll, Maldives
A first class hotel has been built amidst the magic of the tropical regions and the luxurious and dreamy resorts in the Maldives. Here is where the ocean blue line shines through this brilliant and unforgettable landscape. A wide range of outdoor recreational areas plus beachfront verandas, private pools and numerous water platforms are among the benefits of staying in this resort. Villas in the area, with their high ceilings and spectacular form, have a lot of facilities to offer. In addition, a dedicated service of hard-working, always-available waiters provide secure and comfortable accommodation for guests here.
7. Palazzo Avino, Amalfi Coast, Italy
Palazzo Avino is a deluxe five star hotel located on the Amalfi coast of Italy. The hotel is said to have been built in the 12th century as a villa dedicated to an Italian nobleman and his family and later reopened in 1997 as a hotel. The hotel that is most famous for its stellar restaurant "Michelin", though, the hotel itself has achieved remarkable reputation as one of the best hotels in the world. Palazzo Avino is located next to a medieval village and on top of Ravello Hill at 350 meters above the Mediterranean Sea providing one of the most beautiful sights in the world.
8. Torre d'alta mar, Barcelona, ​​Spain
This restaurant is located 75m above sea level, at the top of the Port Vell cable car tower. The restaurant was opened in 1929 during the Barcelona World Expo, designed and built by Carles Buigas.
9. Piz Gloria, Murren, Switzerland
After a spectacular climb up the mountain you enter the rotating Gloria restaurant, where you will start your pleasant day with a royal breakfast. The restaurant's menu is extensive, ranging from a simple snack dish to the most delicious local dishes. The restaurant rotates around every 45 minutes.
10. Sunset Monalisa, Cabo San Lucas, Mexico
It's not just a restaurant here, it's where stress and stress can be relieved. The breathtaking scenery, the delectable dishes cooked and inspired by European cuisine, and of course, listening to the breathtaking sounds of nature, are the benefits of eating at this restaurant. A very tempting suggestion that cannot be easily dismissed.