Best Shopping Malls in Pretoria
Biggest Shopping Malls in Pretoria
South Africa has three capitals, one of which is Pretoria, and locals and tourists like to visit the best shopping malls in Pretoria to pass the time and do their general shopping. Pretoria is not far from Johannesburg, making it very easy to get around. In addition to South Africans, many tourists worldwide travel to Pretoria every year to visit its natural attractions and monuments. Also, home to some of South Africa's largest shopping malls, you can check out the list of these shopping malls in Pretoria to better prepare yourself in advance.
Waterglen Shopping Center on Pretoria East
Waterglen Shopping Center is located in the city center, and within walking distance, you can reach public transport stations, offices, schools, and churches. Several restaurants, including KFC, Domino's Pizza, Crawdaddy's, and many more, are located in this shopping center for the convenience of the people. You can probably do all your shopping together in Waterglen with its big brand stores.
Parkview Shopping Centre Good for Home décor and Beauty Products
Parkview Shopping Center is a modern shopping center that includes a number of first-class Pretoria retailers. The mall houses a variety of home décor stores, cosmetics, boutiques, restaurants as well as fitness equipment.
At the various restaurants here, you will find a variety of options ranging from authentic African cuisine to Italian cuisine. There is also a park and lake near this shopping center that you can visit after shopping and enjoy the surrounding scenery.
Hillcrest Boulevard Shopping Centre Best Place for Students
Hillcrest Boulevard Shopping Centre is located on Lynnwood Road near the University of Pretoria Hostel and dates back to 2004. The mall includes stores such as KFC, Pick & Pay, Woolworths, and many more. Moreover, with major banks nearby, it makes it more comfortable for visitors to shop.
Brooklyn Mall in Nieuw Muckleneuk Area
Brooklyn Mall has created a lively environment for visitors to choose from. There are more than 220 retail outlets in the mall that sell a variety of luxury items. You can also visit its various restaurants and cafes to dine in and have a good time.
Wonderpark Shopping Centre in Karenpark
Wonder Park Shopping Center is the largest local shopping center in the country, which provides free parking to its customers and includes more than 180 stores. Wonderpark has 7 entrances and a wide space for walking, and a first-class interior design as well.
Menlyn Park Shopping Centre in Menlyn
Menlyn Park Shopping Center is one of the most beautiful shopping malls in Pretoria, located in the district of Menlyn. The variety of goods can satisfy your needs and desire to shop. Another positive point of this shopping center is that it supports local designers and you can buy the clothes of these designers at an affordable price.
Lynnridge Mall in Lynnwood Ridge Area
Lynnridge Mall first opened in 1962 and has been well-maintained ever since. The last part that was added to the building is related to 2016, which upgraded this place to be one of the more modern shopping malls in Pretoria. Moreover, both its exterior design and interior design look beautiful and impressive. The bright and modern environment of this shopping center during the day, as well as its passionate and comfortable atmosphere, creates a good opportunity for visitors to spend the whole day shopping.
Kolonnade Shopping Centre inside Sefako Makgatho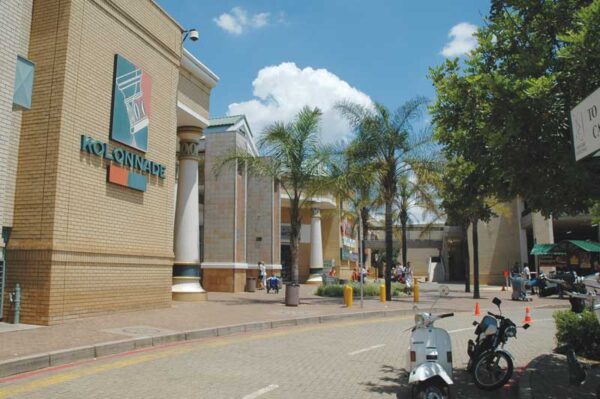 The Kolonnade Shopping Center opened in 1995, has everything from restaurants and cinemas to food courts and entertainment that keep you entertained all day long. In addition, you can visit the exhibition center here. Another positive aspect of this shopping center is that you do not have to pay for the entrance to the parking lot, which makes it one of the best shopping malls in Pretoria to shop for long hours for clothes and play some bowling games.
Sunnypark Shopping Centre on Sunnyside Area
Sunnypark Shopping Center is specifically designed to sell unique African goods. This mall was founded in 1974, and the natural light that shines into the mall, the variety of clothes and shoes, and the modern architecture of its central point create a comfortable space for shopping.
The Grove Mall is near Lynnwood and Simon Vermooten Roads
The gates of Grove Mall were opened to the public in 2009, and you can see many hospitals and schools around it. Also, this shopping center has earned the title of a premium entertainment destination in Pretoria. You can find The Grove Mall on the corner of Lynnwood and Simon Vermooten Roads, making it very accessible. This is one of the best shopping malls in Pretoria for entertainment, with many cinemas, bowling areas, and also a playground for kids.
When in South Africa, you should try visiting Cape Town. Tourists must get to try a few local Cape Town food since you will not get these dishes in other parts of the world. These foods taste great and are reasonable in price as well.