Top 5 Places to Eat Cheap Food in Chicago
Places With Affordable & Cheap Food in Chicago
Chicago diners are famous for having good food throughout the USA. In this article, you can find the top 5 places to eat cheap food in Chicago among numerous local diners. Chicago city is proud of its diverse and affordable eating spots. Chicago, the largest city in Illinois and the third largest city in the United States after New York and Los Angeles is located on the shores of Lake Michigan in the middle of the Midwest.
In recent years, the city of Chicago has undergone many changes; The old parts of the city have been renovated. The Bridgeport area, for example, has shed its former image as a working-class bastion and is now better known for its vibrant arts scene and creative tastes. These days, the beautiful residential streets of Wicker Park have given way to a mix of boutiques, bookstores, cafes, and some of the city's best restaurants. Chicago has an impressive skyline, a gorgeous waterfront, as well as 29 miles of endless free public beaches, biking and walking trails. Here are the top spots in Chicago where you can line up and grab your food when on a budget.
Fatso's Last Stand in The Ukrainian Village
Fatso's Last Stand in the Ukrainian Village is one of the best places to get cheap food in Chicago. Their offerings are Polish and Italian sausages, hot dogs, mac & cheese, Italian beef & sausages, fried shrimp, and juicy burgers. Also, the famous items here are fried crispy jumbo shrimp, meaty chili, and creamy homemade mac 'n' cheese. Fatso's Last Stand is located at the intersection of West Chicago and North Oakley Boulevard.
Dove's Luncheonette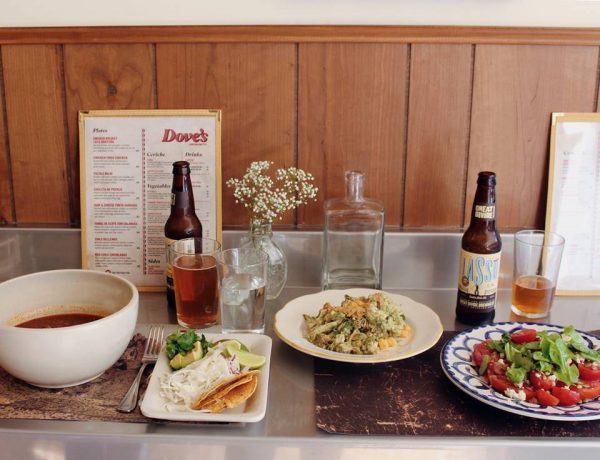 Dove's Luncheonette is one of the nicest Chicago diners for Tex-Mex style and retro design. Touted as one of the best cheap restaurants in Chicago. Their famous dishes are the zesty seafood ceviche as well as the sweet corn tamales. Also, they have a Cuban-inspired menu on the first Sunday of every month.
Do-Rite Donuts & Chicken for Fried Chicken
This donut shop is a local favorite for cheap food in Chicago. They serve fresh baked donuts with juicy breaded pork tenderloin or fried chicken inside. Also, they have options for scrambled eggs, cheddar cheese, bacon, and avocado. Moreover, there are gluten-free and vegan options here as well. The most famous item here is deep-fried chicken and sugary donut halves.
Al's Beef in Little Italy Neighborhood
Al's Beef is one of the best Chicago diners to have an Italian beef sandwich. This eatery opened in 1938, during the WWI era, to provide some sandwiches for the community. Over the years, Al's has become an institution for the famous Italian beef, and many well-known individuals have been served here. Chicago's Italian beef sandwich consists of slow-roasted beef sliced thin, placed in a seasoned broth, and put inside a crusty bread. The best place to sell it is Al's Beef stand in the center of Chicago's Little Italy neighborhood.
J.P. Graziano Grocery near Morgan Subway Station
This shop sells beautiful sub sandwiches with layers of Italian meats, cheeses, and marinated vegetables. Also, the most favorite items here are the classic Italian, red pepper tuna, and prosciutto di Parma. You can also get their delicious homemade gelato. J.P. Graziano Grocery is the place to get cheap food in Chicago and nice sub sandwiches.
Also, you can get some good lunch deals from some of the top coffee shops in Chicago. These coffee houses normally have amazing coffee as well as amazing sandwiches to go. Make sure to visit them during midday time during your stay here.