10 Most Famous Icons in the World
10 Most Famous Icons in the World
10 Most Famous Icons in the World – While their names are familiar to you, it won't be until you're actually standing in front of one of them that you'll be able to truly appreciate their massive sizes. The scale of these world famous landmarks just has to be seen to be believed and appreciated.
1. Mount Fuji in Japan
If you want to come back from a vacation, have something absolutely crazy to brag about, then you need to go to Japan. Also, it's not too often you get the chance to say you've climbed a country's highest peak and telling your mates you reached the summit of Mount Fuji will surely leave them stunned.
2. Sydney Opera House in Australia
This Opera House is like a massive spaceship folding back its shields. On the inside, it's a multicultural combination of opera music as well as world class theatrical performances and live concerts.
3. The Colosseum in Italy
In the Colosseum in Rome, you'll most likely be shocked by the size of the amphitheatre. The Romans really did take their games seriously. This amphitheater is massive enough to have an audience of about 80 thousands. It is almost same as todays modern Olympic stadiums.
4. Great Wall of China
This is one wall which is completely great in all aspects until you actually see it so it. When you stand on the it you won't be thinking about why it was built in the first place because you'll just be too busy appreciating at its greatness.
5. The Statue of Liberty in USA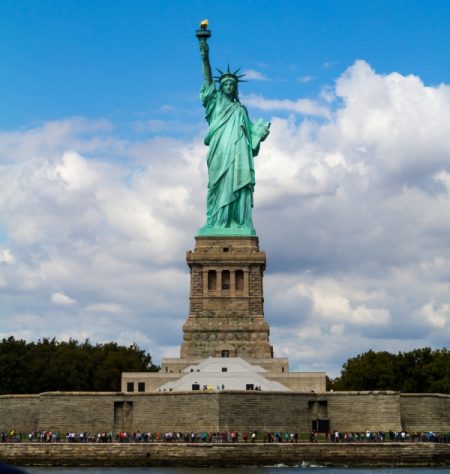 There is almost no landmark more famous than the Statue of Liberty in New York around the world. The Statue of Liberty should be at the top of everyone's travel list when visiting North America.
6. Christ The Redeemer in Brazil
Even if you're not really a religious person, visiting the statue of Christ The Redeemer in Rio de Janeiro should be on your list. This giant structure is an combination of artistic creativity as well as good engineering. From on top of Mount Corcovado, the massive 38-meter tall statue with stretched arms looks over the city below. However,you need to go closer to realize just how enormous the statue is. It is that unbelievable.
7. Golden Gate Bridge in USA
Take a walk onto the Golden Gate Bridge in San Francisco and you'll feel the sheer magnitude of this metal structure, as if floating over the waters of the Golden Gate strait. In fact, it is truly difficult to fully comprehend its size until you're over the bridge.
8. The Pyramids of Giza in Egypt
Probably the most famous icon over the globe, you will see The Pyramids of Giza in Egypt. Tourists can enjoy camel rides and desert safari around the site, however the sight of the pyramids are msotly you are traveling to Cairo, Egypt.
9. Taj Mahal in India
Taj Mahal in India is always on the list of famous landmarks. There's just something unique about buildings appeared for love. Also, Shah Jahan really paid attention to details during the completion of Taj Mahal as it's obvious by analyzing the structure.
10. Eiffel Tower in France
Eiffel Tower in Paris is the most romantic landmark in the world. This structure of metal girders for many resembles love and many marriage proposals take place under or around it.